Benefits and Total Rewards
It pays to be a JEA employee, and not just because we offer a competitive salary. JEA rewards your time, talent and commitment with pay, benefits, retirement programs, healthcare coverage and more. We call this compensation package Total Rewards.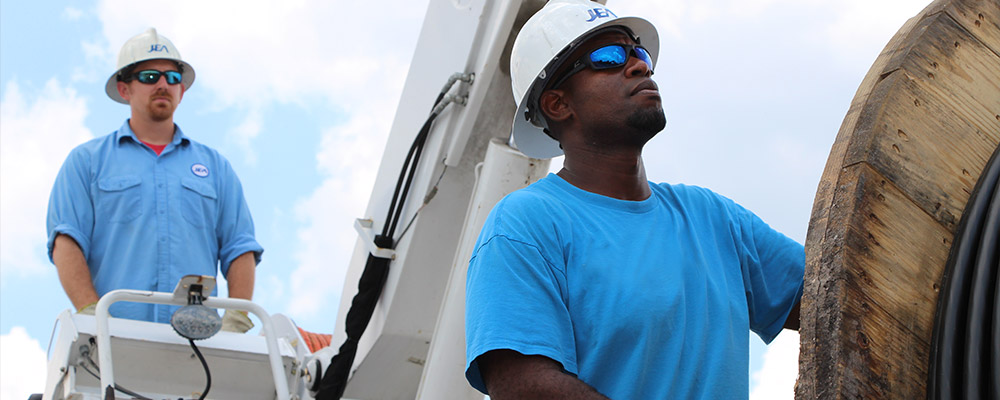 Health and Well-Being
Medical, Dental and Vision Insurance Plans
JEA offers three comprehensive medical plans designed to help you and your family achieve and maintain good health and well-being. These plans include attractive options such as a JEA-funded Health Reimbursement Account (HRA), a Health Savings Account (HSA) with both JEA funding and optional employee funding, and an employee-funded Flexible Spending Account. In addition to health insurance, JEA offers you and your eligible dependents comprehensive dental and vision coverage to meet your personal healthcare needs.
Wellness
To encourage our employees to develop and maintain good health, JEA offers access to the Healthy Lifestyles Wellness program. From annual flu shots and biometric screenings to health risk assessments and periodic access to an on-site mobile mammography unit, the program offers something for everyone. Employees also have access to several on-site fitness centers at JEA facilities across the city. 
Income Protection Plans
Life and AD&D Insurance
JEA provides a basic life and accidental death and dismemberment plan (AD&D) to all employees. The amount of coverage ranges from one to three times your annual salary, depending upon your pay plan or collective bargaining agreement. Employees may elect to purchase additional life insurance coverage for themselves, their spouses and/or their children.
Short- and Long-Term Disability Insurance
Preparing for income replacement is an important part of a comprehensive benefits program. In the event you become ill or injured outside the workplace, JEA offers a choice of two short-term disability plans that provide coverage for up to 26 weeks. For coverage of an extended illness, employees may elect to participate in the long-term disability plan.
Retirement and Wealth Accumulation
General Employees Defined Contribution (GEDC) Plan
All JEA full-time employees are required to participate in the City of Jacksonville's General Employee Defined Contribution Plan (GEDC). The GEDC is a tax-deferred retirement plan regulated by IRS Code § 401(a). JEA contributes 12 percent of an employee's salary, while the employee contributes 8 percent. Contributions are made to an individual investment account, with a portion of the overall contributions deposited to the Disability and Survivor Fund. While participants in the GEDC plan do not contribute to Social Security or the federal disability (OASDI) program, they do contribute to Medicare. 
Contributions by JEA and employee to Jacksonville's General Employee Defined Contribution Plan

| | Employer Contributions | Employee Contributions |
| --- | --- | --- |
| Investment Account | 11.7% | 7.7% |
| Disability and Survivor Fund | 0.3% | 0.3% |
| Total Contributions | 12% | 8% |
Employees make pre-tax contributions on a biweekly basis. Employee contributions are 100 percent vested at hire, while employer contributions are vested according to years of service as follows:
Employer Contribution Vested Percentage based on Years of Service

| Years of Service | Employer Contributions |
| --- | --- |
| 2 years | 25% |
| 3 years | 50% |
| 4 years | 75% |
| 5 years | 100% |
A wide array of core investment options are available through Empower, the plan's administrator.
JEA 457 Deferred Compensation Plan
The JEA 457 Deferred Compensation Plan is a voluntary plan that allows employees to defer a portion of their eligible biweekly earnings via payroll deductions on a pre-tax or after-tax basis (Roth contributions option) to an investment account. The IRS's annual limits on contributions for 2018 are a maximum of $18,500 for those under age 50 and a maximum of $24,500 for those age 50 and older.
JEA 401a Defined Contribution Plan (Appointed Employees Only) 
The JEA 401(a) Defined Contribution Plan is a retirement plan offered to all Appointed employees at time of hire. Employees receive an employer discretionary contribution of 2 percent of eligible earnings on a biweekly basis to an individual investment account. Upon hire, employees may make an irrevocable election to contribute an additional percentage of their eligible earnings (pick-up contributions) up to a maximum of 20 percent of eligible earnings or $55,000 (maximum for 2018). Per IRS Code §401(a)(17), the maximum annual limit on compensation considered for contributions may not exceed $275,000.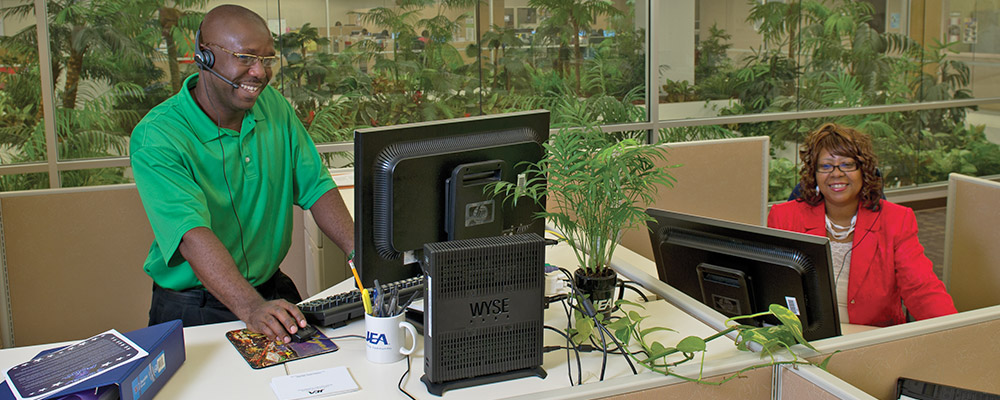 Time Off
JEA recognizes the importance of time away from work to re-energize and focus on your quality of life. Starting on the first day of employment, employees begin to accrue paid leave, topping out at four weeks of annual leave during your first year. Total paid time off will include:
Eleven (11) Paid Holidays
Annual Leave (in addition to paid holidays)
1 Personal Day
Bereavement
Jury Duty
Safety Leave
JEA encourages and expects employees to take an active role in managing their health and safety. Our safety incentive program, Passport to Safety, rewards employees for participating in safety activities that positively affect our overall safety performance. These activities also help us develop our leading indicators for safety while driving our safety focus and efforts. By participating in the Passport to Safety program, employees demonstrate their commitment to safety and are eligible to earn up to 16 hours of extra leave time per fiscal year. By supporting JEA's commitment to safety and rewarding our employees for actively creating a culture of safety, the  Passport to Safety program is a win-win for both employees and JEA. 
Military Leave
JEA is very proud to have employees who continue to serve their nation's military.  JEA complies with all regulations related to USERRA and thus provides its employees time off related to military service.
Total Rewards
Tuition Reimbursement
Financial assistance is available for college courses related to your position or career path with the company. Annual limit is $5,250 per year.   
Employee Assistance Programs (EAP)
JEA recognizes that reaching out and asking for help can be difficult, so the company tries to make it as easy as possible. The Employee Assistance Program offers services for you and your family to help with a wide array of stressful situations or emotional problems, such as drug or alcohol dependency, marital difficulties or learning disabilities. A confidential hotline is available 24/7 so you can access the services you need, such as counseling, legal consultations, financial guidance and more.
Legal Plan
For a nominal fee, employees can participate in the legal plan, which provides a wide variety of legal services such as will planning, legal counseling and court representation. Identity theft protection is also available for an additional charge.  
Employee Parking
Parking is available for all employees, whether you work downtown or at one of our field facilities.  Appointed management employees who work downtown are provided a parking allowance to offset the cost of parking.  
Additional Benefits
JEA employees enjoy a variety of other benefits that contribute to their quality of living:
Full service fitness center with locker rooms (Downtown Tower)
Additional gyms located at other JEA facilities
Training and development programs for all employees
Direct Deposit
Healthy Mothers' Room (various locations)
On-site Credit Union (Downtown Tower)
Shift Work  
}
/uploadedImages/Images/SiteIntercept_Ad_Outage_Reporting.jpg
Report and track any service issue you're experiencing, or monitor the status an electrical outage.
Related Links
Company Info

JEA is not owned by investors. It was created by the City of Jacksonville to serve those who live here and in the surrounding communities. The sole purpose of our business is to ensure the electric, water and sewer demands of our customers are met, both today and for generations to come. Our goal is to provide reliable services at the best value to our customers while ensuring our areas' precious natural resources are protected.

Honors and Achievements

When JEA wins… our community wins. A win means JEA is succeeding in its mission to energize the community through high-value energy and water solutions. So check back here often. We hope to give you lots to cheer about.

Career Tracks

JEA is one of the best places to work in Jacksonville. As the eighth-largest community-owned utility in the nation, we offer our employees well-paying, professionally rewarding career opportunities; we also offer training, an excellent benefits package and exceptional career advancement opportunities.