Electric Reliability Compliance Standards
JEA strongly supports a reliable electric grid and a healthy wholesale market to facilitate quality services to the communities we serve. Compliance with laws, regulations, industry standards, codes of conduct, and ethics are an integral part of JEA's corporate culture and goals. In addition, failure to comply may result in legal or regulatory sanctions, financial losses, and significant reputational damage. As a JEA customer, we want you to understand how you, the JEA customer, benefit from our compliance with these Standards.
Electric System Reliability History
Two significant events in history established the need to develop procedural standards for the Bulk Power System. In addition, cyber security controls needed to be established to protect the system from hackers and other organized threats. Below is a summary of significant events in the past 50 years related to electric system reliability:
1965 Northeast Blackout
In 1965, the Northeast Blackout happened on a chilly evening in November when the demand for power was high. This blackout was caused by a protective relay that triggered a cascading failure, resulting in a loss of power in seven U.S. states and Ontario, Canada. It affected 30 million people for 12 hours, and covered 80,000 square miles of the Northeastern United States. This outage was the first indication of how interconnections between utilities can add significant risks to the stability of the Bulk Power System.
Creation of NERC in 1968
The North American Electric Reliability Corporation (NERC) was founded in 1968 by representatives of the electric utility industry, for the purpose of developing and promoting voluntary compliance with rules and protocols for the reliable operation of the bulk power electric transmission systems of North America.
Energy Policy Act of 1992
Energy policy acts are passed by Congress and signed into law by a U.S. President. The Energy Policy Act of 1992 directed the Federal Energy Regulatory Commission (FERC) to open the national electricity transmission system to non-utility power producers. As a result, utilities were required to provide non-utility power producers access to the transmission grid. Giving other providers transmission grid access helped achieve the goal of reducing utility transmission monopolies, but it brought increased risk to the stability of the transmission system.
2003 Northeast Blackout
The 2003 Northeast Blackout took place on a hot August day. It was a cascading power failure that affected 40 million people in eight Northeastern states and 10 million people in Ontario, Canada. The blackout was primarily caused by two events. The first event happened when highly loaded transmission lines sagging from the summer heat came into contact with overgrown trees. The second event happened when the Energy Management System (EMS) failed to notify operators about overload conditions on the transmission system near the epicenter of the outage at a Midwest utility.
NERC Established as Electric Reliability Organization in 2006
In 2006, FERC awarded NERC the position of Electric Reliability Organization (ERO). This gave NERC the authority to: develop standards for power system operation; monitor and enforce compliance with those standards; assess resource adequacy; ensure that power system operators remain qualified by requiring job-related education and training; and investigate and analyze causes of significant power system disturbances in order to help prevent future events. Shortly after NERC was named the ERO, it filed the first set of mandatory and enforceable Reliability Standards.
NERC Reliability Standards define the reliability requirements for planning and operating the North American Bulk Power System and are developed using a results-based approach that focuses on performance, risk management, and entity capabilities.
Mandatory Compliance with Reliability Standards
On June 18, 2007, compliance with NERC Reliability Standards became mandatory for U.S. users, owners and operators of the Bulk Power System. Entities that violate any Reliability Standard by not performing a function as defined by a requirement, under federal law, face enforcement actions by NERC. FERC, NERC, and regional reliability entities monitor and enforce compliance. Any entity found non-compliant may be subject to fines of up to $1 million per day per violation.
Bulk Power System
NERC defines the Bulk Power System as the power generation facilities combined with the high-voltage transmission system, which together create and transport electricity around North America. Put another way, the Bulk Power System is the continent's electricity system except for the local electricity facilities you see in your town or city. NERC does not deliver power directly to homes and businesses. That service generally is provided by a local utility of some kind. Local delivery is under the jurisdiction of state, provincial or local utility regulatory agencies.
NERC defines a reliable Bulk Power System as one that is able to meet the electricity needs of end-use customers even when unexpected equipment failures or other factors reduce the amount of available electricity. NERC divides reliability into two categories: 
Adequacy: Having sufficient resources to provide customers with a continuous supply of electricity at the proper voltage and frequency, virtually all of the time. 
Security: For decades, NERC and the bulk power industry defined system security as the ability of the Bulk-Power System to withstand sudden, unexpected disturbances, such as short circuits or unanticipated loss of system elements due to natural causes. In today's world, the security focus of NERC and the industry has expanded to include withstanding disturbances caused by manmade physical or cyber-attacks.
Roles and Responsibilities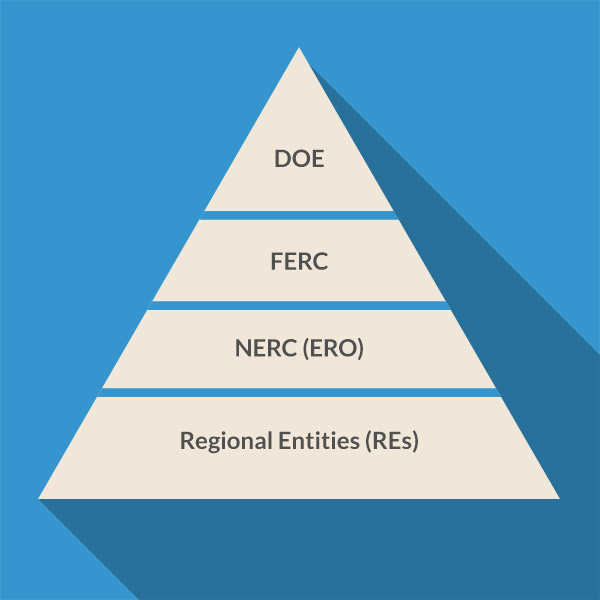 Department of Energy (DOE)
The DOE is a federal agency that is responsible for United States energy policy. The DOE is led by the Secretary of Energy who is appointed by the President of the United States. 
Federal Energy Regulatory Commission (FERC)
FERC is a federal agency that regulates the interstate transmission of electricity, natural gas and oil. FERC collaborates with DOE on several energy policies and oversees NERC as the ERO under the Energy Policy Act of 2005 in the United States, as do provincial governments in Canada and part of Mexico. FERC is led by 5 commissioners whom are appointed by the President of the United States.
North American Electric Reliability Corporation (NERC)
NERC's mission is to improve the reliability and security of the Bulk Power System in the United States, Canada and part of Mexico. The organization aims to do that not only by enforcing compliance with mandatory Reliability Standards, but also by acting as a catalyst for positive change—including shedding light on system weaknesses, helping industry participants operate and plan to the highest possible level, and communicating lessons learned throughout the industry.
NERC, as the ERO, develops and enforces Reliability Standards; monitors the Bulk Power System; assesses adequacy annually via a 10-year forecast and winter and summer forecasts; audits owners, operators and users for preparedness; and educates and trains industry personnel. NERC is led by a President and Chief Executive Officer appointed by NERC's Board of Trustees. NERC is governed by an eleven-member independent Board of Trustees.
SERC, a Regional Entity (RE)
JEA's control area resides in the SERC region. The regional entities, such as SERC, are interconnected groups overseen by NERC through Regional Delegation Agreements. The regional entities are authorized by NERC to: develop stringent regional standards; monitor compliance with NERC and regional standards; and impose enforcement actions. These entities also forecast electricity demand, coordinate operations, share information and develop emergency recovery plans. The Regional Entities are led by a President and CEO appointed by the Region's Board of Directors.
JEA's Compliance Efforts
JEA is responsible for compliance with over 100 Reliability standards which contain over 1,400 requirements and sub-requirements. More than 100 JEA employees have job responsibilities related to compliance with the Reliability Standards. Monitoring compliance with all these requirements is a significant task.
Compliance monitoring is defined by NERC as the process used to assess, investigate, evaluate, and audit in order to measure compliance with the NERC Reliability Standards. To maintain a culture of compliance, regular activities of varied type and duration are employed by JEA. These include, but are not limited to: 
Periodic NERC Reliability Standards meetings
Regular communications related to Standards under development or revision 
Regular communications and structured processes around the implementation of newly mandatory Standards 
Continual review and update of compliance responsibilities 
Participation in industry peer reviews and on committees/working groups 
Internal audits
Compliance is very involved, and JEA is regularly audited and required to submit information. At the beginning of each year, JEA has to self-certify that we were compliant with the Standards for the previous year. During the year, SERC may perform spot check audits on a small sample of Standards. JEA also has an onsite audit every three years where SERC examines evidence of documentation and processes on the Standards to ensure compliance.  In addition to these audits, JEA is required to do monthly and quarterly reporting on certain Standards. Other Standards require reporting when certain events occurs.
Information Security and Critical Infrastructure
JEA is also responsible for operating elements of the power grid that are considered part of critical infrastructure. These systems have to comply with multiple compliance program requirements and the NERC reliability cyber security standards commonly referred as the Critical Infrastructure Protection (CIP) Standards. CIP Standards are very complex and due to frequent changes to the cyber security environment, often very difficult to implement. They are also the most violated NERC Reliability Standards.
These Standards define the security requirements and some of the common security practices including information security, firewall protection, vulnerability patching, access control, system monitoring and logging and malware protection. Background checks and training are mandatory for all individuals authorized to maintain and administer these systems. 
Suspicious Activity: If You See Something, Say Something  
Suspicious activity refers to, but is not limited to, any observed activity, behavior(s), or conditions regarding a vessel or pleasure craft, marine structure, waterfront facility, person, vehicle, cargo or stores, which a reasonably prudent person would consider out of the ordinary or unusual for the environment in which the activity occurs. Suspicious activity may include: 
Unfamiliar person in the areas that are restricted to regular employees without photo ID 
Unusual behavioral patterns such as not responding to verbal commands 
Excessive questions 
Suspicious photographing of facilities or persons engaging in note-taking or use of sketching materials 
Vehicles parked or standing for excessive periods of time near a facility perimeter
All signs of suspicious activity or sabotage should be reported to JEA immediately. Keep your eye out for: 
Tampering with electric transmission or distribution lines or support structures
Presence of unusual or out-of-place items or materials such as packages, liquids, spray dispensers, tools, drums, crates, unusual containers, wires, cables, or bolt cutters. 
Signs of digging or disturbance of trees and shrubs around facilities. 
Unfamiliar vehicles left for long periods near power production, transmission, or distribution facilities. 
Presence of unusual or out-of-place items or materials such as backpacks, packages, liquids, spray dispensers, tools, drums, crates, etc. 
Overheard conversations or other communications regarding an individual or group's intent to disrupt power production, transmission, or distribution, or willfully damage or destroy related JEA property or equipment. 
If you observe any of the above, do not attempt to intervene.
Call 1-855-FLA-SAFE.
Call 911 if you believe an immediate law enforcement response is required.
If you have any questions related to compliance with NERC Reliability Standards, please contact us.
Explore Solutions and Save
}
/uploadedImages/ResidentialDoMoreAd.jpg
Learn about all the ways JEA helps Northeast Florida families, businesses and our community thrive and how we can help you do more.
Related Links
Call Before You Dig

Florida law requires anyone digging for landscaping or construction, whether you're planning to dig yourself or hiring a professional, to call 811 before digging.

Generator Safety

Portable generators can offer convenience during periods of prolonged power outages. They can also be dangerous if used improperly. Please review this information if you plan to use a portable generator: