Learn How to Use the My JEA Utility Tracker
My JEA Utility Tracker helps you track your daily electric and water consumption and provides savings tips specific to your home. Find out which appliances use the most energy or water so that you can make better decisions, conserve where needed and better manage your utility costs. 
Get Started
Simply sign into your account to get started. Once you're signed in, navigate to the Utiilty Tracker in your Manage My Account dashboard.
Don't have an online account? Sign up now.
If you're creating an online account for the first time, it will take 30 days, or one billing cycle, for all components of My JEA Utility Tracker to be accessible in your account.

For the best possible experience with My JEA Utility Tracker, we recommend using a desktop or laptop computer running Microsoft Windows.
Jump down to learn how to use various tools in the My JEA Utility Tracker:  
Home Profile
The first time you access My JEA Utility Tracker, you will be given a questionnaire to fill out called your Home Profile. The questions cover the size of your home, number of rooms and which appliances you run so that it can return realistic savings tips specific to your home. You can always go back and edit your Home Profile if you need to make changes.
Go More In-Depth
After you've created your Home Profile, you can get even more in-depth energy analysis by completing your home's Energy Profile. From the My JEA Utility Tracker dashboard, click on the My Home tab. After confirming the information is correct, click Continue . A summary of your Energy Profile will appear on the My Home dashboard. Click on the Energy Profile tab to answer more questions about your appliances, heating and cooling system, insulation, and more. The more you fill out, the more accurate your analysis will be! 
Pick a Savings Goal
A one-size fits all approach doesn't always work when it comes to utility savings. The My JEA Utility Tracker lets you pick the savings goal that best fits your lifestyle and interests. From the My Home tab, click on the Ways to Save tab. Choose from One Step Savings, Weekend Warrior, Family Saver, and Earth Saver to find solutions with a range of options.
Better Bill Analysis
View Your Billing History
View your previous bills to compare usage from month to month. From the My Bill tab, click on the Bill History tab. From here, you can view a basic summary or get more in-depth analysis by usage or cost, or by water or electric usage. An Other column shows you other fees that may have been incurred during the billing period.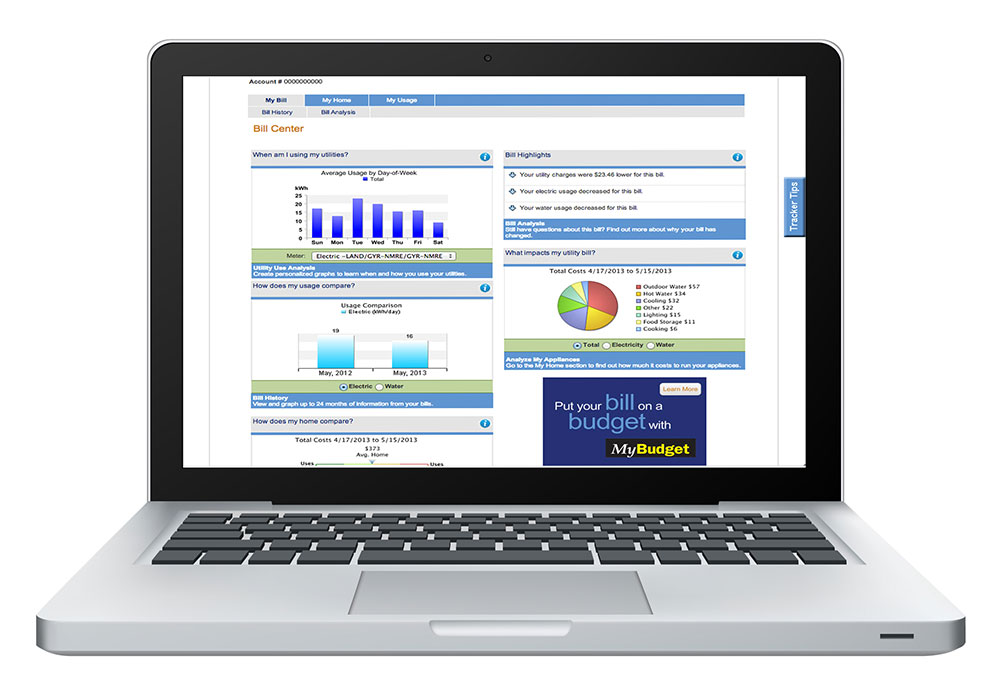 Bill Analysis
On the Bill Analysis tab, you can view details per monthly bill, including Bill Highlights, such as an increase or decrease in usage, weather changes, and fees that may have affected your bill.
Your Usage
Choose from seven different chart views to get a better understanding of your usage and estimate what your bill will be on your next bill.
Graph of Temperature and Usage
A graph that shows high and low temperatures per day, along with your bill pay amount. Your bill may have spiked because it was unusually hot or cold outside. Knowing the correlation between temperature and consumption will help you beware in the future. 
Bill-to-Date Estimate
Keep track of how much you are using throughout the month.
My JEA Utility Tracker is unavailable to customers who have photovoltaic systems installed. ↩
Only first-time Tracker users will be asked to confirm their information for the Energy Profile. ↩
The Temperate and Usage graph will become available for new My JEA Utility Tracker accounts after 30 days, or one billing cycle. ↩
Explore Solutions and Save
}
/uploadedImages/ResidentialDoMoreAd.jpg
Learn about all the ways JEA helps Northeast Florida families, businesses and our community thrive and how we can help you do more.
Related Links
Managing Consumption

Managing your energy and water consumption is your first step to bringing your utility bill under control. Our tools can help you do just that.

The Weather Effect

Humidity has a huge impact on our utility bills.

Alerts

Sign up for free consumption and bill notification alerts on jea.com.