Commercial Fats, Oils and Grease Clean-Out Management Program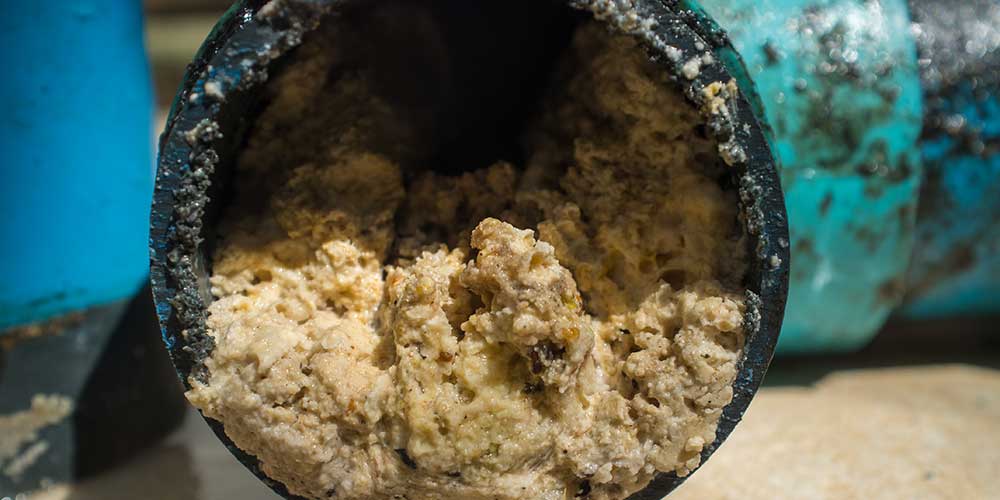 Any food service establishment or commercial/institutional kitchen that is connected to the JEA wastewater system is required to participate in the Commercial Fats, Oils, and Grease (FOG) program. Our Commercial FOG Program helps you navigate facility requirements, grease trap maintenance requirements, and best management practices.
All New Automated FOG Clean-Out Tracking Platform
JEA's new Commercial Fats, Oils and Grease platform, FOG BMP, is being provided by JEA to help you ensure that your facility is in compliance with the JEA rules and regulations. This free FOG clean-out tracking solution allows you to see all of the information that JEA has for your facility at anytime.  
If you are a self-cleaner, you will be able to track your clean-outs in the database.

If you use a Preferred Hauler, you will see where your Hauler has tracked all of your cleanings. Learn more about using a FOG Hauler
Inspection pass/fail information can be found in your profile.
If you have not already received a welcome email from JEA, please contact us at FOG@jea.com or (904) 665-7404. Once you receive your welcome email, please log in and watch the introductory video.
Also Included in the FOG BMP Platform
Automated Reminders 
Our new clean-out tracking database will regularly remind you of actions needed by your facility. Reminders, which will come in the form of an email from FOG BMP, may include but not be limited to:
Passed/failed inspections.
Missed required clean outs.
Approval of corrective actions taken.
Communications about any changes or other information they would like all facilities to have at any given time.
Best Management Practices for Your Facility
Training videos
Kitchen signage
Download Our Free Sign for Your Kitchen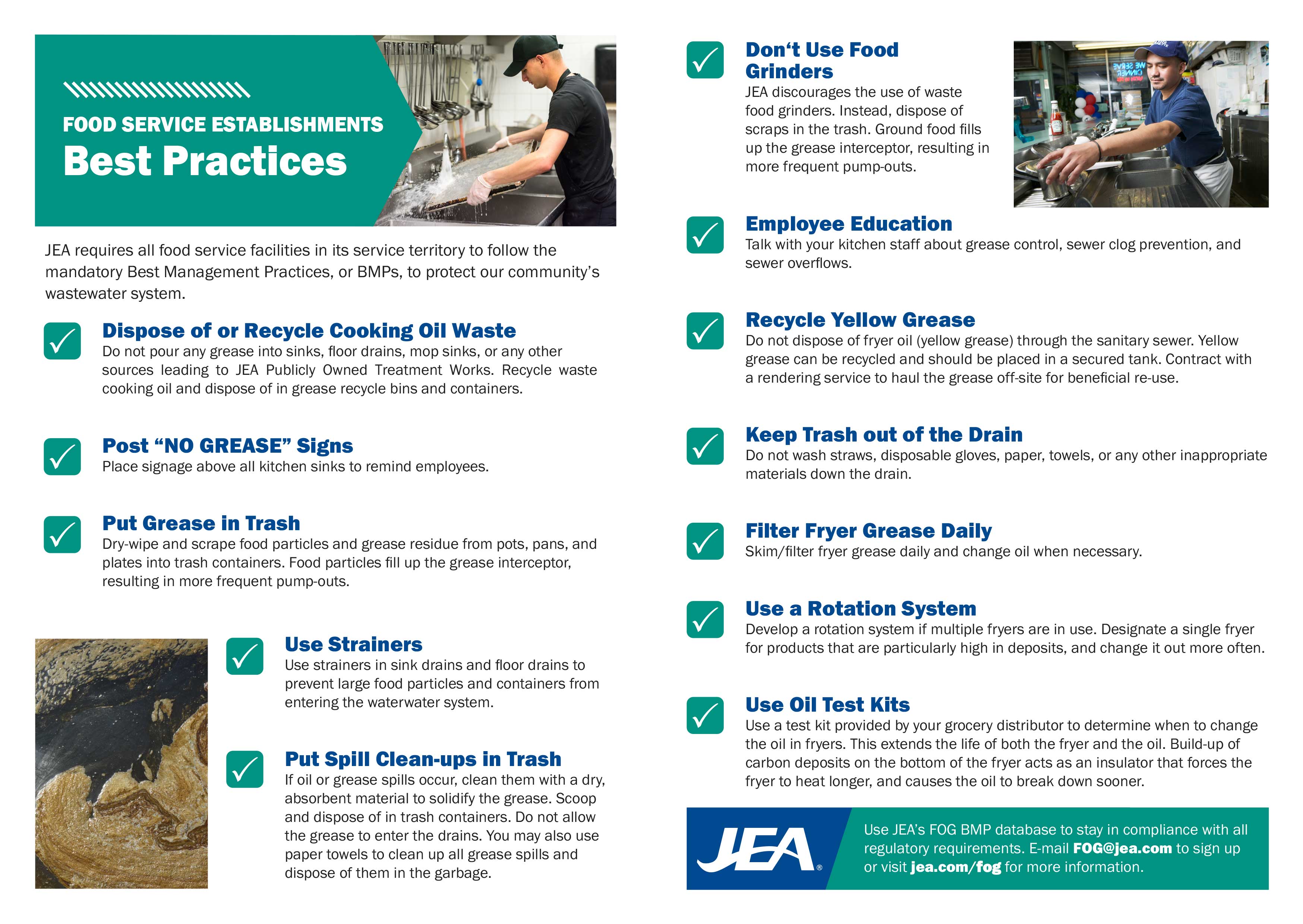 Download Our Free Printable (PDF) 
Facility Requirements
Your facility must use a properly functioning grease trap. New facilities can be certified by any licensed plumber or a JEA Preferred Hauler.
You must have your grease trap/interceptor cleaned in accordance with the chart below.
You must submit a pump-out report no more than five business days after cleaning your trap/interceptor.

Interceptor (750 gallons +) - Minimum of every 90 days, or more often if grease and solids levels reach 25 percent of the tank volume.
Intermediate (51-749 gallons) - Not to exceed 30 days.
Trap (less than 50 gallons) - Not to exceed 15 days. Read our small trap maintenance requirements 
JEA Preferred Haulers
JEA Preferred Haulers let you concentrate on your business, rather than adding another task to your already busy schedule. These grease trap maintenance service providers meet JEA's criteria for grease trap maintenance and FOG Program report submission. Benefits of using a JEA Preferred Hauler include:
JEA Preferred Haulers submit all required reports and maintenance records for your facility.
Any follow-up inspections of your facility will be geared toward Preferred Hauler performance, not your facility's compliance.
Any discrepancies associated with report submission or grease trap maintenance will be handled directly through your Preferred Hauler.
To be added to this listing, these companies have passed all of the criteria set forth by JEA to ensure they meet FOG Program standards. Some of these criteria include:
Submission of required paperwork.
Acceptable disposal method documentation.
Acceptable grease trap maintenance performance.
A commitment to the service of their customers as well as the FOG program  
Questions?
Contact us at FOG@jea.com or (904) 665-7404.

Explore Solutions and Save
}
/uploadedImages/BusinessDoMoreAd.jpg
Learn about all the ways JEA helps Northeast Florida families, businesses and our community thrive and how we can help you do more.
Related Links
Business Resources

JEA recognizes what your business means to our community and understands the challenges you face every day. Our suite of tailored business solutions can help make running your business easier.

Commercial Forms and Policies

Helpful forms and policies for commercial customers