We're Here to Help Our Small Business and Nonprofit Customers Thrive
Pastor Tracy Washington from The Salt Church of Jacksonville shares how a JEA Efficiency Assessment led to big savings on his utility bill.

Your business also can benefit from expert advice by JEA efficiency professionals.
Team Members Powering a Vibrant Community
JEA team members give to numerous community causes and volunteer their time and talents to benefit area nonprofits and education programs. Because Northeast Florida is where we live, it's where we give.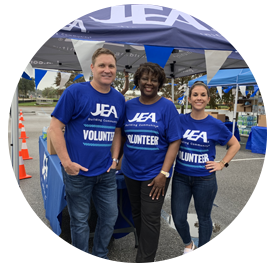 Make Your Business More Energy Efficient
JEA's new Business Energy Advisor is a valuable tool that can help improve the energy efficiency of your business. It offers guidance around available technologies and calculators to help you make the best decisions when considering new equipment, all customized for different business types.