City of Jacksonville and JEA Septic Tank Phase Out Program

Program Overview
The City of Jacksonville in partnership with JEA are working together to improve the quality of life in our communities with the Septic Tank Phase Out program!  We are well on our way with this exciting and transformative project to eliminate existing septic systems, thus reducing the amount of harmful nutrients that often find their way into the St. Johns River and other local waterways. 
The program was approved by the Jacksonville City Council on August 23, 2016 and involves installation of new water and sewer services in designated areas of our community. The neighborhoods listed below are the first five (5) areas based on community needs and abandoning of septic tanks having a positive environmental impact to our waterways. Click on the neighborhood name to learn more about our work in these areas.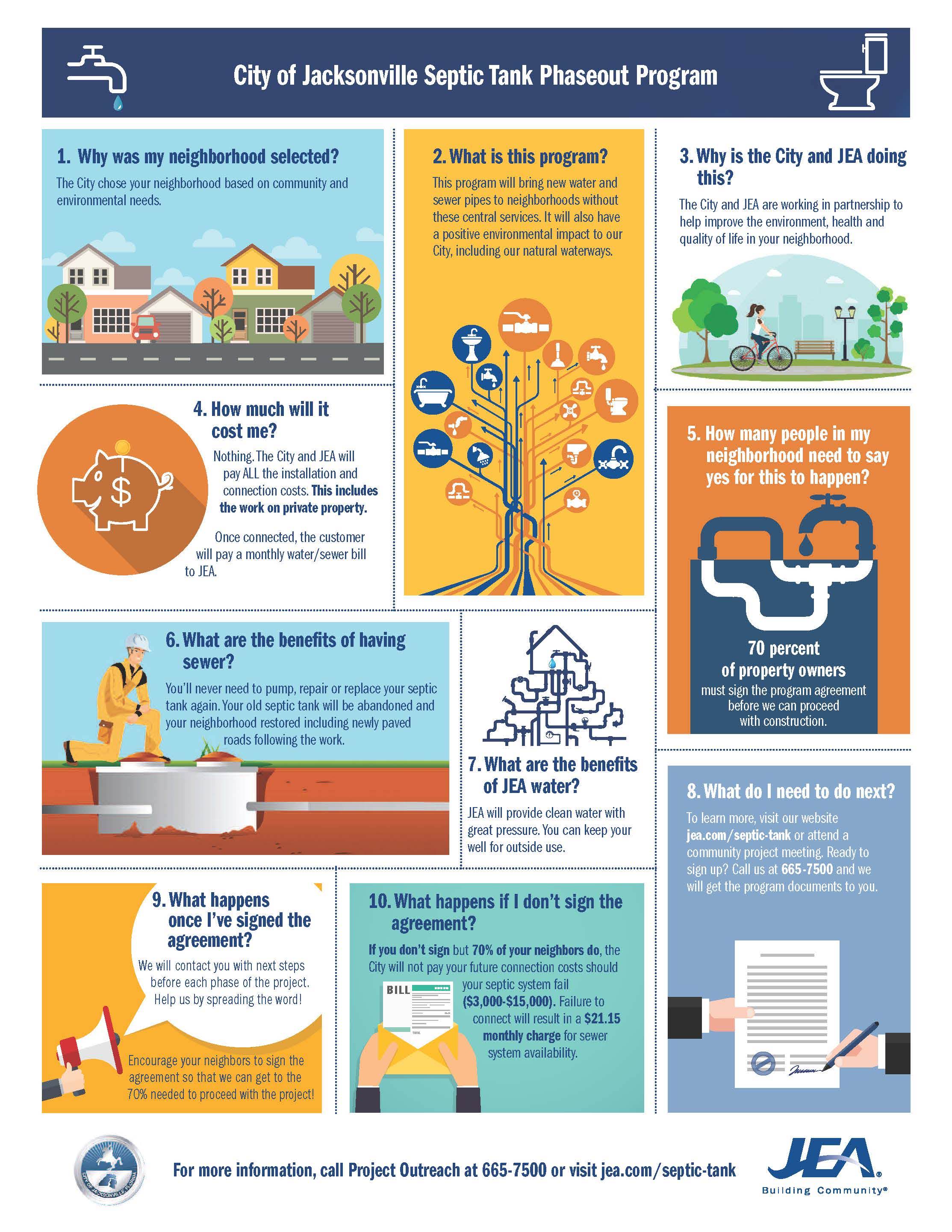 Innovative Wastewater Treatment Program (IWTP)

The JEA Innovative Wastewater Treatment Program (IWTP) is intended to assess and recommend the most appropriate technologies and approaches (including centralized sewer, decentralized sewer and treatment, and/ or improved onsite treatment) that can be applied to the prioritized STPO areas. The planning documents developed as part of this project will identify approaches that may also be used in the future for the approximately 43,000 additional septic systems that remain in Duval County.
JEA Innovative Wastewater Treatment Program (IWTP) 
Project Update - November 2023
Construction activities have been completed in the Biltmore and Beverly Hills West project areas. Construction is actively taking place in the Beverly Hills East project area, project design has been completed for the Christobel project area, and we are preparing to launch the outreach for the next project in the Riverview area.  
The Next Steps
The COJ and JEA will continue to work together to communicate information about the overall program and provide more information about the future neighborhood projects as they occur. While this is a great start to abandoning septic tanks, it will not be a quick process and a phased approach will be required to accomplish the task.
The Process
The individual neighborhoods will need to reach a 70% ownership participation threshold for the project to move forward. Once that threshold is met, the project will then be designed/engineered, bid and constructed prior to any service connections being made. The physical connections to the JEA system will be several years away.
Before any work begins, customers residing within identified future Septic Tank Phase Out areas will be contacted directly by the COJ and JEA. We will (by mail and email) send invitations to an informational neighborhood meeting and will send multiple letters outlining the program. In other words, we will contact you.  
Current Septic Tank Issues
Anyone currently having issues with their septic system is highly encouraged to make the necessary repairs. As mentioned above, any physical connections to the JEA system as part of this program will be several years away. 
Future Updates
More public information will be provided through the media and through COJ and JEA websites in the coming months. 
Check out some of the media coverage about the program: