Southside Integrated Pipe System (SIPS)
Southside Integrated Pipe System (SIPS)

Program Overview
JEA is continuing work on a project to construct a new water transmission pipeline between two major water treatment grids in the Duval County Service Territory. The project will allow JEA the ability to transport excess water supply from the north side of the St. Johns River to the south side of the river to better meet increased Potable Water demand in the southerly portion of the JEA service area.
The Southside Integrated Pipe System (SIPS) project was created following a study that investigated JEA's future water supply needs. Implementation of this project will deliver raw water from the Main Street Water Treatment Plant (WTP) currently serving JEA's North Grid service area, to the Deerwood III (Water Treatment Plant) WTP which serves JEA's South Grid service area. Once the new water transmission line is constructed and placed on-line, it will result in a direct offset of water withdrawal from the South Grid. Once completed, this project will promote conservation of the Floridian aquifer by lessening JEA's water resource withdrawal demand from its southern Raw Water well fields.
Planning, Design and Construction Projects
A project of this magnitude begins by surveying the streets and surrounding areas to determine the precise location of the existing water lines and other underground utilities that may present conflicts during construction. The pre-design evaluation also identifies the public rights of way, existing asphalt and soil conditions, and other conditions that will be factored into the project's design.
After the design is completed, project phases are constructed using a combination of local contractors and JEA crews dedicated to this program. Some phases are "packaged" as a single project to be constructed at the same time due to their connectivity and proximity. Those projects are bid and awarded to a contractor. Smaller, individual street segments are completed by JEA's in-house forces. This bilateral approach gives JEA the flexibility to keep projects moving forward at a consistent pace.
Project Phases
The first phase of the project involves the installation of approximately 34,000 feet of 30-inch ductile iron water main from Southside Boulevard and Bradley Road to the Deerwood III WTP.  As part of this project phase, we will replace approximately 3,548 feet of 6-inch of distribution water main, approximately 4,000 feet of raw water main from a future JEA production well site in the Forest Boulevard area to connect to an existing raw water main, and extending the water main along Forest Boulevard. By extending the water main in this location, we will have the opportunity to serve 20 homes on Forest Boulevard who are currently served by private wells. Please see maps for the current detour routes below.  
Phase 1 - Overall Project Route
Below is a map of the overall project route for Phase 1 of this project. Learn more about Phase 1 of this project.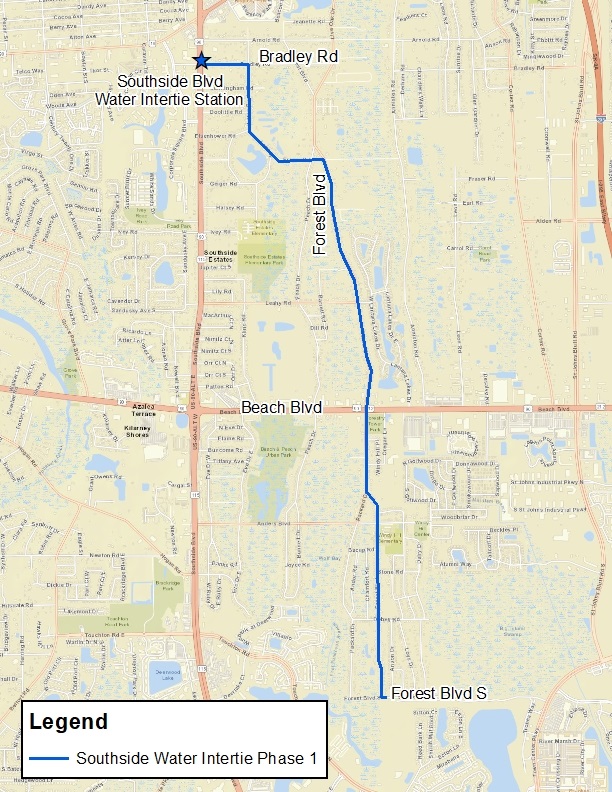 Current Temporary Road Closures and Detours - Through November 2023*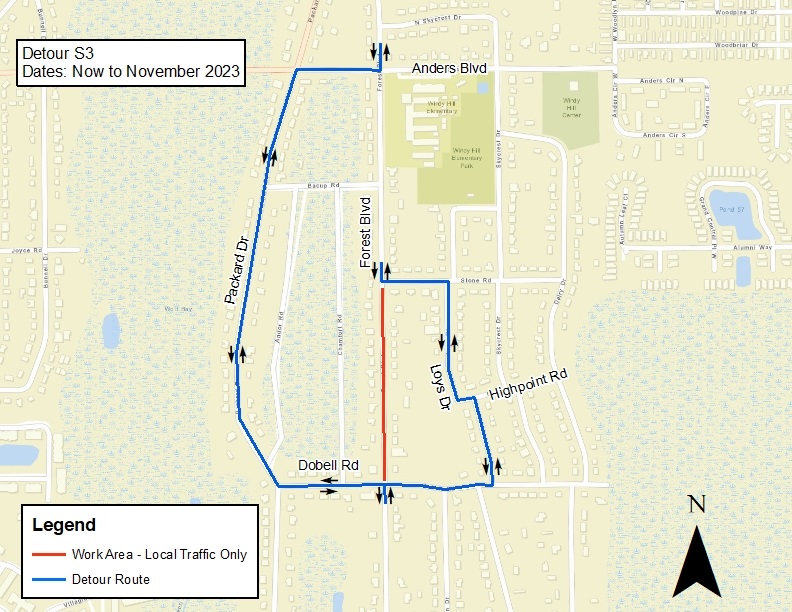 Even Better Power Reliability

}
/uploadedImages/jeacom/SiteInterceptAdCEMI5.jpg
JEA's state-of-the-art technology identifies customers and neighborhoods in need of electric reliability improvements.