Circuit 663 Electric Reliability Project
Circuit 663 Electric Reliability Project

Project Overview
JEA and contractor electric crews will soon be working on a large scale electric infrastructure improvement project in your area, installing new electric transmission poles, distribution poles, power lines and facilities.  This project will consist of upgrading the existing 6.25-mile long circuit between JEA's Firestone Road and Hamilton Street Substations (see overall project work area map below). This circuit has recently experienced increases to electric generation and service load due to growth in this area since the system was originally built in 1948. The circuit must be upgraded and replaced as it has reached the end of its useful service life for providing consistent and reliable service to this area. Once completed, the upgraded transmission system will improve your overall electric system reliability and prevent future unplanned power outages in this area. 
Estimate Dates & Work Schedule
Anticipated Start Date: June 2022*
Estimated Completion Date: Winter 2023*
Monday through Friday, 7:00 a.m. to 5:00 p.m.*
*Dates are highly subject to change, and in some circumstances, extended hours and weekends may be required.
Construction Conditions
The project construction will first start along the Shirley Avenue and San Juan Avenue electric corridor and gradually work through the remaining areas. More project updates will be provided as work progresses. The majority of this construction will take place in the City of Jacksonville's rights-of-ways and easements. This work will require several pieces of equipment (cranes, delivery trucks, bucket trucks, etc.) to be set up in the immediate area, as well as several large trucks parked along the street and in the rights-of-ways during construction. Some tree trimming and removal will be required prior to the pole installation work.
The contractor will be required to temporarily close sections of roadways to complete work along the project route. Every effort will be made to ensure that access to roads, homes and/or businesses are maintained. Please observe all construction signs, detours and general directions provided by the crews working on-site.    
Project Update - July 2022
Tree trimming & removal along Shirley Avenue has been completed. 
Crews will continue tree trimming along Jammes Avenue, followed by San Juan Avenue. 
Temporary sediment control devices have been installed project wide. These devices are used to protect water quality in nearby waterways from sediment (loose soils) in storm water runoff.
Crews are currently installing temporary distribution poles along Shirley Avenue. 
Large transmission poles will start being delivered and set along Shirley Avenue starting in late July 2022. 
Poles will continue  to be delivered each day to be installed into the Fall 2022. 
Planned Power Outages
Customers will experience multiple brief power outages over the duration of the project. Customers will be notified prior to any prolonged (more than 1 hour) planned electric outages. The contractor will knock on doors prior to any brief outages.
View Project Phases Currently Under Construction
Shirley Avenue Electric Reliability Project
Map of the Project Area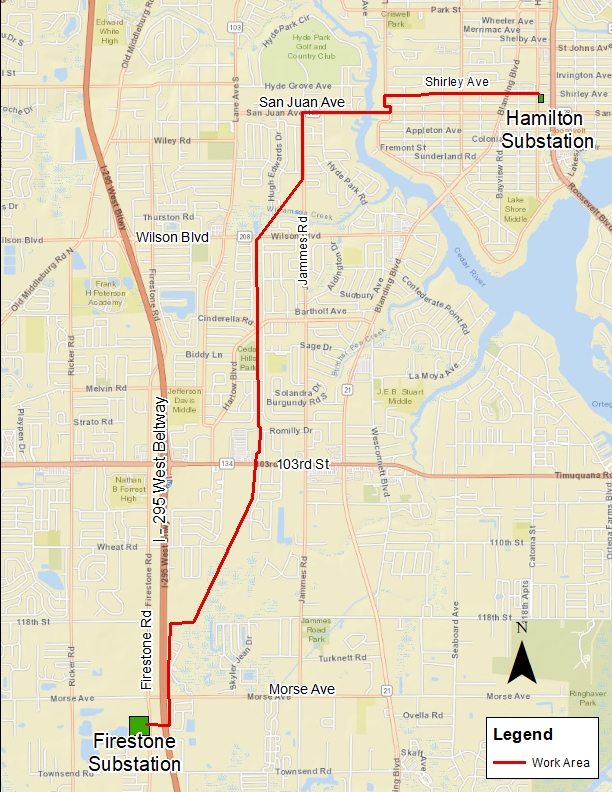 Progress Photos - July 2022
See below progress photos taken on July 25th of the pole installation near the intersection of Shirley Avenue and Vista Avenue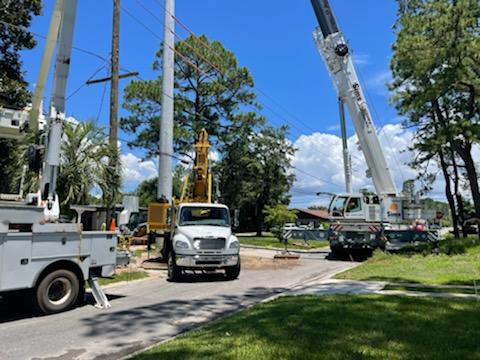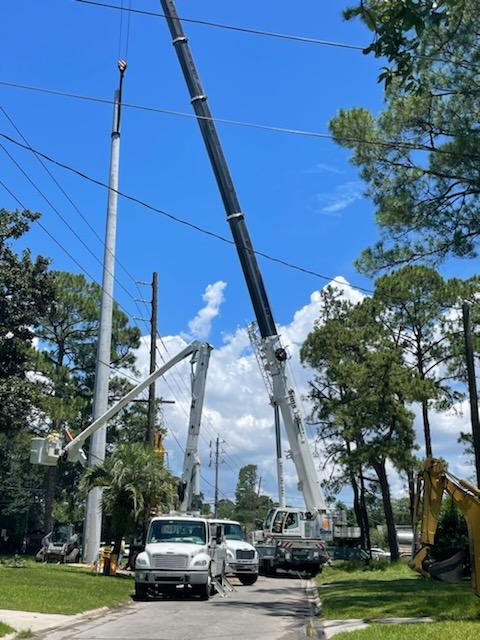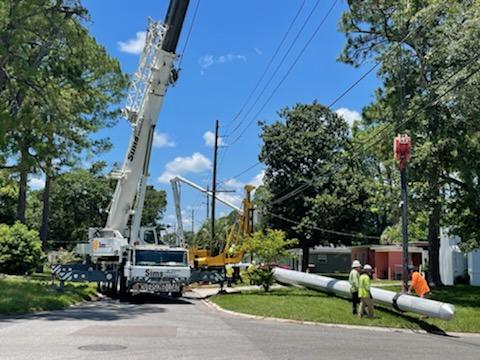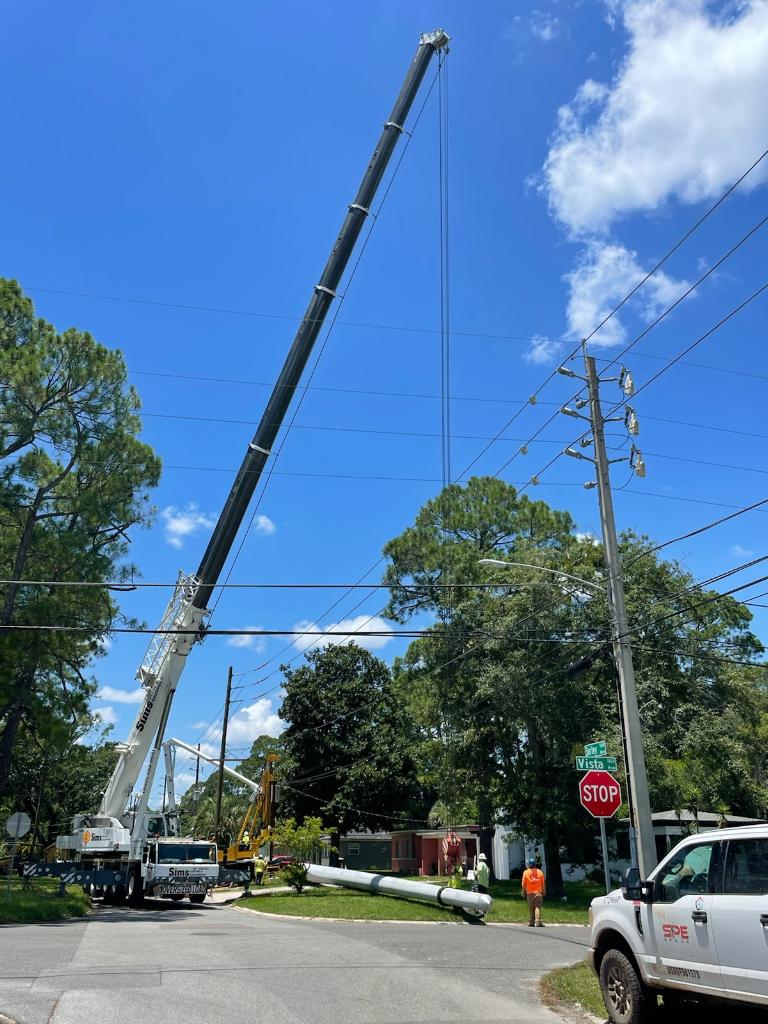 Restoration of the Project Area
Restoration of the project area will begin after the electric lines have been  installed, tested and cleared for use. Upon completion of the project, any existing pavement, grass, curb, gutter, driveways or sidewalks affected during construction will be returned to its pre-construction condition.
Even Better Power Reliability

}
/uploadedImages/jeacom/SiteInterceptAdCEMI5.jpg
JEA's state-of-the-art technology identifies customers and neighborhoods in need of electric reliability improvements.