Otter Run Water Treatment Facility Improvement Project
Otter Run Water Treatment Facility Improvement Project

The goal of this construction project is to make the community even better by improving our service and reliability to your neighborhood. Start and Completion dates are subject to change and do not include final restoration of the project area. Thank you in advance for your patience!
Estimated Dates & Work Schedule
Anticipated Start Date:
2018-04-30
Anticipated End Date:
2019-11-15
Work will take place Monday through Friday from 7:00 a.m. to 5:00 p.m. Please note in some circumstances, weekend and evening hours may be necessary.
Project Objective
JEA has completed work to upgrade the Otter Run Water Treatment Plant (WTP) located at 96119 Otter Run Drive. In the past, during periods of increased water demand (i.e. summer months) the Otter Run WTP has been used primarily as a back-up to other nearby water plants to service your area.
However, due to current upgrades and repairs at the other plants on what we refer to as the Lofton Oaks grid, the Otter Run WTP has experienced increased demand and use over the past few years. 
A review of the facility by our engineers determined that the water reservoirs at the plant were nearing the end of their service lives and should be upgraded or replaced accordingly.  We completed rehabilitation of the entire facility, investing in Nassau County's JEA infrastructure.
Learn how JEA delivers more than 107 million gallons of water each day to our customers
Construction Scope
During this project, most of the construction took place behind the fenced areas of the plant and equipment traffic was confined to the dirt road located behind the facility. However, residents may have noticed some increased vehicular traffic through the neighborhood to the plant and there may have been some noise associated with this construction.
This project also included the demolition and construction of several components behind the fenced areas of the facility (outlined below).  
Demolish existing yard piping valves, ground piping valves, flow meters, and concrete well slabs at the two potable water wells
Demolish existing fiberglass aerator and enclosure
Demolish two (2) existing steel ground storage tanks (30,000 gallon and 36,000 gallon)
Demolish one (1) 5,000 gallon hydro pneumatic tank
Demolish three (3) existing high service pumps, associated piping, valves, and flow meter
Demolish existing sodium hypochlorite disinfection feed and storage system
Demolish existing electrical gear and communication equipment
Construct new electric system and control system
Construct new yard piping as required to accommodate the new equipment and structures
Construct new high service pump building with electrical room and ADA restroom
Construct one (1) new 100,000 gallon ground storage tank with new aerator
Install three (3) new high service pumps and one (1) new flow meter assembly
Install a new sodium hypochlorite feed and storage system for water treatment
Provide new fence and landscaping around the plant site
Landscaping and Fencing
As part of this work, the existing landscaping and overgrowth of vegetation will be removed early in the project and replaced with new fencing and additional landscaping towards the end of the project. 
Below are renderings of the new landscaping and fencing plan for this facility.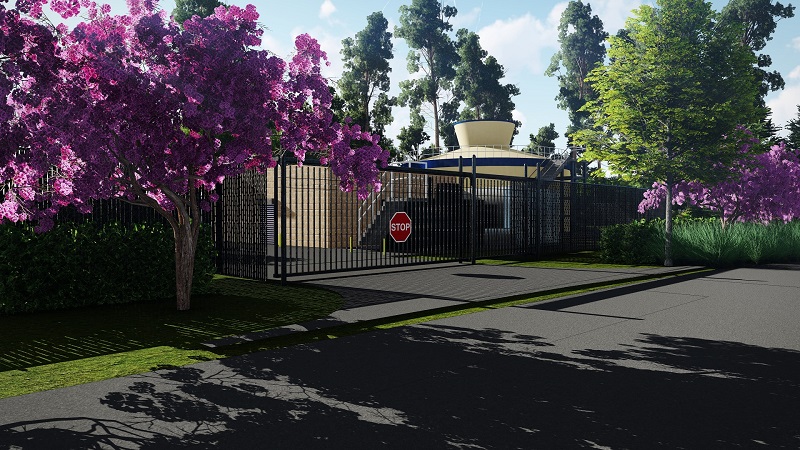 Otter Run 1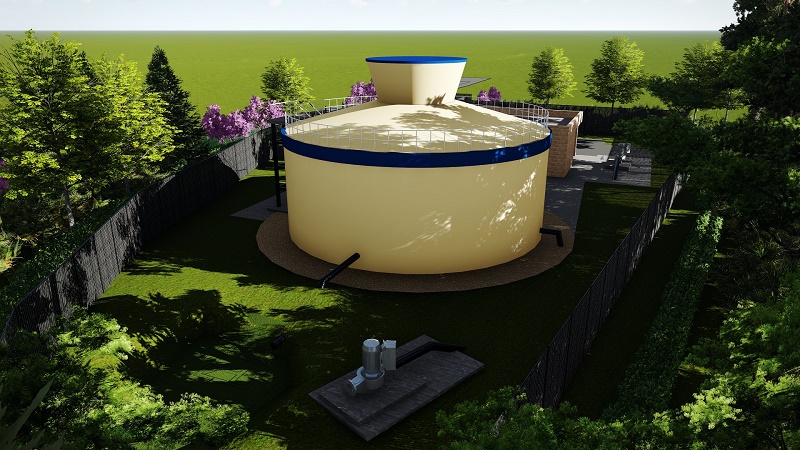 Otter Run 2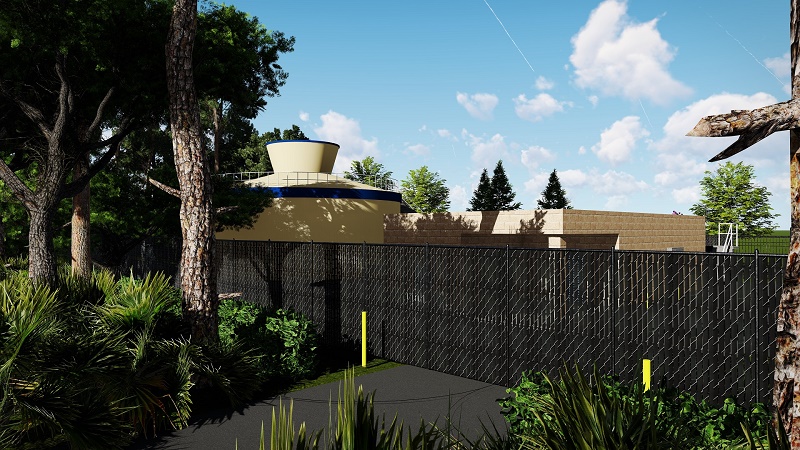 Otter Run Rendering #3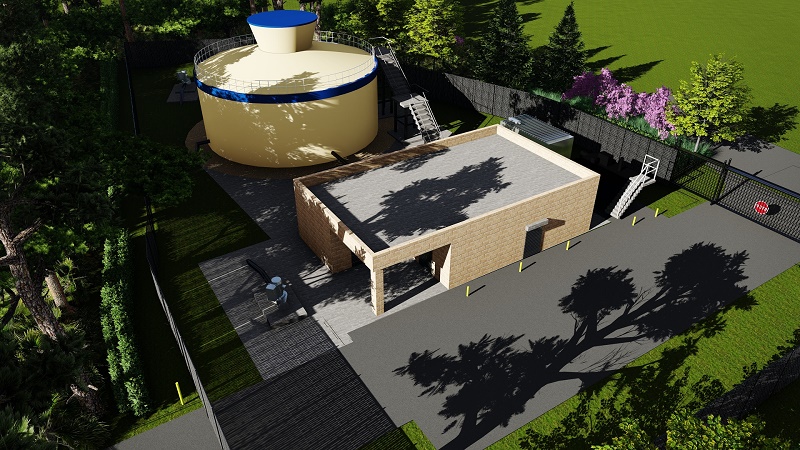 Otter Run #4
Map of Project Area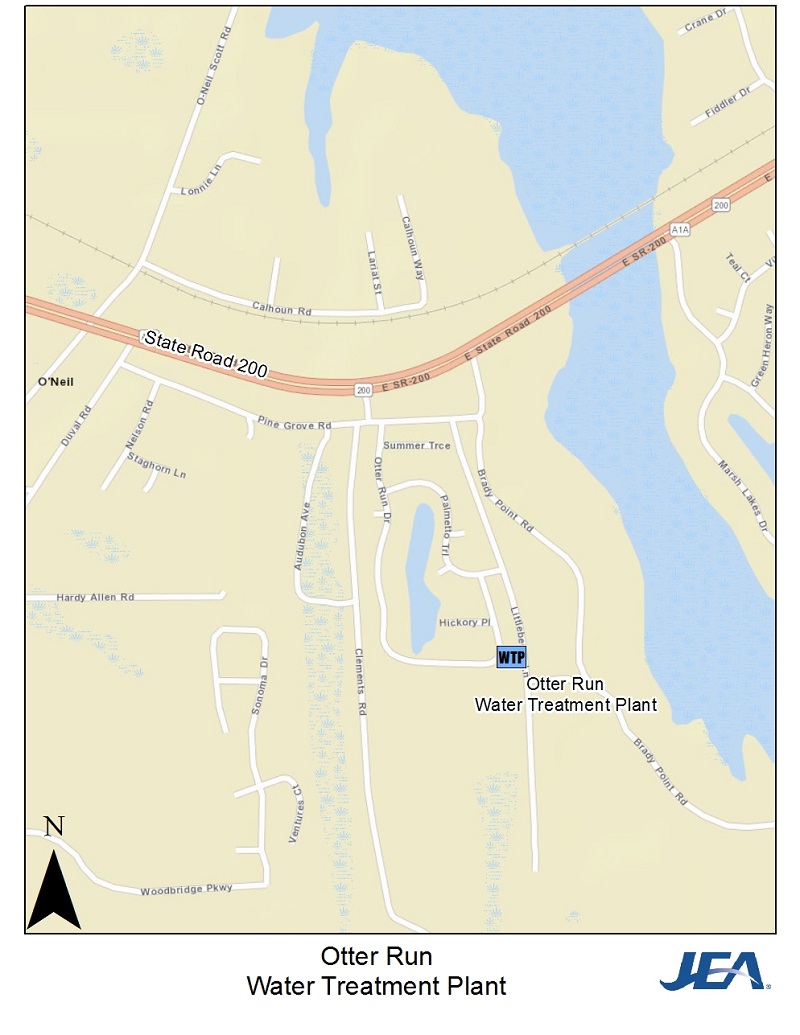 Otter Run Map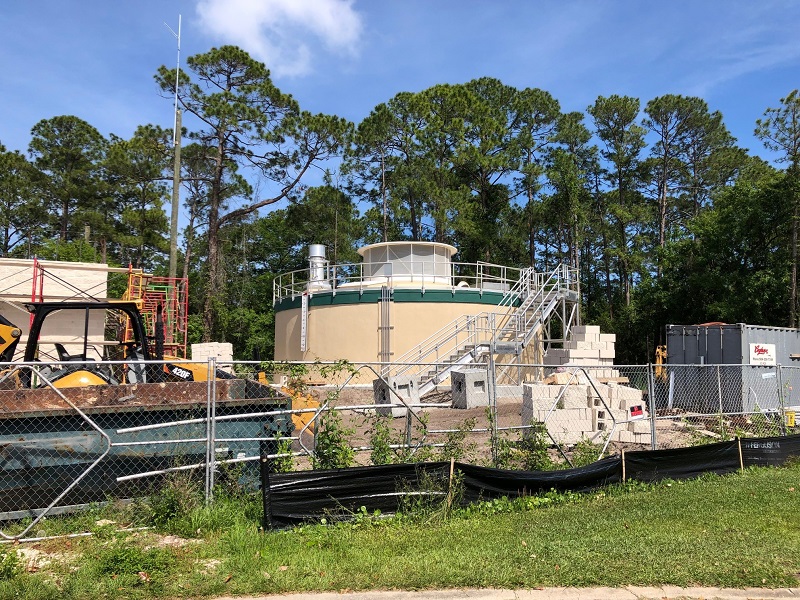 Otter Run Photo 1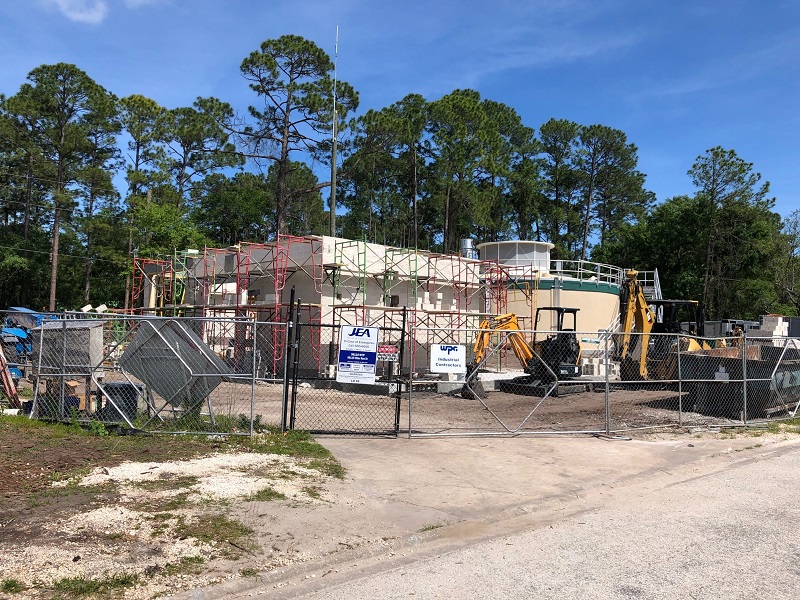 Otter Run Photo 2
Restoration of the Project Area
Restoration of Otter Run Drive will begin once the new sewer manhole and lines have been installed, tested and cleared for use. Final restoration of the entire project area including new fencing and landscaping occurred once the project was completed.  
Contact
If you have any questions about the Otter Run Water Treatment Facility Improvement Project, please contact JEA Project Outreach at (904) 665-7500 or email us at projectoutreach@jea.com.