West Grid - Wilson to Ortega Farms Sewer Improvement Project
West Grid - Wilson to Ortega Farms Sewer Improvement Project

The goal of this construction project is to make the community even better by improving our service and reliability to your neighborhood. Start and Completion dates are subject to change and do not include final restoration of the project area. Thank you in advance for your patience!
Estimated Dates & Work Schedule
Anticipated Start Date:
2019-01-02
Anticipated End Date:
2020-08-14
Normal work schedule is Monday through Friday 7:00 a.m. to 5:00 p.m. Please note that in some circumstances, evening and weekend work hours may be necessary. Completion date includes final restoration of the project area. 
Project Objective
JEA has completed work to replace and upsize an existing 24-inch sewer transmission main which had reached the end of its service life. This pipe serves a large segment of Jacksonville's west side, conveying approximately 3.6 million gallons a day of sewage to JEA's nearby Southwest Water Treatment Facility. The new 30-inch sewer transmission main will provide better sewer service reliability and assist with future growth in the area.              
The new sewer transmission main was installed starting near the intersection of Ortega Farms Boulevard and Timuquana Road, north along Ortega Farms Road, cross Fishing Creek at the City's Wayne B. Stevens Boat Ramp, continuing along Confederate Point Road, Cedar Hills Boulevard, Sunbury Avenue and ended at the southwest corner of  Wilson Boulevard and Aldington Drive.
Final Paving Update - July 2020
The contractor is returning to complete final paving of the project area July 27, 2020 through July 31, 2020* from 7:00 a.m. to 5:00 p.m. daily.  Dates are approximate and depending on weather, are highly subject to change. 
Paving east bound lanes of Wilson Boulevard between Aldington Drive and Sudbury Avenue - Two east bound lanes will be temporarily closed and traffic redirected to the turn lane during paving (48-hour closure)*

Paving both lanes of Sudbury Avenue between Wilson Boulevard and Cedar Hills Boulevard - Single temporary lane closures during paving
Paving both lanes of Cedar Hills Boulevard between Sudbury Avenue and Blanding Boulevard - Single temporary lane closures during paving
Residents in the immediate area will have limited access to their street and driveways during paving operations. Any vehicles left on the street may be towed. 
*Dates and times are highly subject to change.
Paving Area Map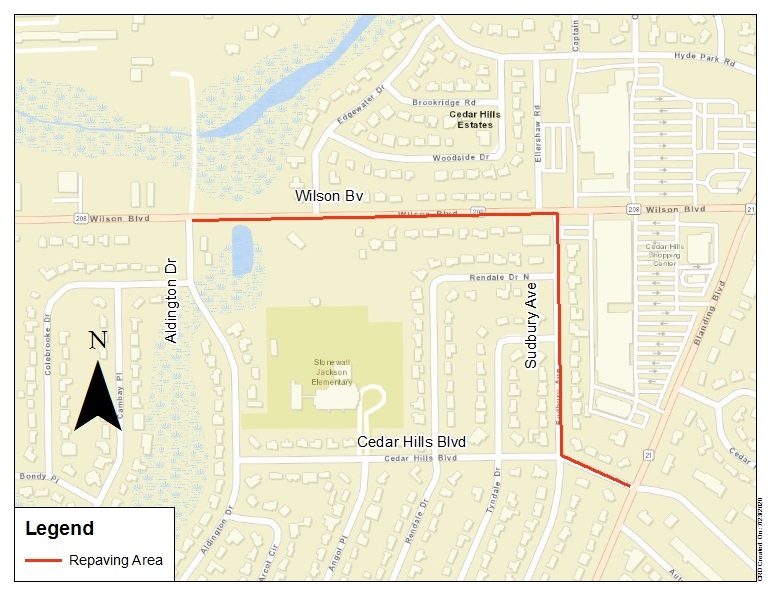 Overall Project Area Map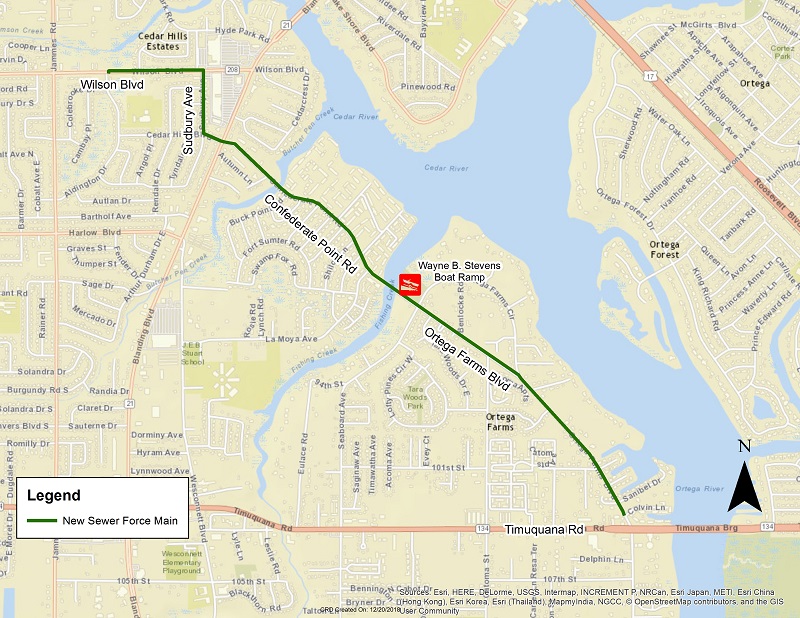 Progress Photos - Ortega Farms Boulevard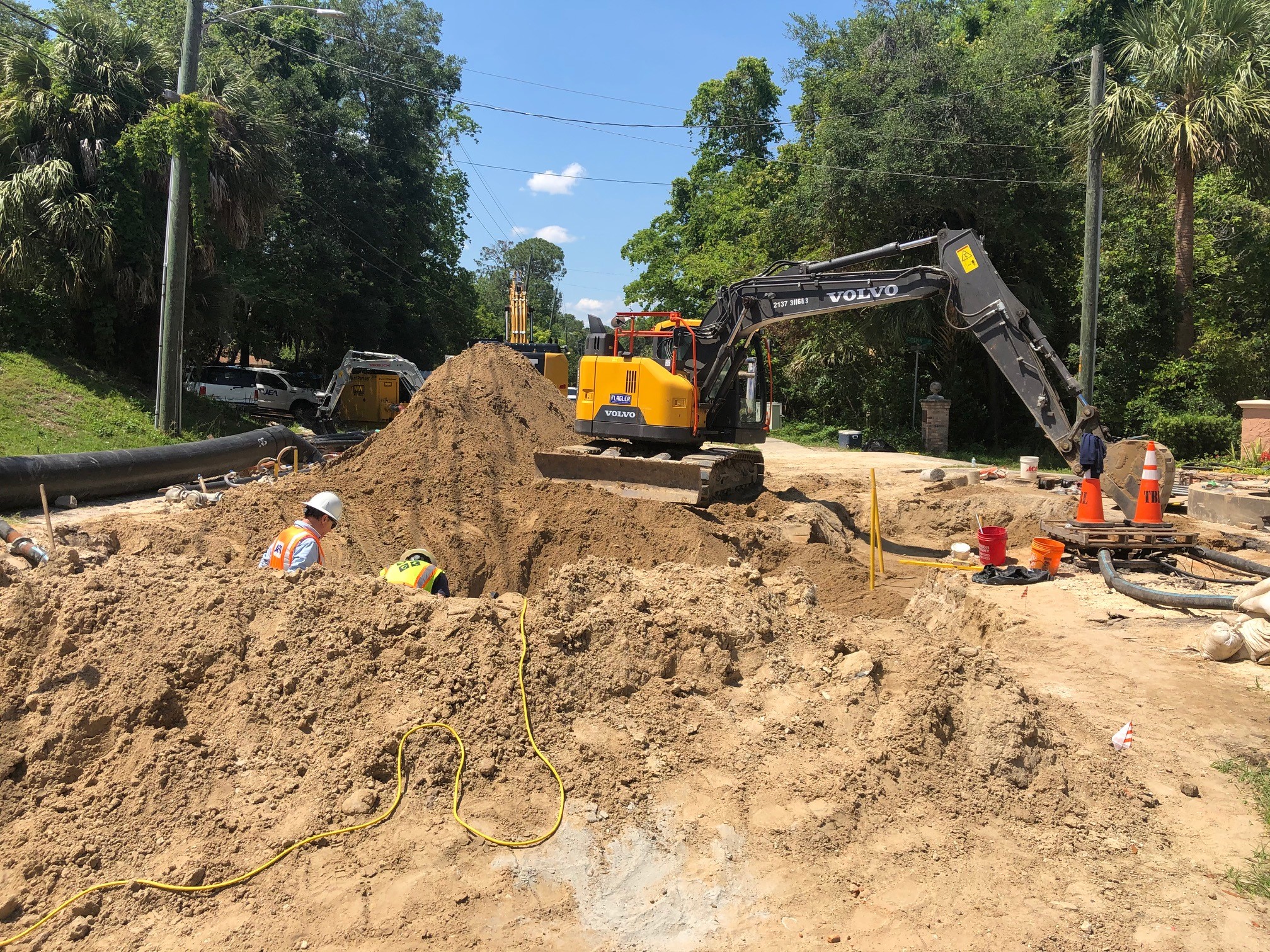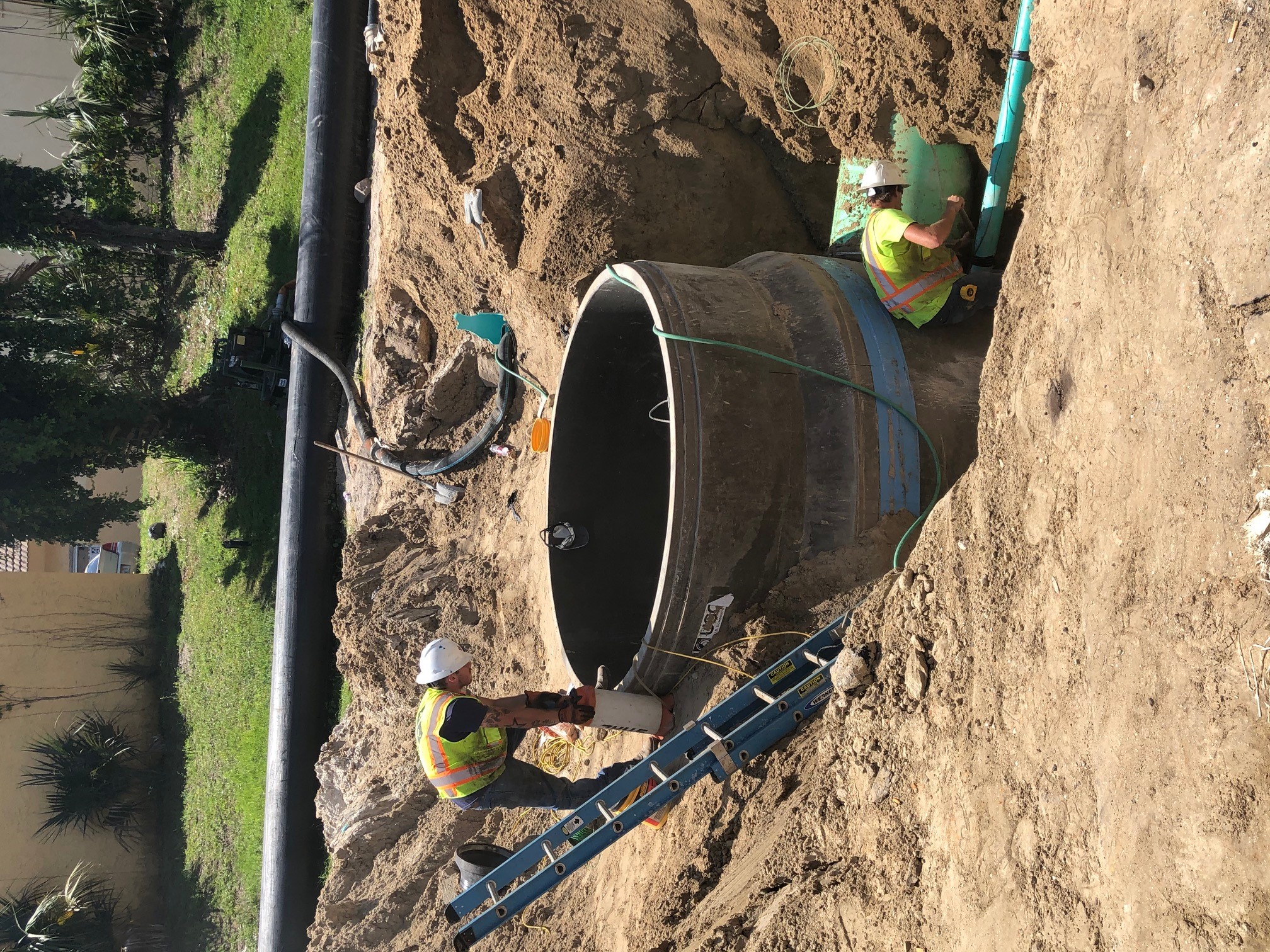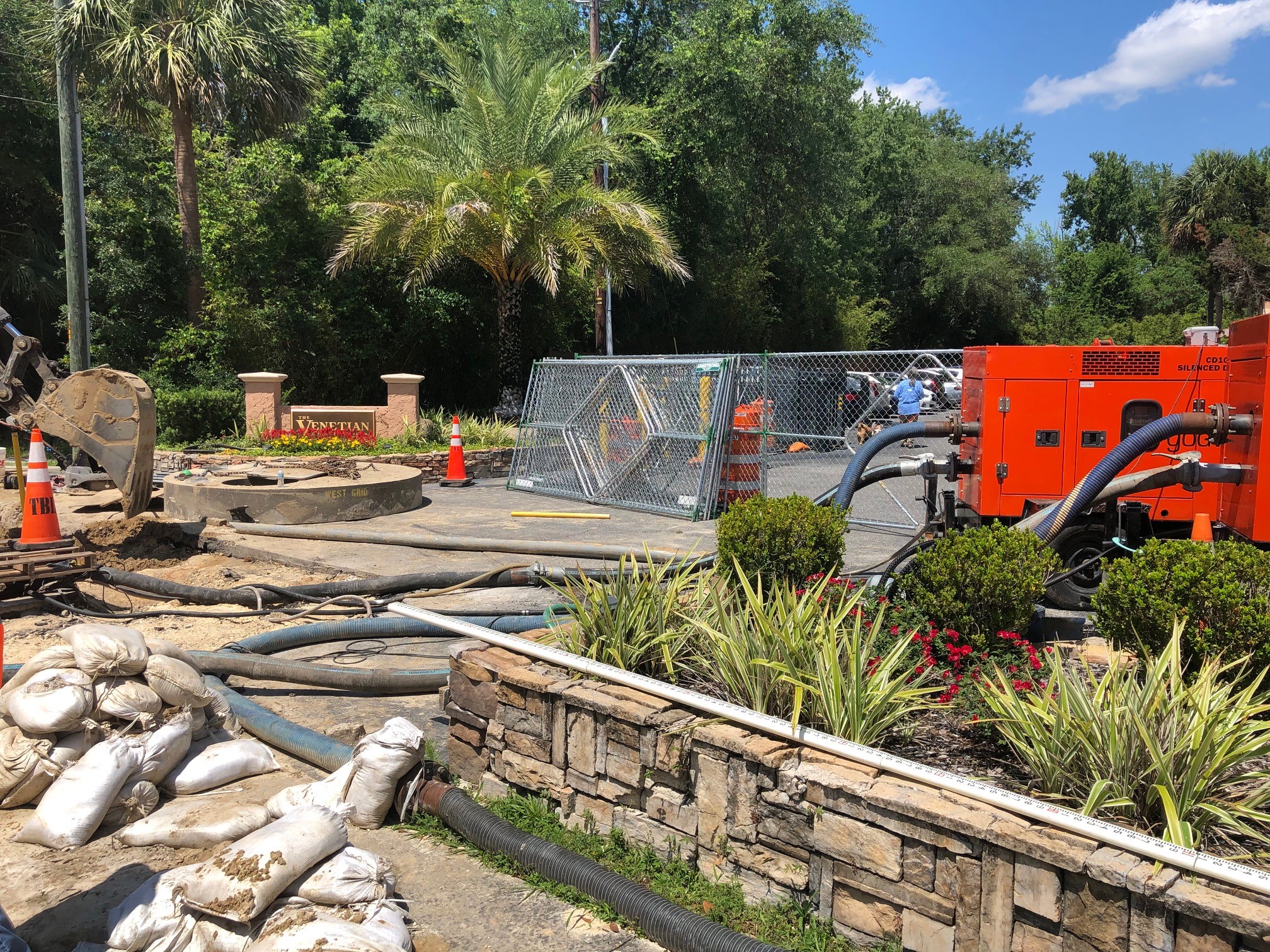 Progress Photo - Sewer By-pass Line on Ortega Farms
Progress Photo - Sudbury Avenue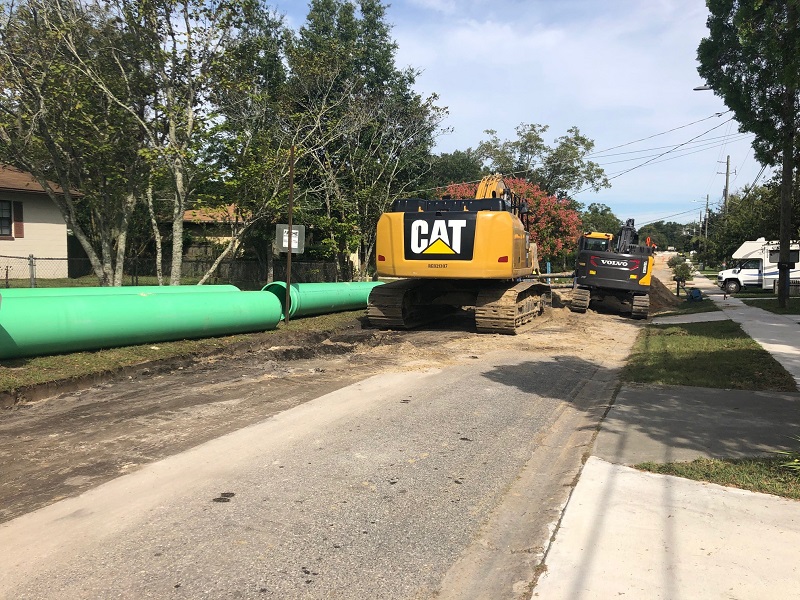 Progress Photo - Wilson Boulevard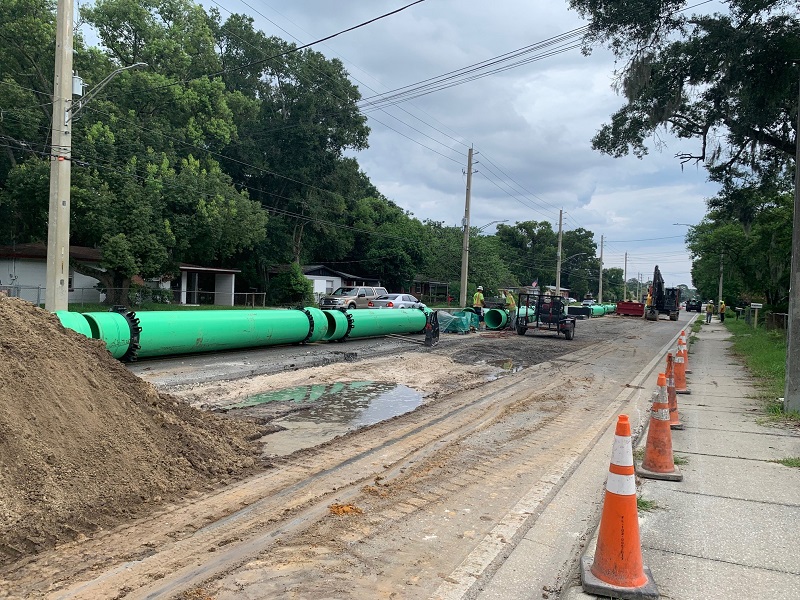 Progress Photo - Jack and Bore Under Blanding Boulevard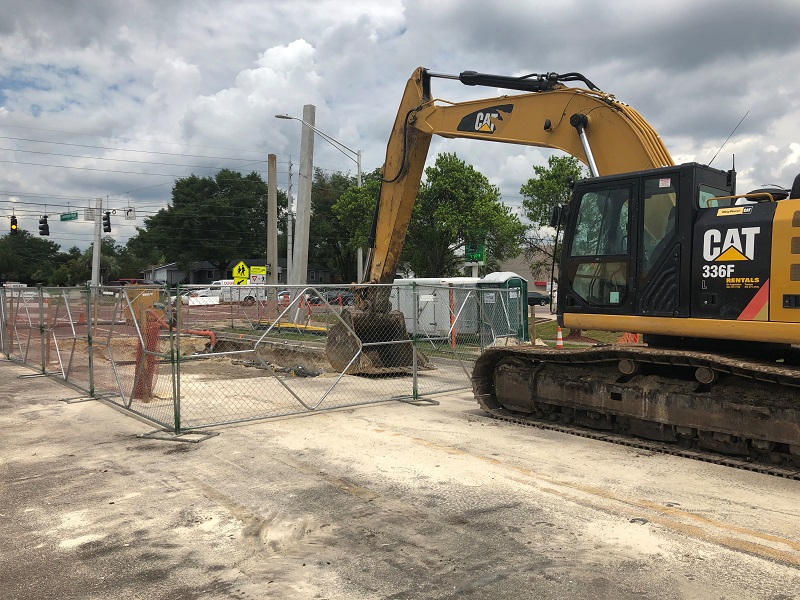 Construction Conditions and Tree Trimming
Construction will primarily occur in the City of Jacksonville (COJ) and Florida Department of Transportation's (FDOT) rights of way, roads and easements. The contractor will begin with mobilizing equipment and locating existing utilities within the project limits to locate the public rights of way and existing utilities (JEA, AT&T, Comcast, TECO Gas, etc.). 

The contractor will be required to temporarily close portions of roads to thru-traffic to complete the installation of the new sewer force main. These closures are necessary for the both the safety of the workers and the general public. Residents and businesses that reside within the project boundaries will be provided access and are permitted to drive (with caution) within the construction area. There will be times during the day when customers may have limited  access when the contractor is working directly in front of homes or businesses. The COJ's Wayne B. Stevens Boat Ramp will remain accessible during construction. 
Tree trimming may be required in areas with low-hanging tree branches in order to safely navigate equipment through the project area. 
Restoration of Project Area
Restoration of the project area will begin after the sewer line has been tested and cleared for use. Upon completion of the project, any existing pavement, concrete (sidewalks and driveways), grass, landscaping, or irrigation impacted during construction will be returned to its pre-construction condition.
Contact
If you have any questions about the West Grid - Wilson to Ortega Farms Sewer Improvement Project, please contact JEA Project Outreach at (904) 665-7500 or email us at projectoutreach@jea.com.