Lofton Oaks Water Treatment Facility Project
Lofton Oaks Water Treatment Facility Project

Project Objective
A contractor working for JEA (Sawcross, Inc.) will soon begin a project to upgrade the Lofton Oaks water treatment plant (WTF) located at 111 St. Mark Trail in Nassau County, in the Lofton Oaks Subdivision. A recent review at the facility by our engineers determined that the equipment at the facility is nearing the end of its useful service life and should be upgraded and replaced accordingly. JEA is planning to perform a complete rehabilitation of the entire facility, investing in Nassau County's JEA infrastructure.  
In the past, during periods of increased water demand (i.e. summer months) the Lofton Oaks WTF has been used primarily as a back-up to other nearby water plants to service the area. However, due to current upgrades and repairs at the other plants on what we refer to as the Lofton Oaks grid, the Lofton Oaks WTP has experienced increased demand and use over the past few years.  
Once in operation, this upgraded potable (drinking) water facility will treat, store and pump treated water into JEA's distribution system, providing water service to Nassau County. The improvement of this water treatment facility will allow for future growth in Nassau County, while providing improved water pressure and system reliability to all of our customers in the area. 
 Estimated Completion Date:  January 2024*
*Date is subject to change
Construction Conditions
Work will primarily occur on the facility property located at 111 St. Mark Trail, and in Nassau County rights-of-way and utility easements. However, you may notice some increased vehicular traffic through the neighborhood to the plant and there may be some noise associated with this construction. Normal construction work hours will be Monday through Friday from 7:30 a.m. to 5:30 p.m. Monday through Friday. There may be occasions where extended hours or night and weekend work may occur.
This project will also include the demolition and construction of several components behind the fenced areas of the facility (outlined below).  
Demolish existing pump control building
Construct new high service pump control building with electrical room and ADA restroom
Construct new electric system and control system (repurposing components when possible)
Remove and replace existing aerator and enclosure
Demolish and reconstruct existing ground 75,000 gallon storage tank
Repurpose existing pumps and motors
Demolish and replace existing yard piping valves, ground piping valves, flow meters, and concrete well slabs at the potable water well
FPL will also be installing a new 480 KV service to the project site from Highway A1A to St. Paul's Boulevard located in the existing right-of-way just off the pavement
This project will not impact your normal JEA water, sewer or electric service.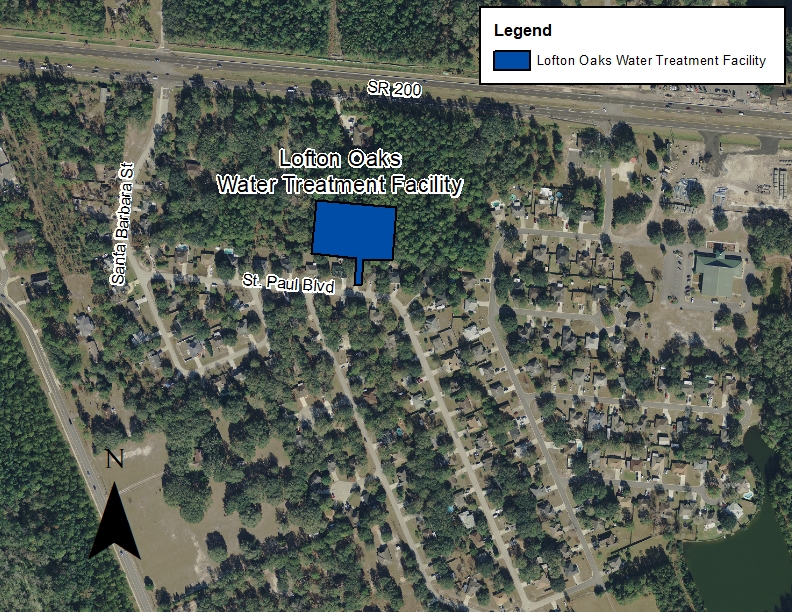 Restoration of the Project Area
Restoration of the project area will begin after the new water main has been installed, tested and cleared for use. Upon completion of the project, any existing pavement, grass, curb, gutter, driveways or sidewalks affected during construction will be returned pre-construction condition.