Gregory Drive Emergency Sewer Manhole Replacement Project
Gregory Drive Emergency Sewer Manhole Replacement Project

The goal of this construction project is to make the community even better by improving our service and reliability to your neighborhood. Start and Completion dates are subject to change and do not include final restoration of the project area. Thank you in advance for your patience!
Estimated Dates & Work Schedule
Anticipated Start Date:
2020-08-17
Anticipated End Date:
2020-09-30
Monday through Friday, 7:00 a.m. to 5:30 p.m.*
*NOTE: In some circumstances, extended hours and weekends will be required. Crews will not work on JEA holidays (9/7/20). 
Project Objective
A contractor working for JEA (Callaway Contracting, Inc.) has completed repairs to a failing sanitary sewer manhole located at JEA the sewer pump station at 7677 Gregory Drive between Ricker Road and Old Middleburg Road. Failures to sewer manholes can potentially cause major sewer back-ups and overflows, roadway issues and/or sinkholes if not addressed in a timely manner. 
Construction Conditions
For the safety of our crews, this work required the removal of ground water with pump systems prior to excavation. Additionally, a temporary above ground by-pass pumping system was installed in the drainage ditch and beneath the right-of-way portions of driveways along Gregory Drive. This temporary by-pass line was required to maintain customer sewer service for the duration the project. These pump systems were required to operate continuously (24-7) during the sewer repairs.  
Construction occurred in City of Jacksonville rights-of-way and easements. For the safety of our crews and the general public, JEA was required to close and detour Gregory Drive at the work location, and around the location of the by-pass line and pump systems. Residents had access to their homes and motorists were permitted to drive (with caution) within the sewer by-pass line location (please see work area and detour map below). JEA was also required to temporarily detour the sidewalk near the work area on Gregory Drive to the opposite side of the road.  
Work Area and Detour Map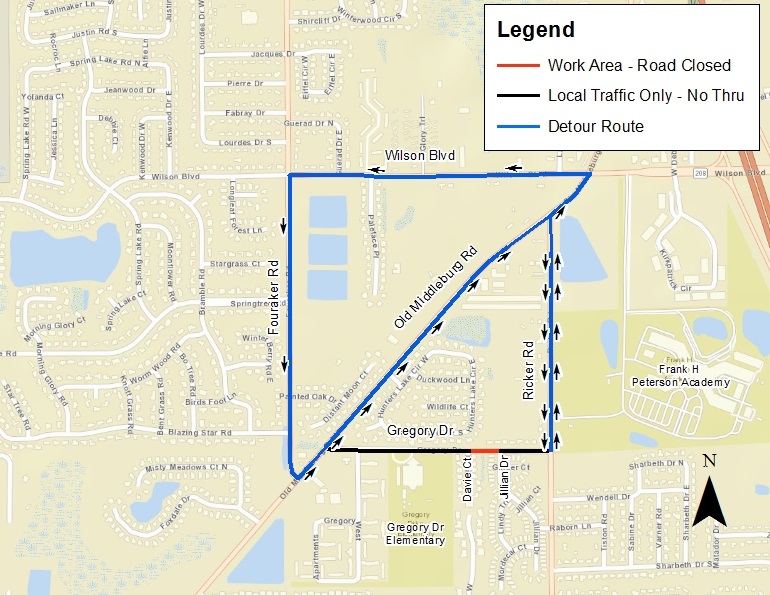 Restoration of the Project Area
This project is substantially complete. Restoration will take place in weeks following completion of the project. Any existing pavement, grass, curb, gutter, driveways or sidewalks affected during construction will be returned to its pre-construction condition. 
Contact
If you have any questions about the Gregory Drive Emergency Sewer Manhole Replacement Project, please contact JEA Project Outreach at (904) 665-7500 or email us at projectoutreach@jea.com.