Damaged Weatherheads
If you have damage where the electric wires attach to your house, you must get a licensed electrician to make repairs before we can restore power to your house.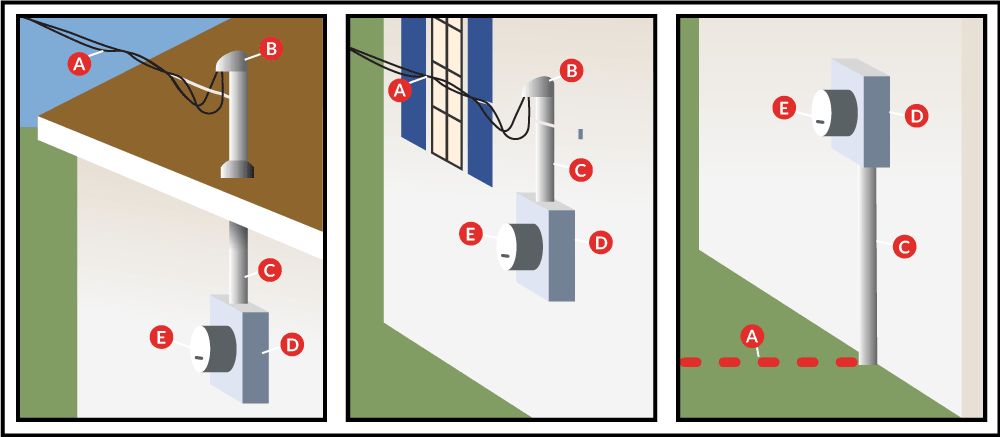 Service Lines (A), Weatherhead (B), Riser (C), Meter Can (D), Meter (E)
JEA Responsibility 
Damaged service lines, whether overhead or underground, up to the point where the lines attach. (A)
Damage to the actual meter. (E)
Customer Responsibility
Damage to the weatherhead (for houses with overhead lines). (B)
Note: Any repairs to the weatherhead, riser or the meter can and its contents must be made by a licensed electrician.
Damage to the riser (C)
Damage to the meter can (the metal case surrounding the meter) (D)
Please call us at (904) 665-6000 should you have any questions.
Always Be in the Know
}
/uploadedImages/Images/SiteIntercept_Ad_Alerts.jpg
Did you know JEA provides free billing and outage alerts via text and email?
Related Links
Generator Safety

Portable generators can offer convenience during periods of prolonged power outages. They can also be dangerous if used improperly. Please review this information if you plan to use a portable generator:

Tree Damage and Debris Removal

JEA makes a continual effort to limit potential damage to power lines from trees with our routine tree maintenance plan. We hire professional trimming contractors who use proper arboricultural pruning methods to keep the tree growth within acceptable limits.

Electric Safety

We take electric safety seriously and we want you to, as well. We hope the information here will help you enjoy the benefits of reliable electricity safely both inside and outside the home.