Damaged Weatherheads
If you have damage where the electric wires attach to your house, you must get a licensed electrician to make repairs before we can restore power to your house.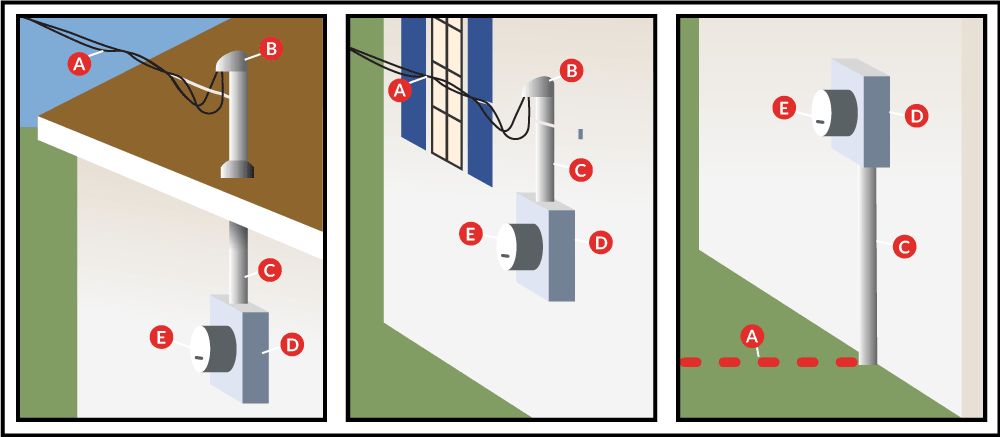 Service Lines (A), Weatherhead (B), Riser (C), Meter Can (D), Meter (E)
JEA Responsibility 
Damaged service lines, whether overhead or underground, up to the point where the lines attach. (A)
Damage to the actual meter. (E)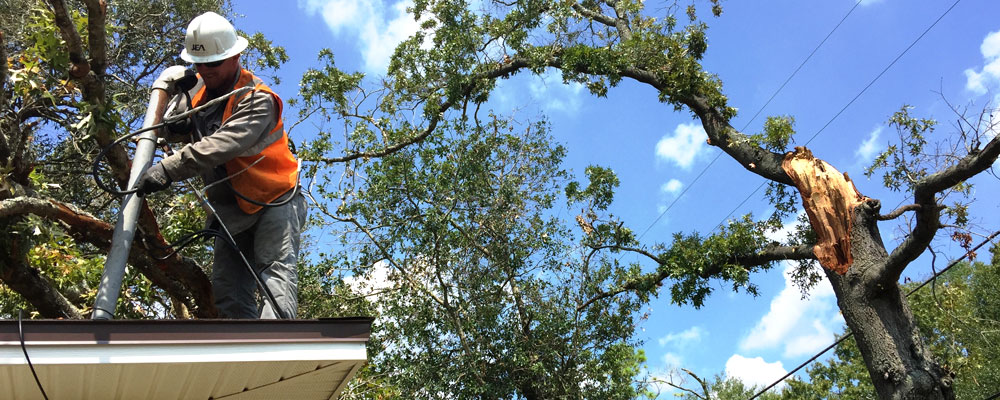 Customer Responsibility
Damage to the weatherhead (for houses with overhead lines). (B)
Note: Any repairs to the weatherhead, riser or the meter can and its contents must be made by a licensed electrician.
Damage to the riser (C)
Damage to the meter can (the metal case surrounding the meter) (D)
Please call us at (904) 665-6000 should you have any questions.
If repairs are needed to your home or business's weather head and/or electrical system before you can receive power from JEA, please follow these steps:
Customer hires a licensed electrician, who will take responsibility for the process
A licensed electrician will obtain or have a standing permit from the appropriate County or City building department
A licensed electrician completes the work required
A licensed electrician notifies appropriate county or city building department for final inspection or notification that repairs are complete.
The corresponding building departments will notify JEA to request reconnection.
Notification Process By County Within JEA's Service Area
Duval County
During normal weekday hours (Monday – Friday, 7 a.m. to 4 p.m.), the electrician reports repairs complete to City of Jacksonville's Building Inspection Division and JEA.
During after hours, the electrician will report directly to JEA and follow up is done through City of Jacksonville's Building Inspection Division at a future date

Building Inspection Division
City of Jacksonville
214 North Hogan Street
Jacksonville, Florida 32202
(904) 255-8503
St. Johns County
County notifies JEA on a daily basis that inspections are complete and ready for reconnection

St. Johns County Building Division
4040 Lewis Speedway
St. Augustine, Florida, 32084
(904) 827-6800
Atlantic Beach, Baldwin, Orange Park and Clay County:
The electrician notifies the appropriate jurisdiction that the repairs are complete
City or County notifies JEA via email that the inspection is complete

Atlantic Beach Building Department
800 Seminole Road
Atlantic Beach, Florida
(904) 247-5826

Town of Baldwin
10 US Highway West
Baldwin, Florida 32234
(904) 266-5031

Town of Orange Park
2042 Park Avenue
Orange Park, Florida 32073
(904) 264-2635

Clay County Building Division
477 Houston Street
Green Cove Springs, Florida 32043
(904) 269-6307

}
/uploadedImages/Images/SiteIntercept_Ad_Outage_Reporting.jpg
Report and track any service issue you're experiencing, or monitor the status an electrical outage.
Related Links
Tree Damage and Debris Removal

JEA makes a continual effort to limit potential damage to power lines from trees with our routine tree maintenance plan. We hire professional trimming contractors who use proper arboricultural pruning methods to keep the tree growth within acceptable limits.

Electric Safety

We take electric safety seriously and we want you to, as well. We hope the information here will help you enjoy the benefits of reliable electricity safely both inside and outside the home.