Ponce De Leon - Well #3 Water Improvement Project
Ponce De Leon - Well #3 Water Improvement Project

The goal of this construction project is to make the community even better by improving our service and reliability to your neighborhood. Start and Completion dates are subject to change and do not include final restoration of the project area. Thank you in advance for your patience!
Estimated Dates & Work Schedule
Anticipated Start Date:
2019-02-01
Anticipated End Date:
2020-02-01
Normal work schedule is Monday - Friday, from 7:00 a.m. to 5:00 p.m. *Please note, start and completion dates are highly subject to change and in some circumstances, weekends and extended hours may be necessary. 
Phase I - Well Only
Anticipated Start Date: February 2019*
Estimated Completion Date: May 2019*
Phase II - Well Discharge Piping to Water Treatment Plant
Anticipated Start Date: May 1, 2019*
Estimated Completion Date: February 1, 2020* 
Project Objective
JEA will be installing a new potable water supply well located at 3188 South Ponte Vedra Boulevard (A1A) near the Ocean Grande at Serenata Beach. This well is needed to replace an existing well that has reached the end of its service life and to plan for future growth in the area. Once in operation, this well will be one of over 122 active wells that are part of a larger JEA regional water supply transmission system.
The second phase of this project will involve the installation of a new raw water main along South Ponte Vedra (A1A) from the new well site north to the Ponce De Leon Water Treatment Facility. This work will be completed using the directional drill and open cut methods of construction. The design intent is to minimize disruption to the area, specifically the entrance to the Ocean Grande at Serenata Beach. More information will be provided prior to this work.   
Roads Affected
South Ocean Grande Drive, A1A, South Ponte Vedra Boulevard
Project Area Map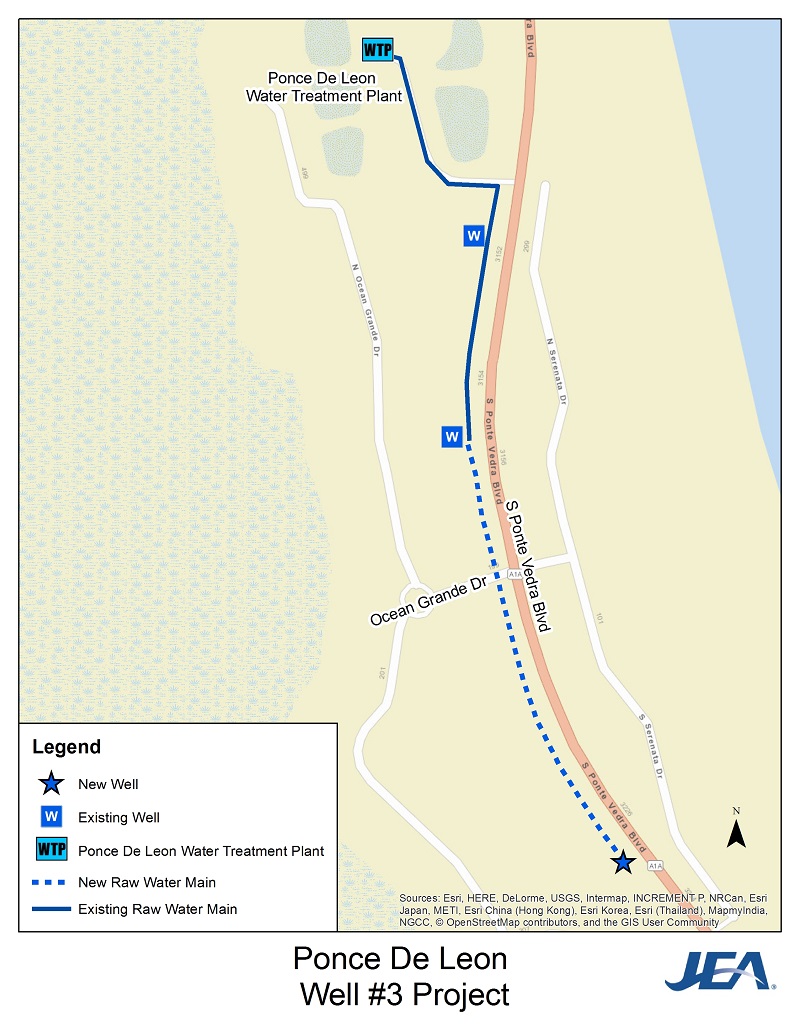 Construction Conditions
Construction will take place on JEA's property, and within the St Johns County rights of way, and easements. The contractor will be required to use of very large drilling equipment, trucks and generators to install the deep Floridan Aquifer well. Construction activity onsite will be continuous throughout the entire project. 
The contractor will be required to clear and grub the site all vegetation prior to construction. Customers will notice increased noise while the contractor is drilling the new well. There may be times the contractor will be required to work 24-hours-a-day during the critical portions of the well drilling process. We apologize in advance for any inconvenience.
Once the drilling of the well is completed and the necessary equipment is installed, JEA will fence the property, install a driveway and restore the grassed areas around the site and along South Ponte Vedra Boulevard (A1A).