Jacksonville Golf and Country Club Sewer Improvement Project
Jacksonville Golf and Country Club Sewer Improvement Project

The goal of this construction project is to make the community even better by improving our service and reliability to your neighborhood. Start and Completion dates are subject to change and do not include final restoration of the project area. Thank you in advance for your patience!
Estimated Dates & Work Schedule
Anticipated Start Date:
2019-01-14
Anticipated End Date:
2019-01-18
Project Objective
JEA and our contractor (LMK Pipe Renewal) have rehabilitated portions of the sanitary sewer main and lateral connections that serve the Jacksonville Golf and Country Club neighborhood.  
LMK utilized a Trenchless Lining Technology for the majority of the work, which reduced the amount of time needed to complete the project. Prior to lining, the lines were cleaned with a low-velocity spray and once cleaned, the lines were televised. If the pipe retained sufficient structural integrity LMK proceeded with the lining process. 
Restoration of Project Area - Paving Update
JEA contractors will be in the area the week of January 14, 2019 (weather permitting) to complete paving. We are requesting that residents within the paving boundaries (indicated on the map below) remove all vehicles, equipment and trash receptacles until the resurfacing operation is complete. Residents will have limited access to driveways when the paving is taking place.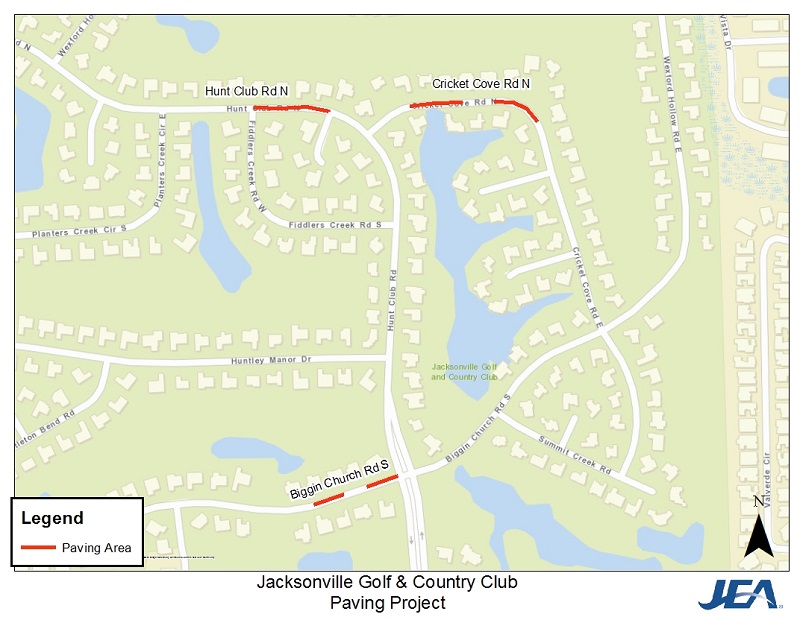 Project Challenges
As with many construction projects, we have encountered unforeseen circumstances that have delayed completion of the project. In addition to adverse weather, we found more than twice the amount of individual laterals to clean and inspect, we encountered varying pipe sizes throughout the project.
In multiple areas of Hunt Club Road, Biggin Church Road and Cricket Cove Road, the pipe did not retain sufficient structural integrity for the contractor to proceed which resulted in additional rehabilitation by JEA crews using the "open cut" construction method.
Contact
If you have any questions about the Jacksonville Golf and Country Club Sewer Improvement Project, please contact JEA Project Outreach at (904) 665-7500 or email us at projectoutreach@jea.com.
Related Links