Emory Circle Water Improvement Project
Emory Circle Water Improvement Project

The goal of this construction project is to make the community even better by improving our service and reliability to your neighborhood. Start and Completion dates are subject to change and do not include final restoration of the project area. Thank you in advance for your patience!
Estimated Dates & Work Schedule
Anticipated Start Date:
2019-09-25
Anticipated End Date:
2020-06-20
Monday through Friday, 7:00 a.m. to 5:30 p.m.

Note: In some circumstances, evening and weekend work may be necessary. The contractor will not work on JEA holidays. 
Project Objective
A contractor working for JEA (Jax Underground Utilities, Inc.) has completed a project to replace a portion of the aging potable water infrastructure that serves the Emory Circle area. These pipes had reached the end of their service lives and needed to be proactively replaced. This project will increase water pressure and provide improved system reliability.

This construction included replacing and upgrading approximately 7,100 linear feet of PVC potable water main along Emory Circle, Vassar Road, Tulane Avenue, Rollins Avenue and Cornell Road (see project overview map below).

As part of the project, JEA also reconnected or replaced individual water services to the property line, some water meter boxes and added fire hydrants to improve area fire protection. The old water lines were grout filled and abandoned in place.
Project Update and Restoration Phase

All homes in the area are now connected to the new water line. As residents are probably aware, the contractor has completed overall restoration phase of the project. This included replacement of driveways, curb, gutter and grass (sod) impacted by construction. 

Sod was replaced with the same type sod or seed found in the yard prior to construction. We request that residents please give time for the sod to establish itself through the winter months. The sod has a warranty until such time as the sod is established and growing. We ask that residents assist with watering these areas.   
JEA's contractor completed the final paving of portions of Emory Circle, Rollins Avenue, Tulane Avenue and Vassar Road following the installation of a new water main. Per City of Jacksonville standards, the contractor is required to pave areas disturbed during the water main installation.

Impacted driveways, curb and gutters located within the right-of-way have been restored per City of Jacksonville Public Works requirement standards.
Project Area Map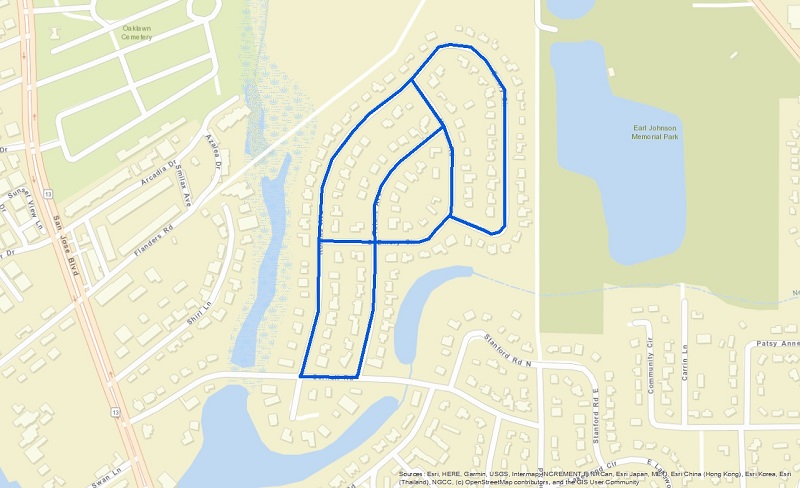 Construction Conditions
Construction occurred in the City's streets, rights-of-way and easements.