Collins Road Sewer Improvement Project
Collins Road Sewer Improvement Project

The goal of this construction project is to make the community even better by improving our service and reliability to your neighborhood. Start and Completion dates are subject to change and do not include final restoration of the project area. Thank you in advance for your patience!
Estimated Dates & Work Schedule
Anticipated Start Date:
2019-10-07
Anticipated End Date:
2020-02-29
Project Objective
The purpose of this project was to replace a portion of the aging sanitary sewer infrastructure that served the area. These pipes had reached the end of their service lives and needed to be proactively replaced to increase the reliability of the sewer system and to prevent any future sewer main breaks. Failures to sewer mains can potentially cause major sewer back-ups and roadway issues.

This project included the replacement of 5,000 linear feet of 12-inch sanitary sewer force main on Collins Road from the JEA sewer pump station located at 5540-1 Whispering Pines Drive to Blanding Boulevard. Sanitary sewer force mains are pressurized sewer pipes used to transport sewage to wastewater treatment plants.
Construction Conditions
Construction occurred within the City of Jacksonville and Florida Department of Transportation's streets, rights of way and easements. For the safety of our crews and the general public, the contractor was required to temporarily close and detour travel lanes along Collins Road from Whispering Pines Drive to Blanding Boulevard during pipe installation. 
Project Area Map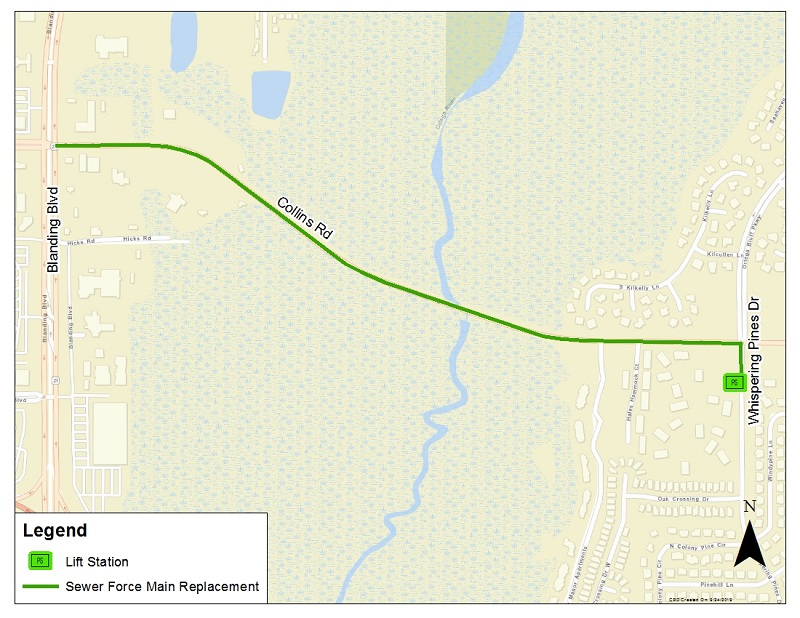 Restoration of the Project Area
Restoration of the project area began after the pipe had been installed, tested and cleared for use.