Shirley Avenue Electric Reliability Project
Shirley Avenue Electric Reliability Project

Estimated Dates & Work Schedule
Anticipated Start Date:
2022-06-13
Anticipated End Date:
2023-11-30
Monday through Friday, 7:00 a.m. to 5:00 p.m.*
*Dates are highly subject to change, and in some circumstances, extended hours and weekends may be required.
Project Objective
JEA and contractor crews are continuing work on a large scale electric infrastructure improvement project in your area, installing new electric transmission poles, distribution poles, power lines and facilities.  This project will consist of upgrading the existing 6.25-mile long circuit between JEA's Firestone Road and Hamilton Street Substations (see overall project work area map below). 
This circuit has recently experienced increases to electric generation and service load due to growth in this area since the system was originally built in 1948. The circuit must be upgraded and replaced as it has reached the end of its useful service life for providing consistent and reliable service to this area. Once completed, the upgraded transmission system will improve your overall electric system reliability and prevent future unplanned power outages in this area.
Construction on this project began in June 2022 along the Shirley Avenue and San Juan Avenue corridor, with the first electric transmission pole installation taking place near the intersection of Shirley Avenue and Vista Avenue (see photo below) on July 25th. Crews will continue to install (14) new transmission poles along Shirley Avenue from Lakeshore Boulevard to Hamilton Street every few days/weeks as the poles arrive from the manufacturer. More project updates will be provided as work progresses.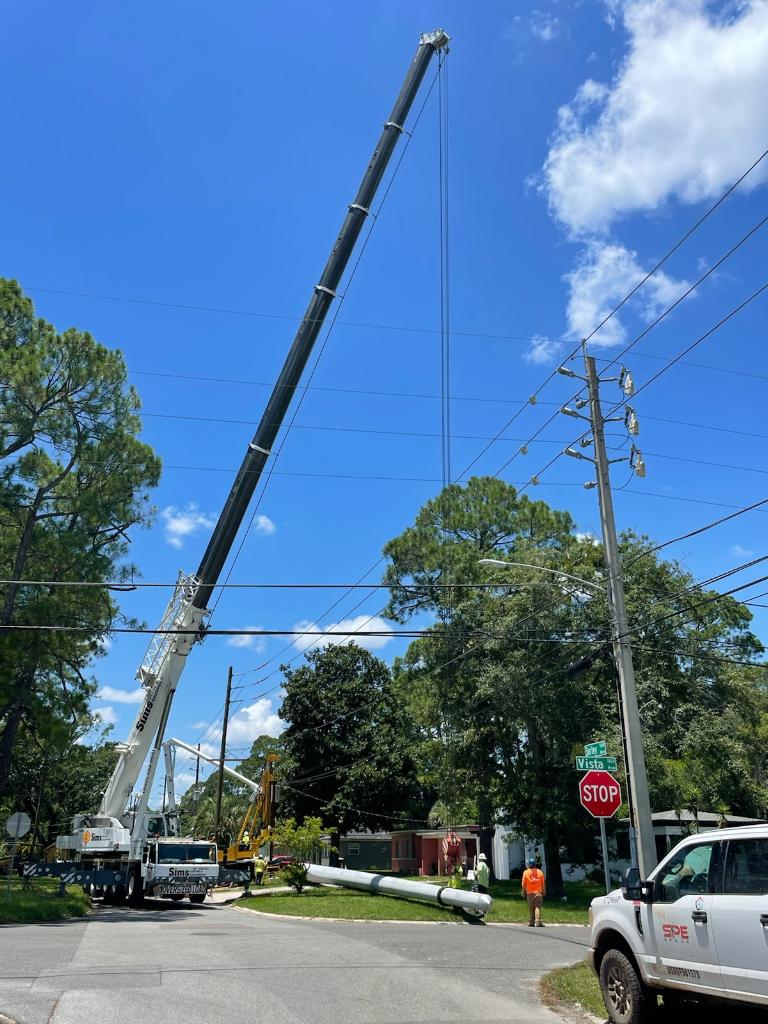 Construction Conditions
The majority of this construction is taking place in the City of Jacksonville's rights-of-ways and easements. This work will require several pieces of equipment (large cranes, delivery trucks, drill equipment, bucket trucks, etc.) to be set up in the immediate area, as well as several large trucks parked along the street and in the rights-of-ways during construction.
The contractor will be required to temporarily close each separate block to thru traffic along Shirley Avenue to complete each new pole installation. Every effort will be made to ensure that access to roads, homes and/or businesses are maintained. However, if a pole is being installed near your home, you may not have access to your driveway temporarily, and you may need to park outside of the construction zone (on the street) for the day. Residents will have access to their driveways in the early mornings and evenings. Crews will knock on your door in the mornings to provide you time to move your vehicle from your driveway prior to the start of the construction for the day. JSO will be on-site to assist with traffic control.
Once the poles have been installed along Shirley Avenue by late August 2022, crews will return to restore any areas disturbed by construction.  
Please observe all construction signs, detours and general directions provided by the crews working on-site. We apologize in advance for any inconvenience caused by this important infrastructure improvement project.
Project Maps
Shirley Avenue Work Area Map: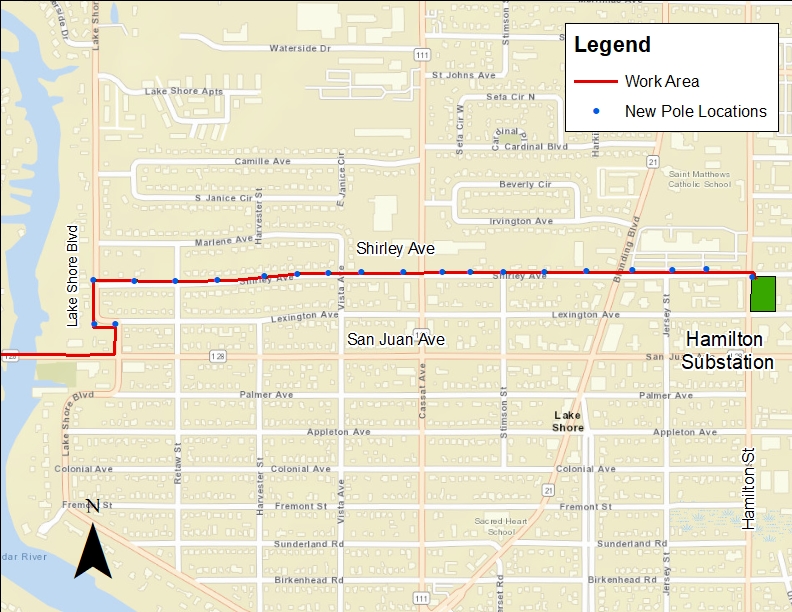 Overall Project Work Area Map: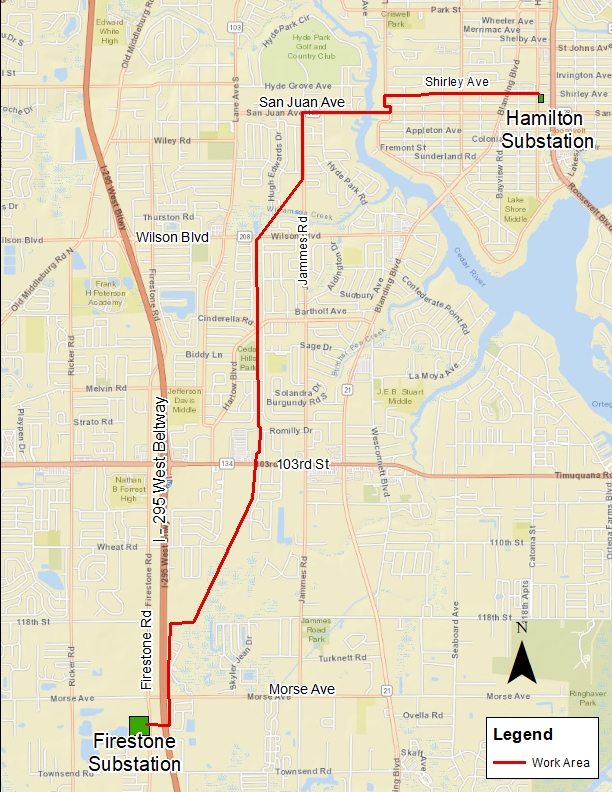 Project Photos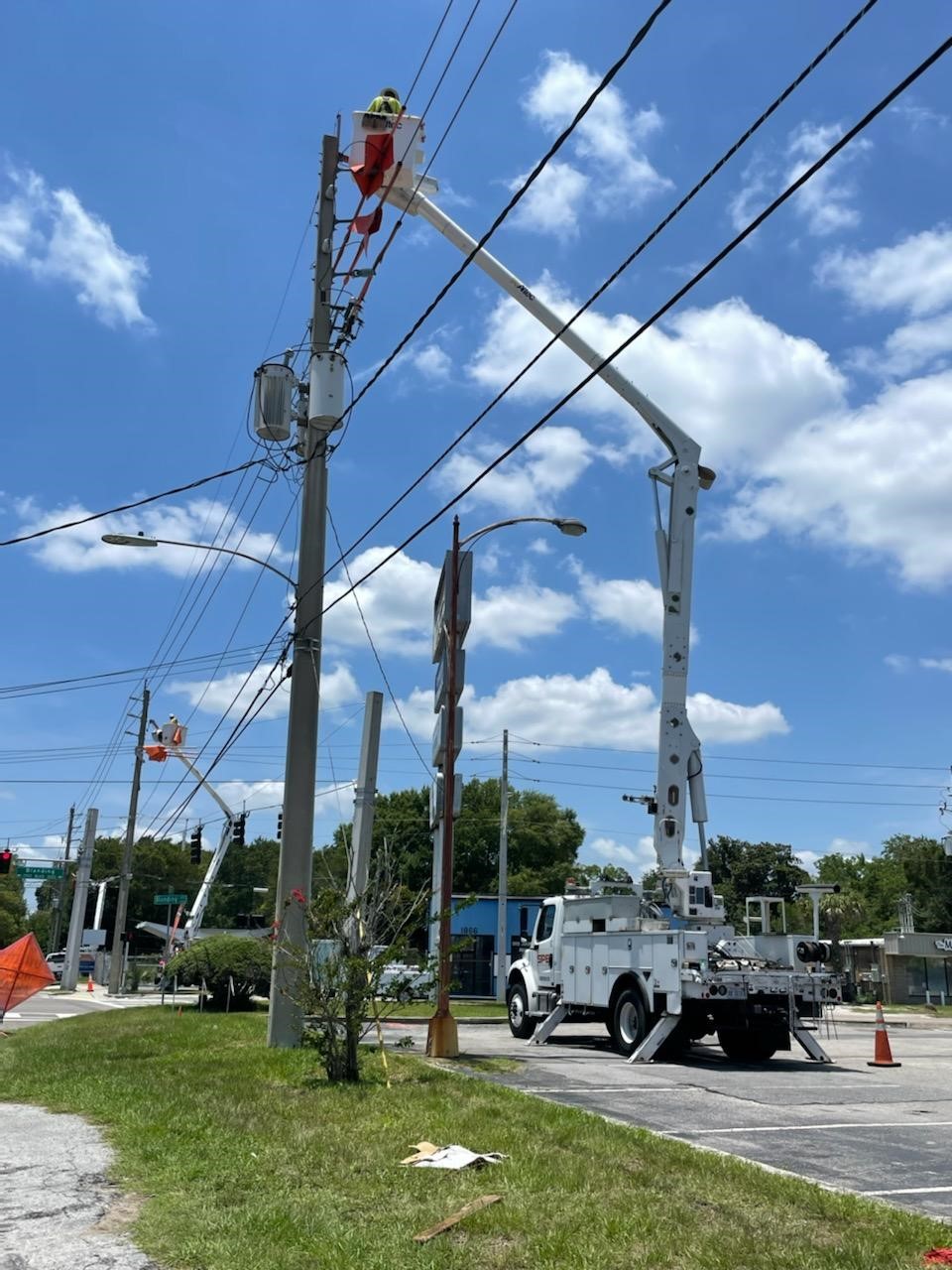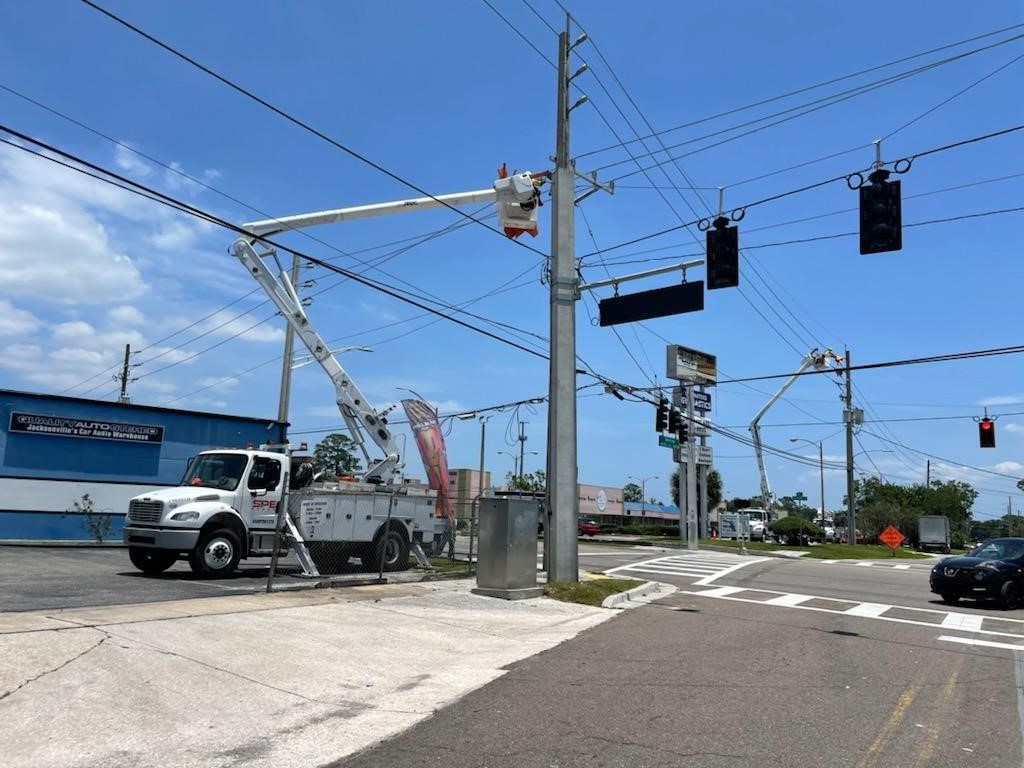 Restoration of Project Area
Restoration of the project area will begin after the electric lines have been  installed, tested and cleared for use. Upon completion of the project, any existing pavement, grass, curb, gutter, driveways or sidewalks affected during construction will be returned to its pre-construction condition.