Rayford Street Water Improvement Project
Rayford Street Water Improvement Project

Estimated Dates & Work Schedule
Anticipated Start Date:
2023-01-26
Anticipated End Date:
2023-08-31
Monday through Friday, 7:00 a.m. to 5:00 p.m.*
*In some circumstances, evenings and weekends may be required. 
Project Objective
As part of the Galvanized Pipe Replacement Program to modernize more than 200 miles of JEA's existing potable water distribution system, A contractor working for JEA (T.G. Utility Company, Inc.) is working in your area to replace and upgrade portions of the water lines on Rayford Street, Owen Avenue and Phyllis Street. By replacing these existing galvanized water mains, customers will experience improved water pressure and increased overall system reliability. 
Construction Conditions
For the safety of our crews and the general public, when construction on this project begins there will be times when roads will be temporarily closed to thru traffic and driveway access limited while crews are installing the new water lines. We apologize for any inconvenience caused by this construction work. Please see the work area map below.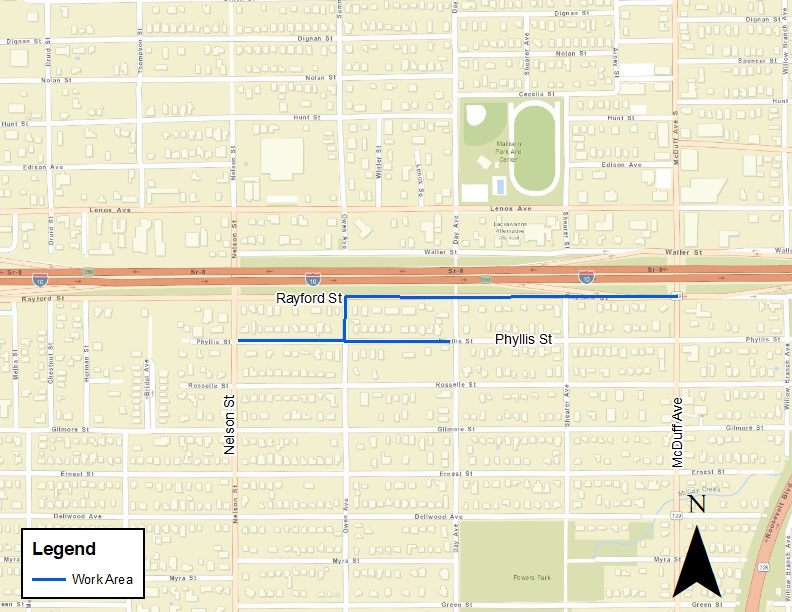 Planned Water Outages
Some customers may experience minor interruptions to their water service. JEA will notify customers at least 48-hours prior to any planned water outages. 
Restoration of the Project Area
Restoration of the project area will begin after the new water main has been installed, tested and cleared for use.  Upon completion of the project, any existing pavement, grass, curb, gutter, driveways or sidewalks affected during construction will be returned to its pre-construction condition.