Deerwood - Southside Integrated Pipe System Water Project Phase 1
Deerwood - Southside Integrated Pipe System Water Project Phase 1

Project Objective
A contractor working for JEA (J B Coxwell Contracting, Inc.) is continuing work on the first phase of an overall project to construct a new water transmission pipeline between two major water treatment grids located in JEA's Duval County service territory. This project will allow JEA the ability to transport excess water supply from the north side of the St. Johns River to the south side of the river to better meet increased Potable Water demand in the southerly portion of the JEA service area. 
Once the new water transmission line is constructed and placed on-line, it will result in a direct offset of water withdrawal from the South Grid. Once completed, this project will promote conservation of the Floridian aquifer by lessening JEA's water resource withdrawal demand from its southern Raw Water well fields. Learn more about the overall project.  
The first phase of the project involves the installation of approximately 34,000 feet of 30-inch ductile iron water main from Southside Boulevard and Bradley Road to the JEA electric easement along Forest Boulevard South.
As part of this project phase, we will replace approximately 3,548 feet of 6-inch distribution water main, approximately 4,000 feet of raw water main from a future production well site in the Forest Boulevard area to connect to an existing raw water main, and extend the water main along Forest Boulevard. By extending the water main in this location, we will have the opportunity to serve 20 homes on Forest Boulevard who are currently served by private wells.  Please see the Phase 1 project area map below. 
PHASE 1 PROJECT DATES:
Anticipated Start Date: October 10, 2022*
Estimated Completion Date: Fall 2024*
*Dates are highly subject to change.
Construction Conditions
Construction will occur in City and State rights-of-way and easements, and within the electric transmission line easement(s) located near homes and businesses. For the safety of crews and the general public, temporary road closures and detours will be required while work progresses along the project route. During the course of this work, access to your residences and businesses will be maintained.  Please see the overall project map and map of current work area and detour route below.  
Temporary Road Closure and Detour - Beginning January 9th
Please see the below work area and detour map for construction along Bradley Road and Hilltop Boulevard.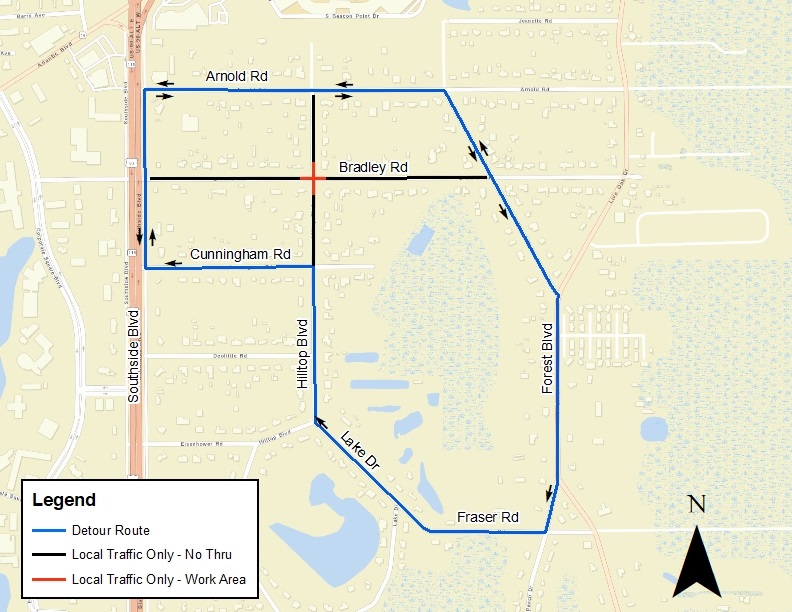 Overall Project Area Map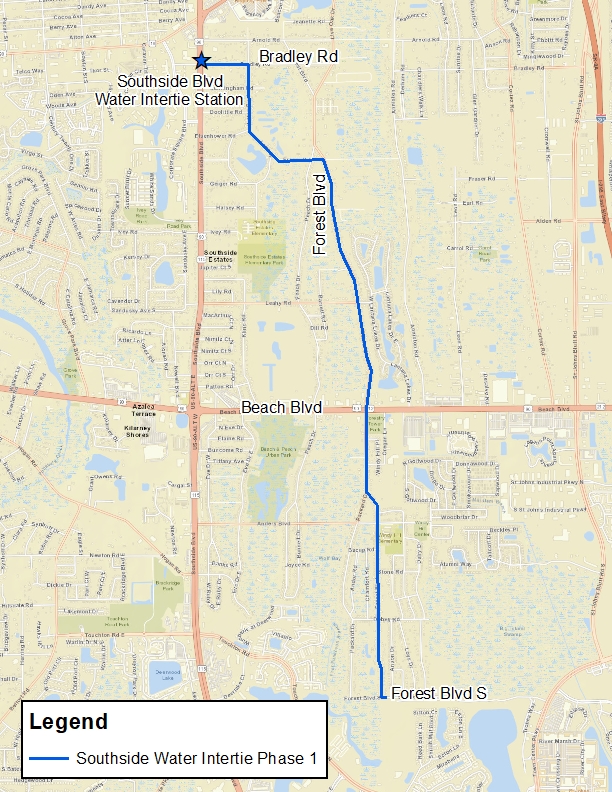 Contact
If you have any questions about the Deerwood - Southside Integrated Pipe System Water Project Phase 1, please contact JEA Project Outreach at (904) 665-7500 or email us at projectoutreach@jea.com.