Ortega Point North - Overhead to Underground Utility Conversion Project
Ortega Point North - Overhead to Underground Utility Conversion Project

The goal of this construction project is to make the community even better by improving our service and reliability to your neighborhood. Start and Completion dates are subject to change and do not include final restoration of the project area. Thank you in advance for your patience!
Estimated Dates & Work Schedule
Anticipated Start Date:
2020-01-21
Anticipated End Date:
2021-10-01
Monday through Friday, 7:00 a.m. to 5:00 p.m. 
Due to unforeseen construction challenges during the communication installation portion of the project, the expected completion date has been extended to Fall 2021.
NOTE: In some circumstances, weekend and extended hours may be necessary. JEA crews will not work on JEA holidays.
Roads Affected
McGirts Boulevard, Oak Point Avenue, Ortega Boulevard, Grand Avenue, Eldorado Avenue, Bettes Circle, Bettes Lane, Holly Avenue, Oxford Avenue, Ionic Avenue, Baltic Circle
Project Objective
The Ortega Point North Overhead to Underground Utility Conversion Project is a community driven "grass roots" project requested and organized by neighborhood residents. A total of 75% of the property owners within the project area signed a petition in favor of funding this project. The  petition/ordinance for this neighborhood special assessment was presented and approved by the Jacksonville City Council on June 25, 2019. 100% of the property owners within the project footprint will be assessed (see map below). 
The objective of this project is to convert the existing overhead utility lines (electric and communications) to underground within the project scope.  A contractor working for JEA (Heart Utilities, Inc.) will be installing new electric conduit, transformers, cables and manholes. This work will involve underground boring of PVC conduit followed by pulling of the new electric cables through the conduit. AT&T and Comcast will be also working in a similar manner to  convert their utilities from overhead to underground. JEA will also be installing new historic style "acorn" street lights throughout the project area. Similar street lights can currently be found along sections of Ortega Boulevard.
Project Update: December 4, 2020
JEA continues work to convert the existing overhead electric system to underground in the Ortega Point North Overhead to Underground Utility Conversion Project area. The majority of the electric system work within the project scope has already been completed and energized. The next phase of the project will be to convert the existing overhead communication lines (Comcast & AT&T) to underground.
Contractors working for AT&T (Danella Construction Corp of FL, Inc) and Comcast (L&R Construction) will begin work near your property to install new data conduit and AT&T Comcast facilities. During this time, the contractors will attempt to notify customers of any required tree or substantial landscaping removals. Customers may need to proactively relocate any specialty landscaping, shrubbery or trees that are within the public right-of-way. Sod will be removed and replaced as required for construction. If you have a sprinkler system or invisible pet fence in the right-of-way areas please contact JEA Project Outreach and we will provide instructions on how to locate (mark) the lines. Driveways may be temporarily blocked during the day during construction. 
Construction Conditions
Crews began with a "soft start" by surveying the area and mobilizing the equipment. Full construction activities began after January 1, 2020, as to avoid work during the holiday months. 
Residents will first notice "locate" paint marks, flags and survey markers on the ground throughout the project area. The information gathered will be used by our engineers, crews and contractors to identify the existing underground utilities, public rights of way, existing pipes, and to help determine soil and asphalt conditions.  
The majority of the work will take place along McGirts Boulevard, Ortega Boulevard, Grand Avenue, Bettes Circle and Ionic Avenue. Construction activities will occur in the City of Jacksonville's right-of-way and easements. 
The contractor will be installing the new conduit and cabling using the horizontal directional drilling (HDD) method of construction.  Directional drilling, or HDD, is a steerable, trenchless method of installing underground utilities. However, there will be minimal trench work and excavation during construction.  
The work will generally be completed in phases beginning at McGirts Boulevard, proceeding to the north point and then southward down Ortega Boulevard. Residents can expect to have contractors working throughout the project area for the duration of construction. The electric utilities will be installed first followed by the communication (AT&T, Comcast) utilities. 
Residents will see multiple utility trucks and drill rigs in the area depending on the daily planned work activity. For the safety of our crews and the general public, detours and lane closures may be required while the work is being completed.
Planned Power Outages
Customers may experience brief power outages as a result of this work. Customers will be notified prior to any prolonged (more than 1 hour) planned electric outages. 
Restoration of Project Area
Upon completion of the project, any roads, curb, grass, driveways, sidewalks, or sod impacted by the construction will be returned to pre-construction condition. Please immediately report any damage (sprinklers, mailboxes, invisible fencing, etc.) caused by this work to JEA Project Outreach so we can have the contractor(s) investigate and/or repair.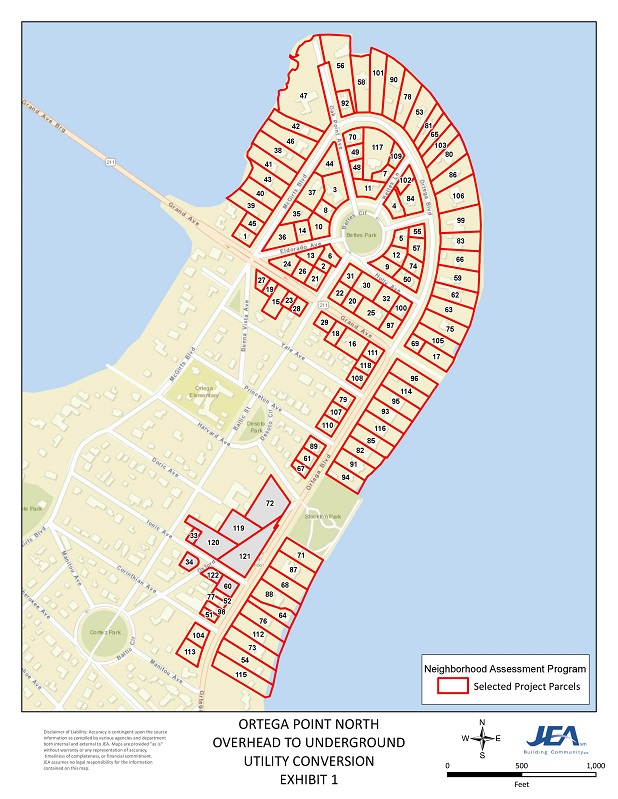 Public Meeting
On October 23, 2019, JEA hosted an informational neighborhood meeting to discuss the plans for the project and to let the neighborhood know what to expect during construction. There was a brief presentation followed by a question/answer and public comment period. 
The public meeting was held at the St. Mark's Episcopal Church in the Leatherbury Hall located at 4129 Oxford Avenue Jacksonville, FL 32210 on Wednesday, October 23, 2019 at 6:30 PM.
True Cost of NAP Loan
Our financial team provided this example Amortization schedule to illustrate the cost of the loan over 10 and 20 year terms. 
Download a Sample Amortization Schedule (PDF)
Progress Photos
Even Better Power Reliability

}
/uploadedImages/jeacom/SiteInterceptAdCEMI5.jpg
JEA's state-of-the-art technology identifies customers and neighborhoods in need of electric reliability improvements.
Contact
If you have any questions about the Ortega Point North - Overhead to Underground Utility Conversion Project, please contact JEA Project Outreach at (904) 665-7500 or email us at projectoutreach@jea.com.