Greenland Reclaim Water Main Project
Greenland Reclaim Water Main Project

Project Objective
A contractor working for JEA (TB Landmark) is continuing work on a project to install 30,000 feet of 30-inch reclaimed water main from the Greenland Water Reclamation Facility to the Nocatee area. 
This Reclaimed Water Main (RWM) is the effluent discharge pipe for the future Greenland WRF that is currently under construction. This project is critical to provide reclaimed water to current and future JEA reclaimed water customers within the Nocatee and Twin Creeks developments, and future customers along US-1. This reclaimed water pipeline will serve to convey 100% reclaimed water from the Greenland WRF, as it is planned to be a zero-discharge facility due to limited discharge options. 
As part of the reclaimed water main installation, a contractor (Garney Construction) is installing the new reclaimed water line below SR-9B to the Greenland Energy Center site, through the Bayard area, then along Philips Highway to CR-210. This work will be completed with a technique called horizontal directional drilling (HDD). HDD requires very little excavation, reduces construction duration, and is less disruptive to the surrounding community.
The estimated project completion date is Spring 2024*
*Date is highly subject to change. 
Construction Conditions
Construction will primarily occur in the rights-of-way, roads and easements. Residents will be provided access and permitted to drive (with caution) through the work area. Please see the work area map below.
For the safety of our crews and the general public, we will be required to detour traffic around the work area(s) while crews are actively working. Please observe all signs, detours and general directions provided by the crews working on-site.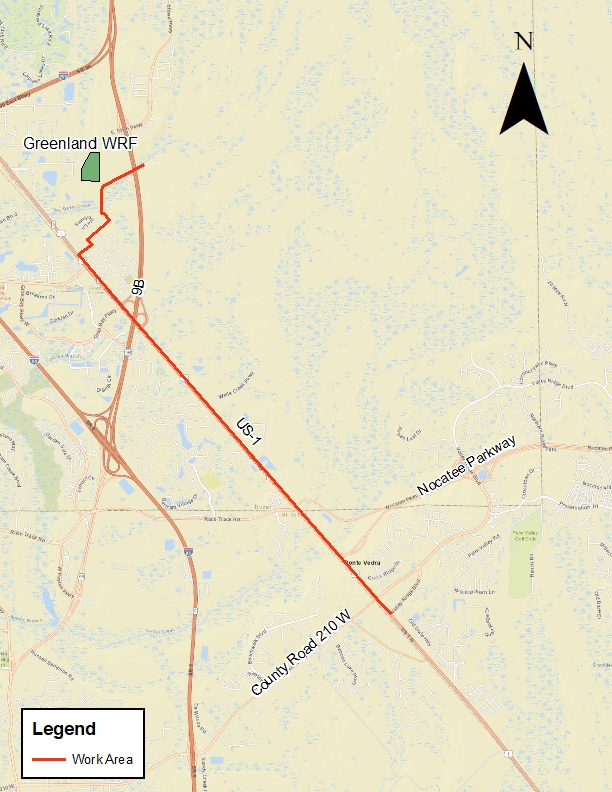 Project Update - Restoration and Overnight Lane Closures
As with all JEA construction projects, restoration of the project area begins once the new lines have been installed, tested and cleared for use. 
Pipe installation activities have been completed. Currently, the barrier wall removal and final paving of the roadway are scheduled to be completed in late June 2023 (date is highly subject to change).
For the safety of crews and the general public, we will be required to temporarily close one lane of traffic along US-1 while paving of the roadway is completed. The temporary lane closures will take place overnight, Monday through Friday, from 7:00 p.m. to 6:00 a.m. beginning June 14th through June 21st. 
While restoration of the project area is completed, there will be limited (visual) construction activities between now and the estimated project completion date in Spring 2024. 
Even Better Power Reliability

}
/uploadedImages/jeacom/SiteInterceptAdCEMI5.jpg
JEA's state-of-the-art technology identifies customers and neighborhoods in need of electric reliability improvements.