Mobile-Friendly Site Launch
Mobile-Friendly Site Launch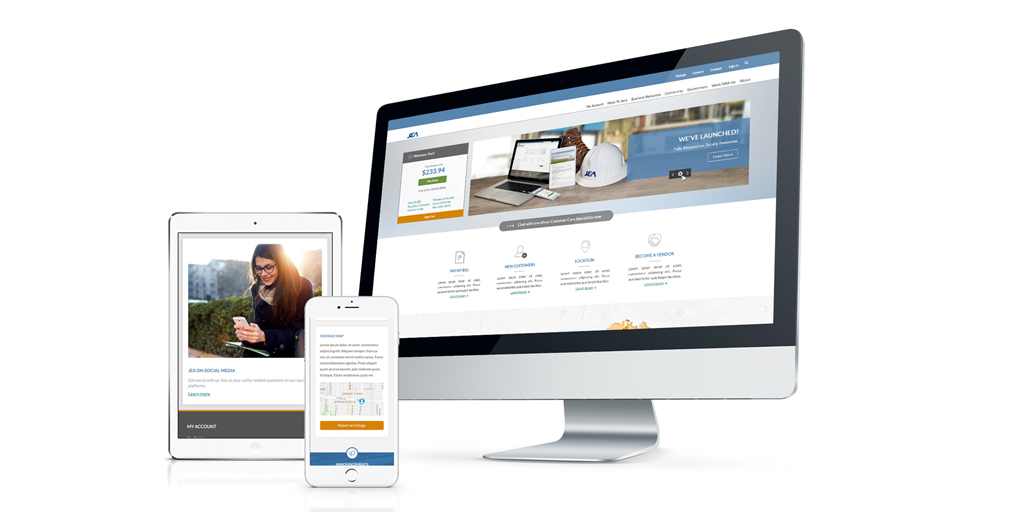 Did you know that our website, jea.com, attracts almost 2.5 million users a year? Our data shows a growing portion of those users are accessing our site and their online account with their smartphone. With this increase in mobile traffic, JEA is pleased to introduce a redesigned website that will be easier to use for everyone – especially our customers using mobile devices.
We launched the new responsive website to smartphone users in March 2017, and in June 2017, we did a full site launch.
The new site features a refreshed visual design and faster download speeds. It has been optimized for all devices, meaning that it will provide an easier reading experience and larger, high impact photography and illustrations.
Expanded Self-Service Options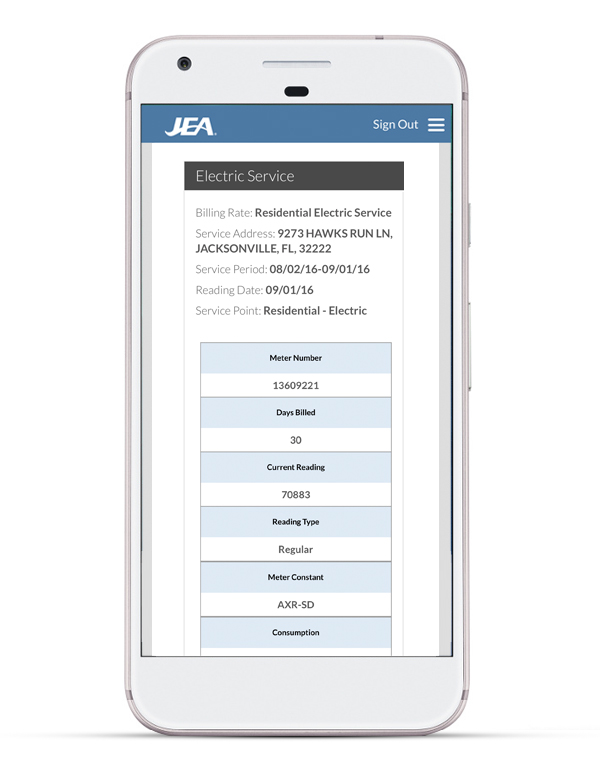 One of the newest features on the new site is Bill Viewer. Previously, users had to download their bill as a PDF, which can be cumbersome on a mobile device. Now, you can view charges, service fees, and taxes on your screen just as you would see it when it comes in the mail. 
Need to update your password, phone number, AutoPay or eBill preferences? Looking to sign up for MyBudget? Now you can do all of those things quickly and easily on your mobile device.  
We understand that sometimes you're faced with unexpected expenses and you could use a little more time to pay your bill – especially when you're on the go.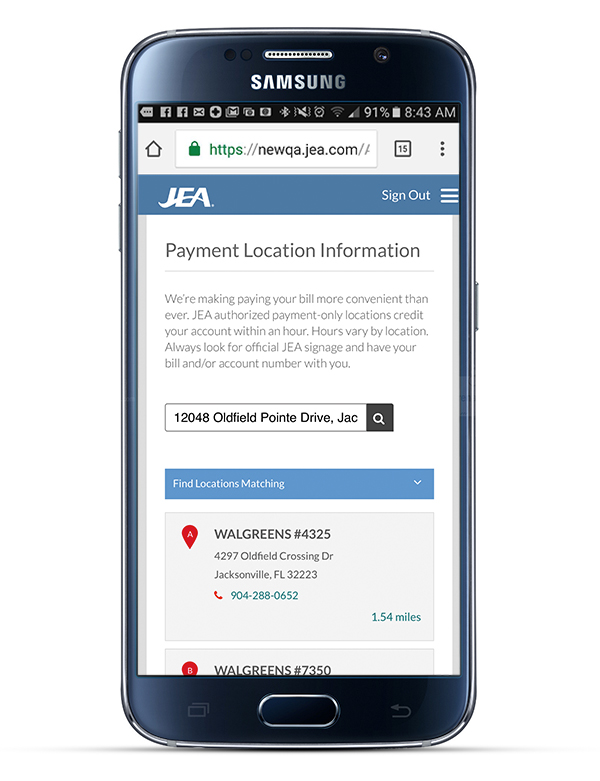 We've made it faster and more convenient than ever to find locations close to home, work and school to pay your bill. 
Experiencing an outage or service issue? We know frustrating this can be. That's why we've created a simple 2-step system for reporting and tracking water, sewer or electric outages.
Americans with Disabilites Act (ADA) Compliance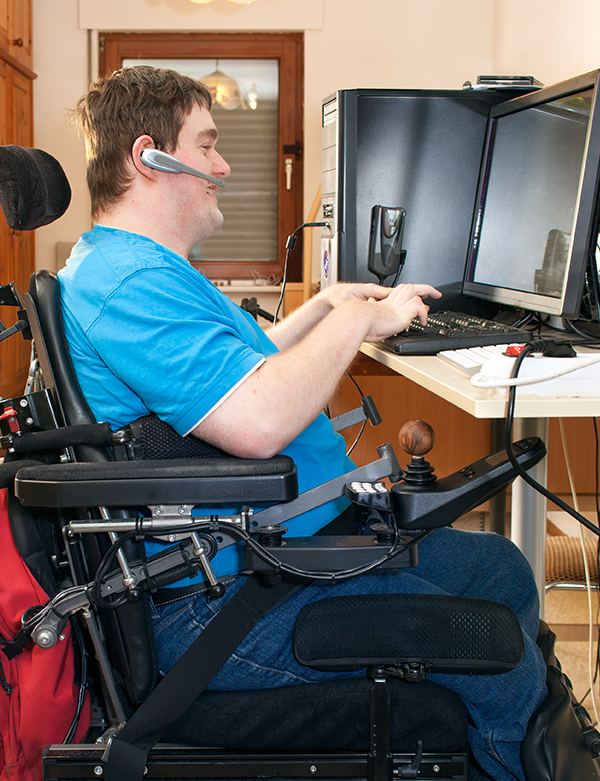 With the new site, JEA is also showcasing its digital ADA commitment and is aiming to make jea.com accessible to individuals with vision-related and/or hearing disabilities. The goal is to ensure these customers have access to the full self-service suite offered on the site, and that the site will work properly with assistive devices used by many individuals with disabilities. Such devices magnify the content for easier visibility, read the content to the individual and enable the individual to use a braille reader to absorb text.
To ensure we provide a good user experience, JEA has partnered with eSSENTIAL Accessibility – a leader in the field of digital ADA compliance.
This commitment is expected to be fully realized in the coming months. 
Learn More About Our Commitment to Accessibility 
Responsive Design or Mobile Application?
Responsive Web Design uses a fluid approach, eliminating the need for a mobile application or an "app". The design allows the website to automatically adapt to the customer's device, which means you'll never have to resize a page, pan left or right, or pinch and zoom in order to view our website on a mobile device.
As the use of mobile devices and tablets continues to grow at an accelerated pace, so does the range of devices and screen sizes on which people are accessing jea.com. Our mobile traffic has grown an incredible 200% year over year, and, in line with our mobile first strategy, we want to ensure our readers have the best possible experience when looking at JEA's website on any type of device.

Our new mobile site allows users to reach our content faster with a refreshed design that automatically adapts to their device. And since we rebuilt it from the ground up, we are able to release new features, improvements, and updates more often in response to user feedback. Our aim is to give our users the best experience and content, no matter what type of device they're using, and this website is a huge step toward that goal."
-- Chief Information Officer, Paul Cosgrave on the decision to redesign
We are constantly updating jea.com to better serve our customers and to ensure an optimal and effortless user experience. Our website is available 24/7 for our customers to do business with us, plus it provides them with access to the resources they want – whenever they want. We are excited, not only by the overall enhanced user experience, but also by the expanded access to self-service functions for mobile users and the ability to provide a truly accessible website. And we won't stop there! Our team will continue to add functionality based on customer input and ongoing best practices.
-- Chief Customer, Officer Kerri Stewart on the new website
What's Next?
Updates to the website will continue over the next several months as JEA looks to integrate more solutions to better serve our customers. We'd love to hear what you think of our new website.
If you have questions, wish to provide feedback or need assistance completing tasks, please contact us at NewsfromJEA@jea.com, on Facebook or Twitter, or by calling (904) 665-6000.
}
/uploadedImages/Images/updateinfosiad.png
Make sure your JEA account information is up to date so we can reach you with power restoration updates.
Related Links
My JEA Utility Tracker

The My JEA Utility Tracker is a online tool to help you track your energy and water consumption. And by tracking your consumption, you can learn to save on your utility bills. It's a simple, fun, state-of-the-art tracking tool and it's also free!