Which Electric Vehicle is Right For You
Which Electric Vehicle is Right For You
Do you drive from Julington Creek to Southside every day? San Marco to Springfield? These are two very different scenarios which result in very different vehicle purchasing considerations. Believe it or not, First Coast residents are already finding success in their electric vehicles, no matter their daily commute.
Charging Stations In Jacksonville
25 ChargeWell charging stations have been installed and provide level two public charging throughout Jacksonville.
Which EV is right for you? 
When thinking about what type of EV is best for you, the first thing to consider is the typical range applicable to your driving habits or the distance and number of trips you take throughout the year.
Daily commute: Start by determining how many total miles you drive each day to work and the number of days you drive to work, school, or elsewhere during a typical week. 
Weekend use: Determine how many miles you usually drive each weekend and the number of trips that will give you an average for battery range considerations. Be sure and include the number of trips you make to the grocery store, shopping mall or sporting event. 
Road trips: If you take a number of long road trips each year, add up the miles each way. You'll need to plan charging stations that coincide with food or rest stops while traveling. 
Now that you've determined some parameters on your range or how much and how far you drive, you can plan how frequently you'll need to charge your plug-in electric vehicle. Review the vehicle specifications from the manufacturer or the federal government and compare them to your typical daily driving distances. This will help you determine how many days you can drive your normal route before you need to charge the battery in your vehicle. Most EV owners charge their vehicles overnight at home. Considerations for interim daily charging will depend on the commute/trip distances planned for that day.
Commuting Distance in an EV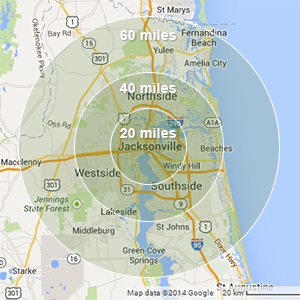 Your daily commute and charging habits may influence the type of plug-in electric vehicle that's best for you. To see what we mean take a look at three typical Jacksonville driving scenarios. 
Short Commute
If your total commute is 20-miles or less each day, a BEV or Battery Electric Vehicle may work best for you. This is also an excellent option if you want to help reduce environmental emissions. If you purchase a BEV then you can expect to charge the vehicle every three to four days if you travel 20-miles or less a day. 
You can also select a Plug-in Hybrid Electric Vehicle (PHEV) or an Extended Range Electric Vehicle (EREV) and charge as often as you'd like if you drive in electric-only mode. If you charge each day, you may be able to drive in electric-only mode for your daily commute and have the convenience of a tank of gasoline for extended trips. 
Medium Commute 
Most people in Jacksonville live within the 40-mile daily total commute range. This range covers most of: 
Duval County
Part of St. Johns County 
Part of Clay County 
Most of JEA's customers 
If your daily total commute is between 20 and 40 miles, all three types of plug-in electric vehicles will work for you. A BEV will take you to work and back. A PHEV or an EREV run approximately 30 miles on the battery and then switches to gasoline for any additional miles. 
Long Commute 
If you commute more than 40 miles total each day, commuting to Jacksonville from: 
St. Johns County 
Clay County 
Nassau County 
Some areas of the Beaches
In this scenario, a Plug-in Hybrid Electric Vehicle (PHEV) or an Extended Range Electric Vehicle (EREV) will likely be the best choice for you since these cars provide longer range capacities. You will use all of the electric-only range of most PHEV and EREVs on your first drive. The vehicle will operate in hybrid mode the remainder of the time. A Battery Electric Vehicle (BEV) is still an option in this distance range, but you'll need to charge the battery each day after use or make use of a charging station at your commuting destination.
Related Links
Residential Rebates

Making energy-efficiency upgrades to your home is a smart move. JEA offers a wide range of rebate programs to save you money on home energy upgrades.

Home

Owning a home can be costly, which is why it is important to save where you can. Making a plan to make your home more efficient is a great step towards saving money each month.

Non-Road Electrotechnology Rebates

The JEA Non-Road Electrotechnology (NRE) Program promotes the purchase of or conversion to electric equipment as an alternative to diesel or propane powered equipment.