Home Investment Curve
Make an efficiency plan you can stick to. Begin by using our home investment curve. Think of it as the master plan to your success. Using it, you can find the least expensive ways to save and then move on to the next logical home efficiency improvements.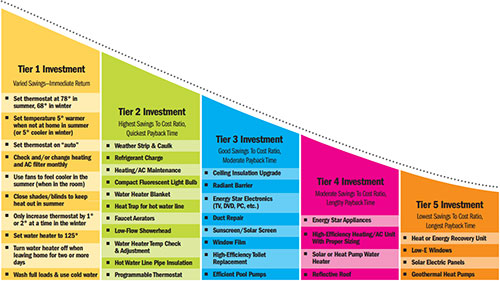 Click to view full Home Investment Curve and Plan (PDF)
An energy audit is another useful resource. It provides you with a detailed list of actions and measures to adopt in the order that will cost you the least amount upfront and have the biggest impact on your utility bill.
The energy audit is like getting directions. You have a specific path to follow from point A to point B that takes the least amount of time and energy. The energy audit gives you the path to follow from your current home's energy and water consumption to a lower point, taking you along the route that requires the least capital and effort.
Tier One: Do Things Differently
Before getting started on any home energy upgrade, JEA recommends you take a look at – and take steps toward – making no-cost (behavioral) changes. These tips help you start saving money before you spend a dime. 
Tier Two: Low-Cost Investments
Tier two investments pay for themselves quickly by saving you money on your energy bill, usually in less than one year. These are also usually low-cost upgrades. Here are a few examples of tier two investments:
Weatherizing 
Proper HVAC Refrigerant Charging 
Water Heater Blanket 
Water Heater Heat Trap 
Pipe Wrap 
Water Heater Timer 
Tier Three Investments
These energy-efficiency upgrades should be considered next. They have a good return on your investment (ROI) and you can expect that in three to five years, you will have saved enough money on your energy bill to make up for the cost of the upgrade. Examples include: 
Radiant Barrier 
Energy Star Electronics 
Duct Repair  
Solar Screens and Window Tint  
Tier Four Investments
These upgrades will definitely help you use less energy. You can expect the ROI on these upgrades will take more than five years. These are the kinds of upgrades to consider especially when you are ready to replace your old appliances. Examples include: 
Energy Star Appliances  
Reflective Roof 
Efficient Pool Pumps 
Tier Five Investments
These home energy-efficiency upgrades take the longest to recover your initial investment costs. 
Solar Electric or Photovoltaic (PV) System
Low-E Windows 
Geo-Thermal HVAC
}
/uploadedImages/Images/SiteIntercept_Ad_MyAccount.jpg
Gain access to MyBudget, payment history, My JEA Utility Tracker, and more!