Private Solar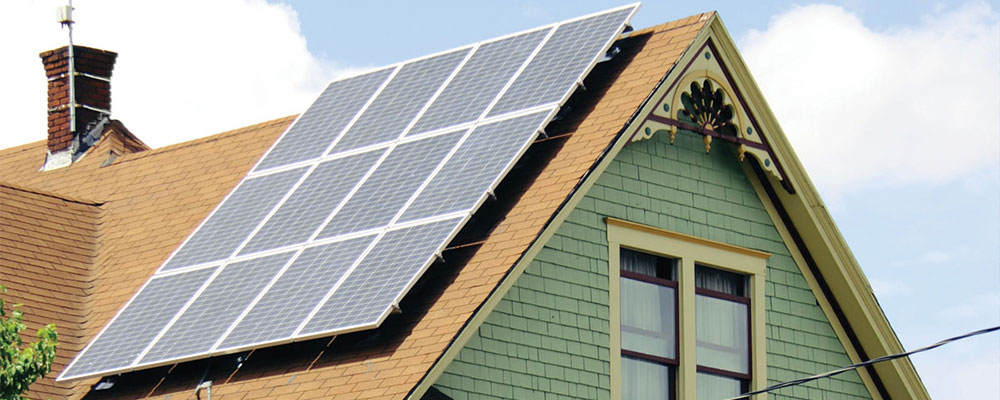 Generating power from the sun is one of the cleanest and greenest ways to produce electricity. Private solar, also known as "rooftop solar" or "solar PV," enables home and business owners to install photovoltaic (PV) systems on their roofs to supply some or all of their home's power needs.

Is Solar Right for You?
JEA has a new Solar Advisor tool available for JEA electric customers. JEA electric customers can use this tool to evaluate the energy, financial, and environmental aspects of going solar for their specific home before signing a contract for solar equipment.
There are a number of factors to evaluate before installing a solar PV array on your home or business.
When making your decision, be sure to consider the following:

Location: In Jacksonville, optimal conditions for rooftop solar panels include homes with a southern-facing orientation free from shade created by trees, buildings or even other parts of your home. Your installer's estimate should indicate how much energy your specific system is expected to produce and the economic value of that energy.

Energy Efficiency: Before going solar, reduce your overall electricity usage by making energy-efficient upgrades. Making your home more energy efficient reduces the amount of power you use from any source and may allow you to purchase a smaller solar PV system. Not sure how energy-efficient your home is? JEA offers free in-home energy efficiency assessments: Our home energy experts will evaluate your house and recommend measures you can take to make it as energy-efficient as possible.

Roof Condition: Considering mounting solar panels to your roof? Be sure it will hold up as long as the panels–which are designed to last more than 20 years–as removing and reattaching them from a rooftop can be expensive. Make any needed roof repairs prior to purchasing a solar PV system. Another factor to consider is the size of your roof. While a solar PV system can be sized to fit both the roof space available and your budget, it may not satisfy all of your home's energy needs.
Duration in Home: Purchasing a solar PV system is a significant investment–one that can take some time to recoup. Before adding a solar PV system, consider how long you plan to stay in your home or business, and whether the number of occupants and/or daily schedules will change in the near future. If you plan to move within the next five years, you may want to reconsider making the purchase at this time. JEA SolarSmart is an option for people who want to support solar but do not want to make a long-term commitment.
Other Issues
Homeowners Associations: While the state of Florida has statutes in place to allow solar energy systems to be installed on residences, homes located in historic preservation zones or neighborhoods with Homeowners Associations (HOA) may still require approval by the designated groups. Be sure to consult with these groups before installing any solar PV systems.
Townhomes and Condos: While such units may be owned, the roofs are typically shared with other units, which in some cases may prevent the installation of solar panels. JEA SolarSmart is a viable option for customers in townhomes and condos.
Renters: Unless a solar PV system is installed by the owner/landlord, renters typically are not able to invest in solar energy. JEA SolarSmart is also an option for renters.

Installation and Maintenance
Be sure to factor installation and maintenance costs and requirements when considering purchasing a solar PV system. While most rooftop solar systems come with a warranty, such warranties may require the owner to ensure that regular maintenance is performed on the system. It's also a good idea to confirm whether your homeowner's insurance will cover solar PV systems.
Connecting to the Grid
JEA customers who install solar PV systems at their home or business and connect to JEA's electric grid must apply for JEA's Distributed Generation Program. An application form must be submitted and approved by JEA prior to beginning installation or construction of any solar PV system.
Commercial customers who are considering installing a distributed generation system 60 kWDC (or 50 kWAC) or greater may be subjected to JEA Standby and Supplemental Service (SS-1) rate.
Financial Incentives
Customers may be eligible for a 26 percent federal tax credit. To learn more about applicable tax credit opportunities for solar PV, battery storage or other renewable technologies, please consult your tax professional or visit the IRS website to view the tax credit worksheet and application.
Before Installing Private Solar
If you have decided that solar is the right choice for you and your home, below are the steps to take prior to purchasing a system. 
Commercial customers: Determine the rate that will be applied to your commercial account when you connect a PV system.
Solar Power Without the Panels
Is private solar not right for you? JEA SolarSmart gives residential and business customers who do not have solar panels an option to benefit from solar energy and to demonstrate their commitment to improving the environment. 
Explore Solutions and Save
}
/uploadedImages/CommunityDoMoreAd.jpg
Learn about all the ways JEA helps Northeast Florida families, businesses and our community thrive and how we can help you do more.