Wastewater Pretreatment Businesses
Wastewater Pretreatment Businesses
JEA appreciates how some Jacksonville companies work hard to make their wastewater more earth-friendly.
Metro-Rooter Helps Fuel Sustainability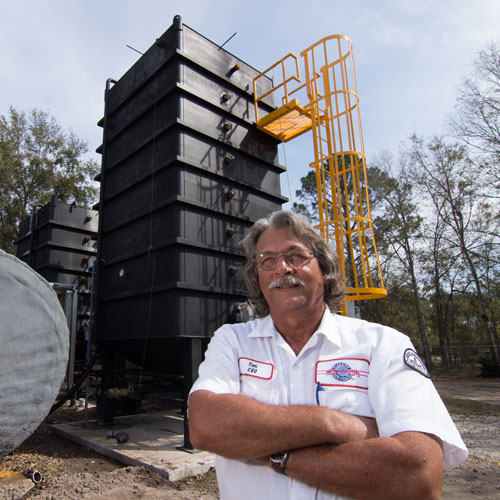 Tom McLaughlin isn't your average plumber. Metro-Rooter, the company he founded in 1978, now employs 60 people. It does all the things you'd expect a plumbing company to do plus it cleans out grease traps at restaurants and sells the grease to be turned into biofuel.
"We collect about 275,000 gallons of grease a month from restaurants," McLaughlin said.
McLaughlin puts the grease trap waste through an industrial pretreatment system at his headquarters to first remove debris and separate the grease from the wastewater. The grease is collected in a holding tank and eventually sold as a commodity called brown grease.
He also partners with JEA to collect residential used cooking oil at area fire stations. The oil is sold as a commodity called yellow grease that is turned into biofuel.Every drop of grease sold for biofuel is one less drop that could otherwise go into JEA's water/wastewater system where it can clog pipes, cause sanitary sewer overflows and foul the wastewater treatment process. 
McLaughlin, who holds advanced wastewater and water treatment licenses from the State of Florida, has been perfecting his grease trap-to-biofuel business for years.
"I spent a lot of time trying to figure it out," he said, with a chuckle. And now that he has both he and JEA are pleased with the results.
Swisher International Pioneers Sustainable Disposal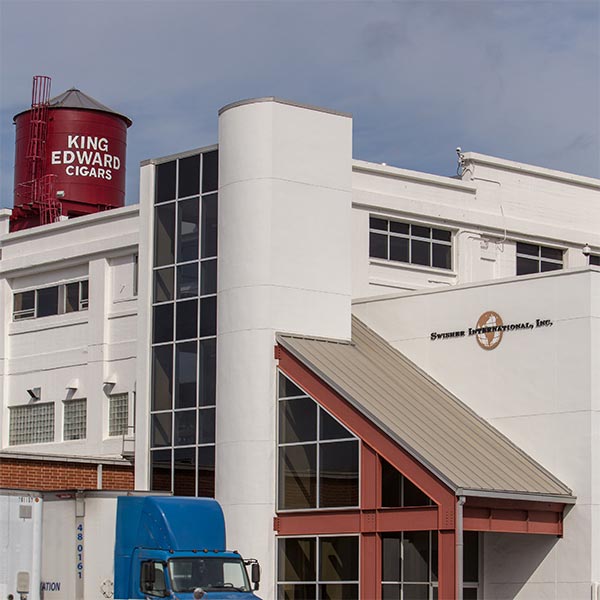 Swisher International's Springfield facility produces wrapper and binder for more than 10 million cigars a day, including the company's popular Swisher Sweets. It's here that engineers came up with a sweet method to sustainably dispose of large amounts of non-hazardous tobacco dust created in the manufacture of all those wrappers and binders.
"We used to send the tobacco dust off to landfills until our Vice President of Engineering, David Wood, connected with a friend at Water Recovery, LLC (WRI) in Talleyrand, to develop a better disposal method," said Rod Galan, a project engineer at Swisher.
For more than five years now, the material has been collected and transported to WRI every week, where it's put to work in WRI's solidification pit as a medium to help turn sludge and other waste streams into solids that can then be transported to landfills.
"We are happy partner with Swisher on this project," said Eddie Maylon, General Manager of Jacksonville's Water Recovery, LLC. "We call it beneficial reuse. This program supports Swisher WRI and, most importantly, environmental sustainability."
The folks at Swisher echo that sentiment. They believe the partnership is an efficient reuse of its non-hazardous manufacturing byproduct. "It helps us both make Jacksonville a little greener," Galan added.
Related Links
Wastewater Treatment Process

JEA's sewer collection system handles more than 70 million gallons of wastewater every day. Our waste collection and treatment system consists of more than 3,700 miles of collection lines, over 1,200 pumping stations and fourteen sewer treatment plants.

Water Supply

JEA delivers more than 110 million gallons of water each day to our customers. We regularly test the water we send to customers to ensure its safety, as outlined by federal and state regulatory agencies. Our state-of-the-art technology monitors our water supply grid to bring fresh, clean water to your home. We work hard to help our customers learn how to conserve Northeast Florida's most precious resource, the Floridan aquifer, so that we may continue to benefit from it for generations to come.