Recycling and Reuse Businesses
Recycling and Reuse Businesses
The number of earth-friendly small businesses in Jacksonville is growing. Learn how these JEA customers are ringing up green profits.
Apple Rabbit Compost Reducing the Carbon Footprint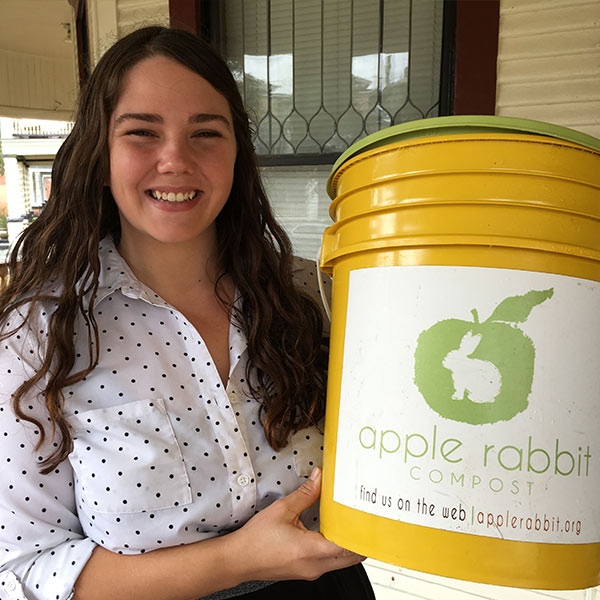 Tiffany Bess is a JEA commercial customer who helps other local residents and businesses reduce their carbon footprint. She makes dirt, or compost, out of food waste, which keeps that food waste out of landfills where it would otherwise turn into a powerful greenhouse gas called methane gas.
Traditionally, it's been hard for apartment dwellers to compost because they don't have access to a yard or to brown matter like straw or leaves needed to create this rich, natural fertilizer.
Enter Apple Rabbit Compost, Tiffany's business that gives apartment dwellers – or anyone really – a more reliable way to dispose of their organic waste.
"We give our customers a 5-gallon covered bucket, which they use to put their coffee grinds in, as well as their apple cores, egg shells, cardboard, paper napkins that sort of thing. Just no meat or dairy," Tiffany said.
Once a week, for $25/month or $6.25 a week, Bess comes to your home to pick up the bucket and leave you an empty one. She takes your waste to a relative's land on the Westside where she turns it into compost. Six months later, you get your share of the compost.
Tiffany also offers a drop off service for $16/month or $4/week at the Riverside Arts Market. "Subscribers bring me their buckets full of scraps and we give them a clean bucket," she said. Additionally, Tiffany has started making compost piles in Riverside. This way she can ride a bike to subscribers' homes to pick up and drop off buckets.
"And that further reduces our carbon emissions," she said, proudly.
Berry Good Farms is Growing Sustainability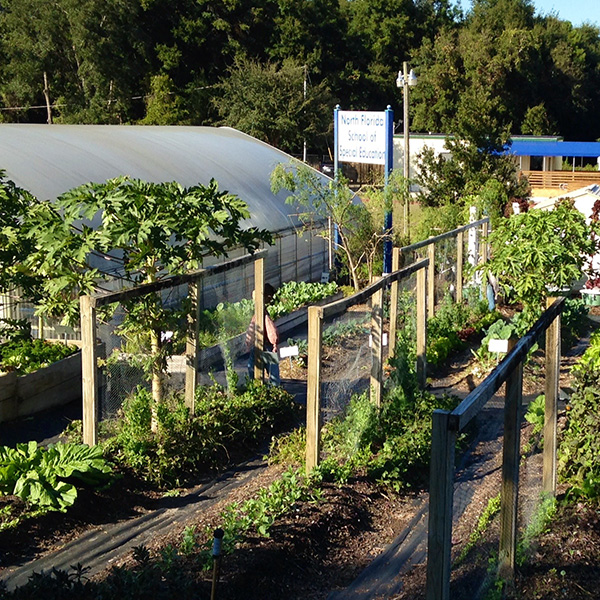 Berry Good Farms is a small urban farm tucked away in Arlington behind the North Florida School of Special Education. The farm grows produce in 15 traditional raised beds and a 60 x 40-foot greenhouse. "It's cooled by JEA and two huge electric fans," chuckled Ellen Hiser, Director of Berry Good Farms. "We'd be sunk without those fans. They run pretty constantly during the summer."
A lot happens in the greenhouse – veggie starts, herbs, cucumbers. Several of the farm's hydroponic lettuce towers are also located here, along with two 600-gallon aquaponics tanks where the farm raises tilapia.
"We sell a lot of the food we raise in our healthy food truck that travels all over town," Hiser said. "We also use a lot of the food in our culinary program." Students in the culinary program come from the North Florida School of Special Education.
"We use it as a horticulture training ground for young adults who are mild to moderately intellectually disabled," Hiser said.
 The farm's cash crop is wheatgrass, which grows in a small white air-conditioned shed that sits beside the green house and holds up to 50 trays of the sprouting stuff. The wheatgrass is snapped up by local grocery stores, restaurants and private buyers. But wheatgrass is fussy and highly susceptible to a delicate white mold. That's why the farm cools the shed to an optimum 71 – 72 degrees with an air-conditioning system that runs round-the-clock.
Hiser is understandably proud of it. She's also a big customer. "I buy a tray of wheatgrass a week," she said. "It keeps my hair from turning gray!"
Reducing Waste at U.S. Roof Recycle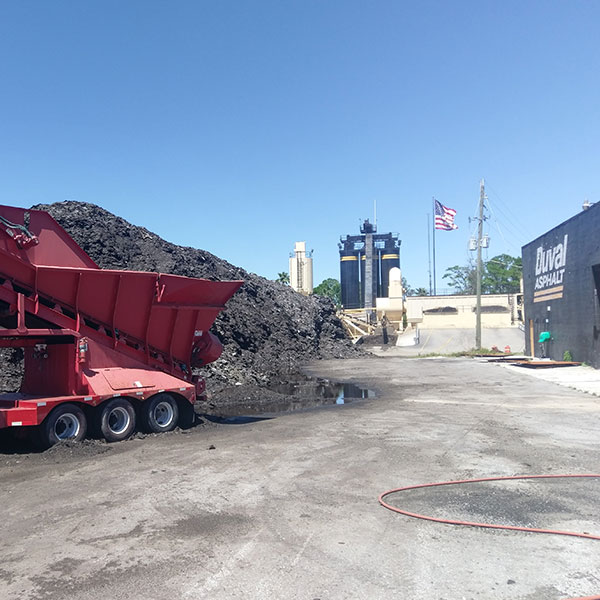 Five years ago, Johann Bowman says he didn't even know how to spell the word asphalt. That's interesting to note because the business he would soon start is based on a simple idea: recycle tear off asphalt roofing shingles and prevent them from clogging local landfills.
In 2012, Bowman cold-called the owners of Duval Asphalt and sold them on his idea of recycling tear off asphalt roofing shingles by explaining that recycling the shingles back down to liquid asphalt would save them money rather than buying liquid asphalt. The recycled shingles also provide a better quality mixture for roads, highways and parking lots.
Duval Asphalt agreed and eventually invested over a million dollars in order for the idea to work. Roofing contractors bring their tear off shingles to U.S. Roofing Recycle, located on West 12th Street in front of Duval Asphalt. Bowman charges them less than a landfill for drop-off. The savings for each drop is about $40.
"Some of these contractors come back six times a day," Bowman said, "so the savings can really add up."
Bowman's employees sort through the drop off piles and take out the trash, wood and metal. Then he sells the cleaned shingles back to Duval Asphalt. They put the shingles through a special grinder and pulverize them to the consistency of coffee. That resulting material is added to their asphalt plant and used as a recycled good.
Bowman says he's the only company in Florida that's recycling tear off shingles, although it is being done in other states like Texas, North Carolina and California. He figures he's recycled 15,000 roofs and saved some 60,000 tons of old roofing material from ending up in landfills.
Recycling Electronics with Urban Mining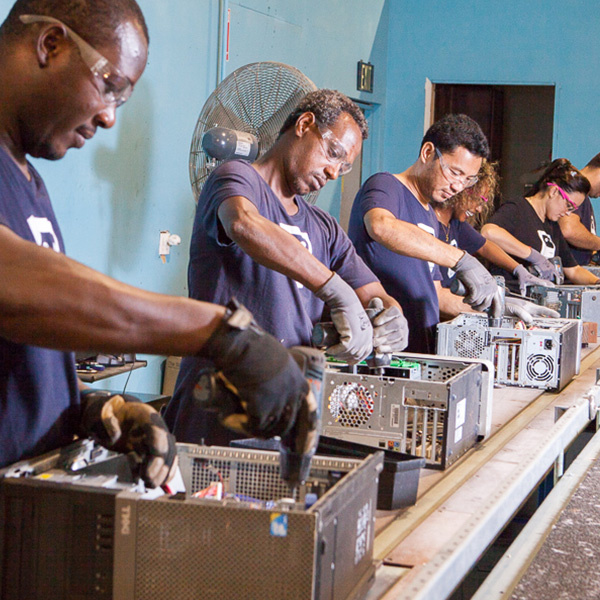 In 2010 Juan Carlos Villatoro, a Navy vet and UNF graduate, started Urban Mining, a Jacksonville company and JEA electric, water and wastewater customer that recycles commercial computers and electronics of all types using JEA electricity. The company proudly operates under a net zero philosophy, which means no part of your old computer ends up clogging a landfill.
"Our primary goal is to refurbish old company computers back to original manufacturer standards and then resell them at a discount," said Steven Kaufman, Urban Mining's CEO. Resale could mean your old company laptop is offered for $200 at Urban Mining's store, Urban Mining Tech Rescue, or sold online, or if you're one of their large enterprise clients, offered back to your employees at a discount, with a warranty and free tech support.
"If it's too old to be refurbished and resold, then it gets taken apart and we harvest the components. What we can't reuse is sold back into the manufacturing stream," Kaufman said. The company then tracks whatever it sells to its endpoint, meaning it watches to make sure old parts aren't dumped, as Kaufman put it, "in developing countries where unregulated e-Waste disposal is creating toxic wastelands.".
Before Urban Mining does anything, it first gets rid of the data stored in your old computer. "Many of our clients have significant concerns around data security," Kaufman said. "Because if you don't do it right and certify that the hard drives are clean, organizations are vulnerable to unexpected security breaches that can expose sensitive customer data or intellectual property."
That's why Urban Mining proudly bears certification by two top industry auditors, e-Stewards and B-Corp, to ensure they're meeting rigorous industry standards and environmental compliance.
Related Links
Environment

JEA strives for environmental excellence and to be a responsible steward of the environment. As a community-owned, not-for-profit utility, we are committed to meeting our customers' energy, water and sewer service needs in a manner that is environmentally, socially and economically sustainable.