Green Buildings
What does it take to turn your office building into a green building? Even if you rent your space there is much you can do.
Innovation and Efficiency at CSX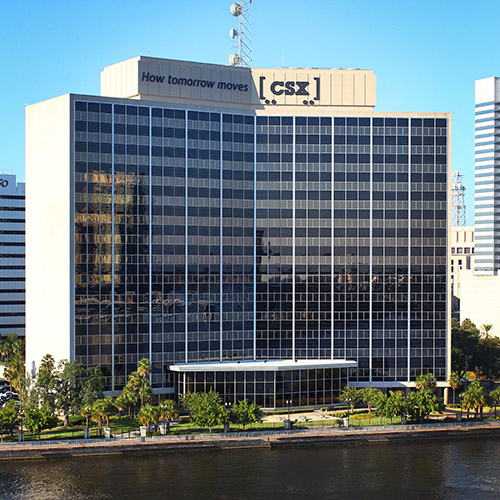 Sustainability is at the core of CSX's DNA, given that rail, the company says, is the most environmentally friendly way to move goods over land. But CSX's commitment to sustainability shows up in other ways too. Take, for example, its two downtown headquarters buildings. Over a decade ago, CSX decided to turn these buildings green, which was no small task given that one building sits prominently on the St. Johns River and was built in 1959.
The upgrades to this older building alone included:
HVAC optimization
Efficient lighting upgrades 
Glazing windows to limit heat gain from the Florida sun
Installation of a white roof that reflects sunlight and minimizes the "heat island" effect to reduce the energy needed to cool the building
Water conservation was also addressed at both downtown buildings through high efficiency plumbing fixtures. Because of the upgrades, both buildings are now certified in "Leadership in Energy & Environmental Design" (LEED) by the US Green Building Council (USGBC).  
The company has also found other innovative ways to reduce its energy footprint. CSX and the City of Jacksonville recently partnered to offer workplace electric vehicle (EV) charging for CSX employees and other EV drivers who park in the Water Street parking garage in Downtown Jacksonville.
"As a partner in energy solutions, we're proud to have CSX as a customer and to work collaboratively on the company's sustainability goals," said Jeremy Williams, JEA's Account Executive who works closely with CSX in Jacksonville, and has helped them receive $71,048 in incentives from JEA's Invest Smart Energy Efficiency Program.
Learn more about CSX's focus on sustainability. 

Jacksonville University Makes the LED Switch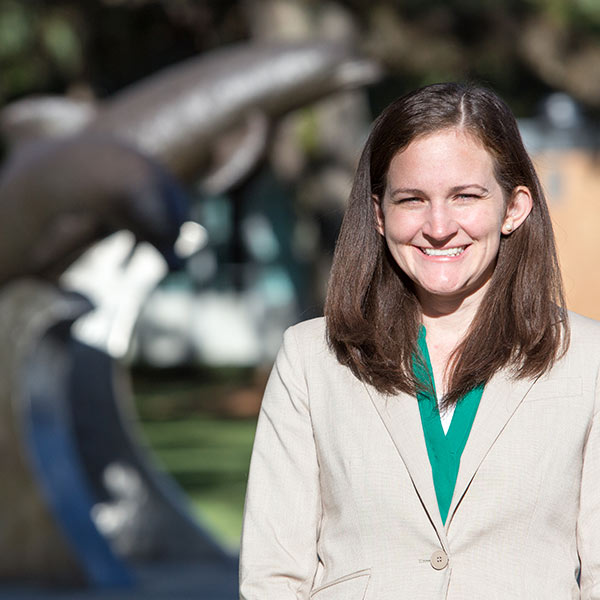 When Carrie-Lynn Black became the Sustainability Coordinator at Jacksonville University, she was given a far-reaching mission: envision and create a strategic plan for JU's Office of Sustainability and turn that plan into action. Luckily, the tireless Carrie-Lynn, who holds a Master's of Science in Environmental Planning and Management from Johns Hopkins University, has no shortage of ideas on how to do that.
For starters, she tries to get in on the ground floor of building projects. "When we lost a light pole on one of our playing fields during Tropical Storm Irma, we realized we could save a lot of wattage by converting all the poles (a total of four) and fixtures (a total of 12) on the field to LEDs," she said. JU now saves about $500 annually on energy costs on this field alone and has better lighting there, thanks to the switchover.
Black is also helping with a dorm renovation that includes energy-efficient windows, low-flow bathroom fixtures and hydration stations to fill water bottles. "These hydration stations have counters on them that will tell you how many 20 ounce single-use plastic water bottles have been avoided by using this hydration station," Carrie-Lynn said. JU added 12 campus-wide hydration stations before the start of the 2017 school year and because of these, the school has diverted over 15,600 plastic bottles from the landfill, she said.
JU is one of a small number of universities where students can major in sustainability studies. As part of that, Carrie-Lynn is the faculty advisor to JU's sustainability club. She's currently working with students to conduct an inventory of campus greenhouse gas emissions and a plan for reducing them.
Jessie Ball duPont Center's Efficiency Renovation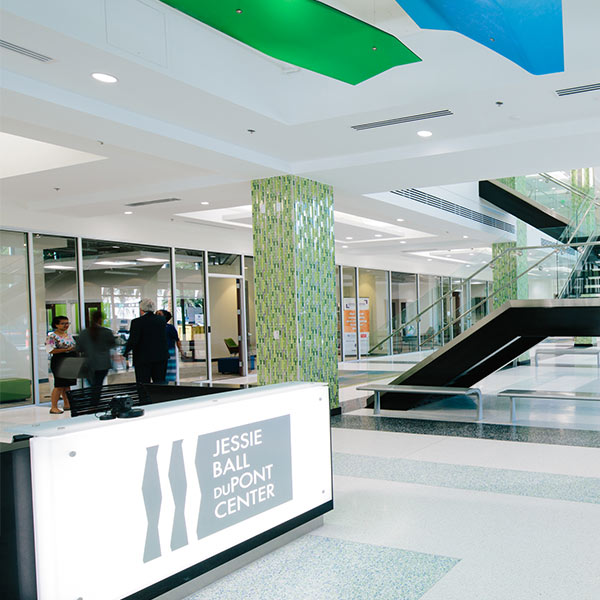 The new Jessie Ball duPont Center in Downtown Jacksonville, owned by the Jessie Ball duPont Fund, is housed in the old main library of the Jacksonville Public Library system. It provides affordable office space under one roof for 18 area nonprofits. It is LEED Gold certified, a certification awarded by the United States Green Building Council (USGBC) that recognizes buildings that are resource efficient.
During renovations, the Jesse Ball DuPont Fund replaced every window in the entire building with energy-efficient windows that also come with a higher level of wind resistance. They also replaced the electrical system, plumbing system and HVAC system with state of the art energy and water-saving networks that included LED lighting and low-flow toilets.
"We looked into solar," said Sherry Magill, President of the fund, "but that was a challenge because nearby buildings cast shadows on our rooftop and we couldn't get enough sun."
So she decided to equip the roof with enough solar panels to heat all the hot water used in the building. The fund also added a 2,000 gallon rainwater system that captures, filters and reuses rainwater in all the gardens both inside and outside the building.
"We don't have the data to tell us what kind of energy the building consumed back when it was a library," Magill said. But, her team of green builders and architects estimates that the new Jessie Ball duPont Center likely consumes 50 percent less energy and water than the old library building, a milestone achieved by tightening the building's envelope and using, as Magill put it, "good common sense practices."
Verde Eco-Salon Makes Sustainability Stylish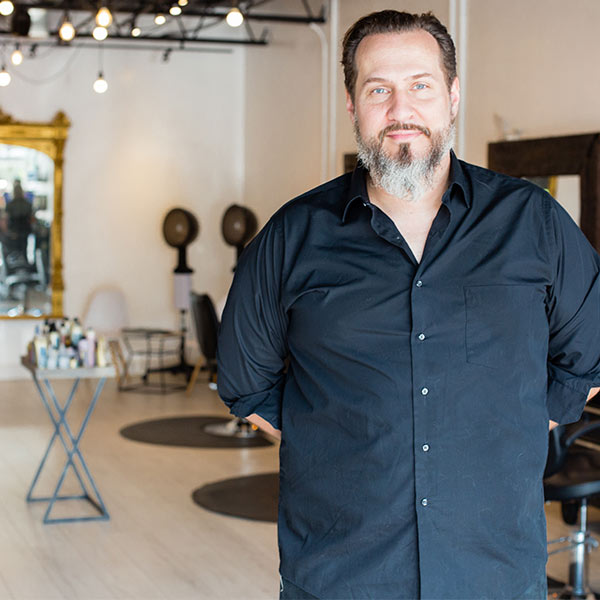 As co-owner of Verde Eco-Salon in San Marco, Ronny King likes to share a simple mantra with his customers: Beauty can save the world.
King is an educator with Davines, an Italian hair care company that makes earth-friendly products and uses the same mantra.
"We saw a need in the marketplace for a sustainable, health-conscious salon and that's what we are," King said. "It's a great place for women with allergies, or women who are pregnant or women who just care about leaving behind a smaller footprint."
King uses Davines products in his salon. They are vegan/vegetarian, come in recyclable and biodegradable containers, biodynamic, zero-impact and approved by the European Union. He disposes of leftover hair color in the trash because it biodegrades faster than in the wastewater stream and customers to Verde Eco-Salon get an e-receipt instead of a paper one.
Most of the light bulbs in the salon are LEDs and the paint is low or no VOC paint. VOC stands for volatile organic compounds that emit toxic emissions for years after application. By using this paint, King hopes to minimize any client discomfort.
"It's also why our hair color is low ammonia or no ammonia color," he said.
King believes the beauty industry in general is trying to become more earth-friendly. He has noticed more salons adopting a greener, more sustainable approach to their business.
All of which brings us full circle. Back to King's mantra that beauty can save the world.
IKEA Brings Function and Efficiency to Jacksonville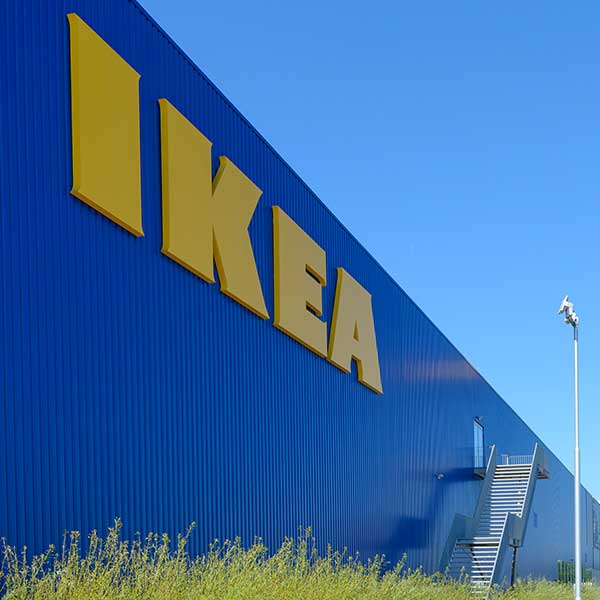 Every IKEA store is painted a signature blue, but given the company's commitment to incorporating sustainability into its day-to-day business, the stores could just as well be painted green.
In Jacksonville, for instance, IKEA installed 1,368 kW of rooftop solar power atop its new 290,000 square foot store on Gate Parkway, making it one of the largest retail solar rooftops in Florida. This, as the company began selling solar panels and battery storage units at its stores in the United Kingdom in 2017, an effort that might be rolled out later to other countries.
Every IKEA store in the world only uses and sells LED bulbs, and of course, Jacksonville's IKEA, the fifth in Florida, is no different. LED bulbs are extremely energy efficient and long-lasting and can cut energy consumption significantly when compared to conventional light bulbs.
Ditto the faucets that IKEA sells and uses in it stores. They're all manufactured with aerators inside. The aerators mix water with air so customers use less water without sacrificing water pressure.
Even the blacktop at the Jacksonville IKEA store is green. The parking lot has 950 parking spaces and 3 Blink EV charging stations. The store's manager Leontyne Green Sykes believes the charging stations reinforce the company's commitment to sustainability.
"As a retailer, IKEA realizes that a focus on the sustainable transport of people can empower customers to live sustainably, so meeting the needs of EV drivers helps achieve both goals," said Sykes, in an August 2017 IKEA news release.
So what will sustainability look like at IKEA going forward? You've heard of tiny houses? Well how about tiny stores --- or tinier stores? In some cities, the company is encouraging people to order online and then pick up their order at these pocket stores, which by the way is something you can do at the big Jacksonville IKEA, too.
Related Links
Environment

JEA strives for environmental excellence and to be a responsible steward of the environment. As a community-owned, not-for-profit utility, we are committed to meeting our customers' energy, water and sewer service needs in a manner that is environmentally, socially and economically sustainable.

Sustainability

As a not-for-profit community utility, JEA is obligated to meet the electric, water and sewer demands of our customers. We are also charged to act in an environmentally responsible manner to ensure the integrity of our resources for future generations.