Businesses with Alternative Energy
Businesses with Alternative Energy
From rooftop solar to battery storage, Jacksonville businesses are powering area commerce with alternative energy.
Champion Brands Sheds Light on Sustainability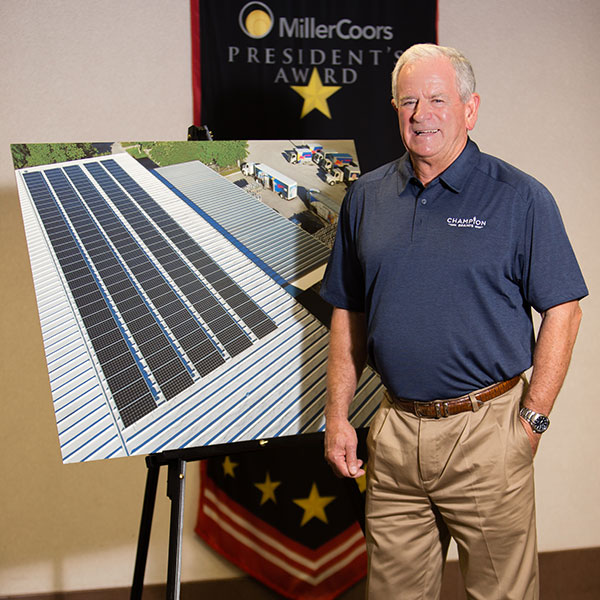 Earl Benton, the President of Champion Brands, a large Jacksonville-based beverage sales company, realized a long time ago that sustainability was a rare win-win-win. It was good for the environment, good for his company's business relationships and good for his bottom line.
As President of Champion Brands, Earl Benton realized a long time ago that sustainability was a rare win-win-win. It was good for the environment, good for business relationships and good for the bottom line of his Jacksonville-based beverage sales company.
That's why he installed 120 kW of solar on two of his Jacksonville warehouse facilities, converted every lightbulb to an LED and changed his big rigs to run on compressed natural gas.
Benton installed two 58 kW solar systems on each of his warehouses for a total of 116 kW of solar. He says solar now supplies about 20 percent of his electric needs.
"We have a big monitor in our lobby that shows customers exactly how much solar power we produced in the last seven days," Benton said.
He went on to explain that parts of his warehouses, especially the parts where beer kegs are stored, must keep the lights on 24 hours a day. Old incandescent bulbs used to get hot, up to 130 degrees, and the company would need to turn down the air-conditioning to overcome the heat generated by the incandescent bulbs.
"LEDs heat up to just 75-degrees," Benton said. "They were a just a huge step in the right direction."
In 2015, Champion opened the first public compressed natural gas station in Jacksonville. The company also began converting its fleet of 45 diesel tractor-trailer trucks to CNG. Benton says by using CNG, his company now contributes to cleaner air and saves at least $150,000 to $200,000 a year on diesel fuel depending on the price of diesel.
Beach Boulevard Mobil Gas Station Adds Solar Panels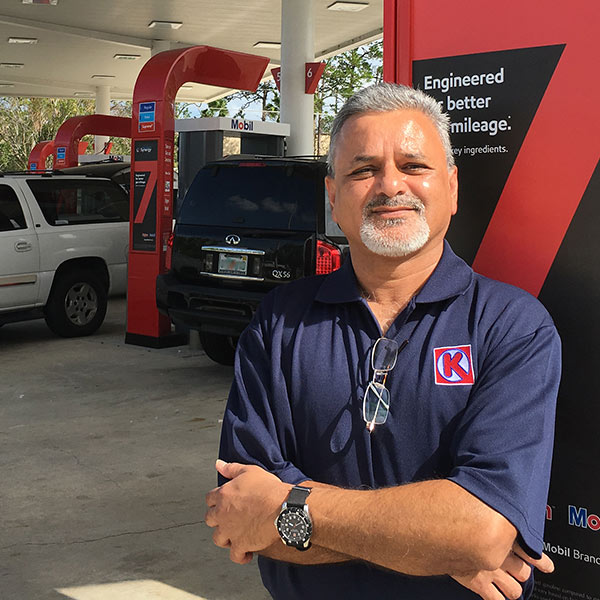 Haz Patel is always looking for ways to improve his business.
He's owned a Mobil gas station on Beach Boulevard between Hodges and San Pablo for 16 years. About five years ago, he decided to fill the roof of his store and the canopy over his four gasoline pumps with solar panels.
"I put in 247 of them," said Patel, who was born in Uganda and immigrated to England before following his brother to Jacksonville 24 years ago. "It was a big up-front investment, but I got a federal tax credit so it made a lot of sense."
Patel has seen his electric bill drop significantly because of his 59.25kW solar system and because of additional energy efficiency upgrades he made about the same time. He added foam insulation to the ceiling crawl space and changed all the light bulbs both inside and outside his building to LEDs. Before all these upgrades, Patel said his JEA bill was about $3,000 a month. Now it's about $1,000 - $1200 a month.
"I can never run my electric completely off solar because of the air-conditioning and the big coolers I have here for drinks," said Patel, who loves to show his solar array to his vendors and friends. He says he even got a call from Ikea one day asking about his solar panels. "They wanted to know if I was pleased with the local company that installed them," he said.
With solar panels and energy-efficiency upgrades under his belt, what's Patel planning next for his business? "I'm adding a Subway franchise to my store," he said. "I need to compete with all the Wawa's that are coming to town."
Saft is Helping Power Renewable Energy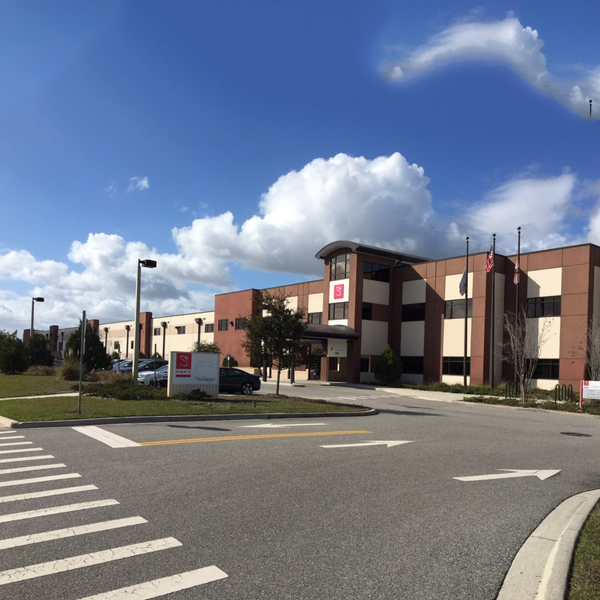 Jody Beasley, the general manager of Saft America's Jacksonville plant, has worked for battery manufacturers almost 30 years. He's a veteran of the battery business. Given this perspective, it's interesting that Beasley believes the work he's doing right now at Saft Jacksonville is some of the coolest work he's ever done.
"We're changing the world," Beasley said, simply.
That's a big claim, but the work quietly going on at Saft's Jacksonville plant where lithium-ion batteries are manufactured actually qualifies.
"We produce big batteries that are half the size of a semitrailer," Beasley said.
Those batteries are then connected to a variety of energy-producing systems like solar arrays or windmill farms. They get charged up in the daytime when there's an abundance of sun or wind, and discharged by utilities during peak usage times in the early evening.
"This way the utility doesn't have to crank up the gas turbines to provide energy to customers during peak demand," Beasley said.
One of Saft Jacksonville's biggest customers is a utility in San Diego, which has placed a handful of these lithium-ion storage systems on its electric grid. Saft Jacksonville has also manufactured lithium-ion batteries for projects stretching from the Arctic Circle to the Caribbean to Hawaii.
"These storage systems really help in places where the grid is not well-developed and needs to be better stabilized," Beasley said.
Saft agreed to build its plant here after it received a $100 million grant from the federal government as part of the Obama Administration's Recovery Act, a stimulus package designed to invest in jobs, infrastructure, education and clean energy.
Related Links
SolarSmart Old

JEA SolarSmart gives residential and business customers who do not have solar panels an option to benefit from solar energy and to demonstrate their commitment to improving the environment.

Electric Systems

JEA is proud of its Electric System and its reputation as one of the nation's exemplary municipal service providers. Our existing generation capacity is 3,747 MWs and our generation fleet contains a diverse resource mix.